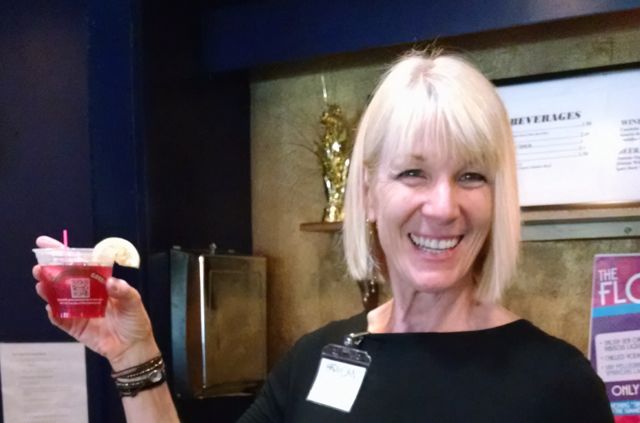 By Mary Ellen Psaltis
I love the sunshine and the long days. When it's warm I also love being refreshed. It's time to keep the liquids flowing, especially when the temperatures climb. What are you drinking to stay cool and hydrated? I asked around.
Tamarind-Peach Ade
Giovanni Shore lets his inner chef shine. Any time I stop to chat at his stand at the Olympia Farmer's Market, Sullivan's Homestead, he tempts me with inspired recipes that he creates with a collage of herbs, spices and all things fresh. "I'm into tamarind lately," when I quizzed him about summer drinks.
Though lesser known in the United States, tamarind, a pod-like fruit, is often used in Africa, Southeast Asia, China, Mexico, to name a few. Shore's latest concoction is Peach-Tamarind Ade. As he explained, "It's very refreshing and pleasantly astringent." I will concur. I had planned to get a piece of tamarind paste and soak it in water, but found a tamarind and sugar mixture at Ramirez Mexican Store. The tamarind flavor was mild but a nice compliment to the peaches, which were straight from the market. All you need is some tamarind, peaches, sugar and water. You can mix the amounts as you please. Add a squeeze of lemon or lime, shave in a little ginger or drop in a spring of mint. Look for the next wave of peaches, Brittany Lane and Early Red Havens, to arrive soon.
The Flower Child
Harlequin Productions's summer show, Sixties Chicks, is making a big splash. Hopefully you already have your tickets. Linda Whitney, Artistic Director, designed a signature cocktail: The Flower Child. With the help of Salish Sea Organic Liqueurs, the bright beverage features hibiscus liquor, chilled vodka and a splash of San Pellegrino Limonata. Be warned – they go down smooth and easy. Mark Alford, Development Manager, sighed, "It's so good… it's very good."
You can easily create cocktails of your own with the many choices at Salish Sea. Sam Desner considers the hibiscus the most versatile, getting reports from customers who use it over ice cream, and in truffles, frosting and in Italian sodas. Liquors are meant to add character and impart flavors. Sam's favorite summer cooler at the moment is hibiscus mango lemonade. The mango lemonade comes from the grocery store and the liquor from his own stores.
Raspberry Wheat Beer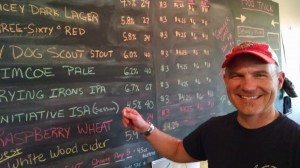 My customary bike route takes me past Top Rung Brewing Company on Hogum Bay Lane. I've seen customers relaxing outside at the tables under the umbrellas and wanted to see inside. It's big, as they are brewing everything right there. Casey Sobol, co-owner and Brewery Operations Manager, showed me a chalkboard of choices, but suggested the Raspberry Wheat as a summer delight. It's a little sweet and pleasantly light. Sobol noted that the Initiative ISA is also popular. ISA is Indian Session Ale, which means the alcohol content is 4.5% or lower. This can be important if you are drinking more than one.
Iced Tea and V-8 Vegetable Juice
Will Wilson, fitness enthusiast, has been lifting weights since he was a teenager. He recently celebrated his 60th birthday. To say the least, he's in excellent condition. Wilson is retired from 21 years in the Army, which included serving in the Gulf. Perhaps being a mail handler for the last 16 years has contributed to his fitness. Or maybe it's the Monday morning Pilates and body conditioning classes he teaches at Briggs Community branch of the South Sound YMCA. Wilson nudges up his vegetable intake by drinking a V-8.
He's also fond of sweet tea. By my definition, the sweet tea purchased at the store is overloaded with sugar (about 5 teaspoons per cup.) It's easy and inexpensive to make your own, and you can still have it sweet if you must. Brew your favorite black tea (or any tea) for 5 minutes. Add refined sugar (it melts quickly, but regular granulated is fine). Three teaspoons per cup ought to be sweet enough. Test this yourself.
Iced Mocha
A pedicure is an excellent way to cool off on a warm day. I asked LA Nails owner Phuong Nguyen and her sister Hoa Nguyen what they likes to drink. The consensus was an iced mocha. There are lots of options for that drink in the county. You might go check out one of these options. Click here.
Good Old Fashioned Water
Fill your own bottles and jars at the Olympia's Artesian Well. There are also various events there. This delicious beverage is amazingly free.
Eat Well – Be Well