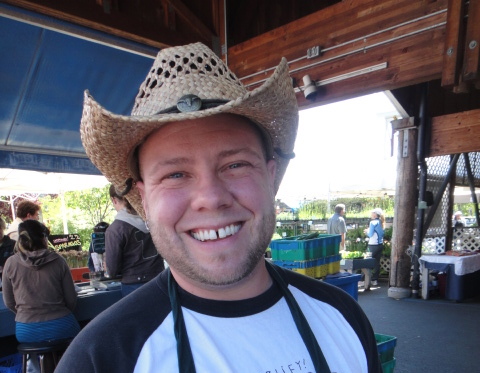 By Mary Ellen Psaltis
It's hard to resist the offering of a shiny cherry or a slice of juicy peach. But you don't need to at Sullivan's Homestead (at the far end of the Market closest to Batdorf and Bronson's roasting facility). Yes, they are there to tempt you with seasonal favorites, but when it comes to apples, pears, peppers, peaches, cherries and more – you can say, "Yes!" Most of us could use a few more servings of fruits and vegetable in our diets.
Sullivan's Homestead was owned for many years by Bob "Sully" Sullivan and Nelly Vos. You might remember Sully allowing youngsters (under 12 years) to select their own apple. About a year ago, they sold the business to son Kaden Sullivan and Giovanni Shore. Both of these men are probably familiar to you. Now Kaden is the Apple Man and Giovanni can be found driving the loader, unpacking fruit and dreaming of recipes. Once employed as a chef, he enjoys cooking at home with the abundance of fresh produce that is part of his life.
These days, Sullivan's has one table stacked with stately bunches of green asparagus. They are practically aching to hop onto your grill and onto your dinner plates. Grilling takes only a few minutes, depending on the density of the stalks. Brush lightly with oil before setting on the grill. Turn as the pieces brown.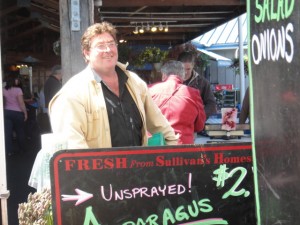 Grilling is not the only option. Below you will find a recipe for Marinated Asparagus courtesy of Shore's creativity. The exact amounts of ingredients for the marinade are not specifically enumerated; you get to experiment. After making it a time or two, you will get it just right for your taste buds. Its Asian flair makes it an enticing appetizer that carries well over to the dinner table. I steamed the thinner stalks for the marinade and grilled the fatter ones. The few grilled spears that were leftover ended up in the marinade. That worked perfectly. Shore has his mind on asparagus these days. He's looking for recipes beyond simply grilling. He is fond of substituting asparagus for okra in jumbo. If you have a fabulous idea, let him know.
As spring turns to summer, the boxes of inviting fruits change types and varieties. Eating seasonally offers the greatest amount of flavor and freshness. It also means each trip to the Olympia Farmers Market brings something new for the palate.
Eat Well – Be Well.
Asian Inspired Marinated Asparagus
Asparagus, washed
Young Walla Walla sweet onion*
Marinade:
Ginger
Garlic, squeezed
Small bunch cilantro, chopped
Lime juice
Rice wine vinegar
Apple cider vinegar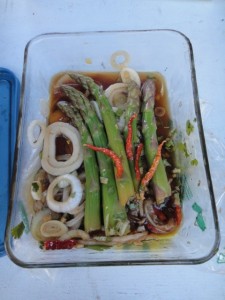 Sesame oil
*These young onions look like big leeks, but as Kaden Sullivan told me, "…they are so much more than leeks." They are excellent in salads with feta and walnuts or tossed into eggs.
Mix marinade ingredients, shake. Slice onion and line bottom of dish. Lightly steam the asparagus spears, place on onion slices. Cover with marinade, refrigerate.
One More Idea:
Sweet Treat
When you want to satisfy your sweet tooth and not break the calorie bank, think about apple pie… but do this:
Chop up a variety of apples into small pieces. Roast in the oven at 350 degrees for an hour or so. You might put a splash of water in the bottom of your pan and cover with a piece of foil. Cook until the apples are soft. Generously sprinkle with cinnamon and apple pie spices. Inhale.
They are great as is in a dish. You can also put a big spoonful of plain Greek yogurt into a cup. Add a few drops of vanilla or almond flavoring. Add some apples and stir. If it not sweet enough, add a couple of drops of stevia. It may not be apple pie, but it's very satisfying.