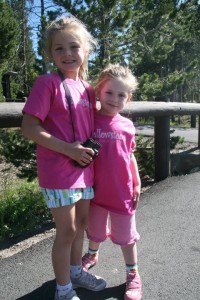 The second installment of our weekly Thrifty Thurston post is centered around creating a nature journal.  Kids love to uncover secrets hiding outdoors or record the features of an unsuspecting insect.  My children first tried a nature journal while taking a short hike in the Laurance S. Rockefeller Preserve in Wyoming.  Now, this easy activity is a staple for road trips and outdoor adventures.
Scoot over to LOTT, create the journal, and then explore downtown Olympia and note your findings.
Create Nature Journals at LOTT's WET Science Center
A nature journal is a fun way to help kids use their observation skills while exploring Thurston County area parks and beaches.
Thankfully, LOTT has gathered all the supplies and organized an activity for your children. There are pages for their drawings, leaf rubbings, poems, and more. Stamps, markers, pencils, stickers, and a variety of other supplies will be provided.
There is no admission charge to visit LOTT's WET Science Center and the nature journal activity is also free.  A visit to LOTT is educational and entertaining – what kid doesn't love learning what happens once a toilet is flushed.
Download this printable activity book that will answer every question your child could possible conjure about sewage treatment.
Kids can make their own nature journal anytime on Saturday, June 2nd between 10:00 am – 4:00 pm.
Take Your Journal
               …on a bird watching trip.
Borrow an East Bay Bird Watching day-pack from LOTT and walk one block away from the WET Center to observe local water birds. The day-pack is complete with field guide, binoculars, and a recording booklet. Commonly seen birds include cormorants, gulls, purple martins, goldeneyes, mergansers, blue herons, and much more. Come back to the WET Center to return the day-pack and record your observations in their Birds of East Bay Journal.
               …on a Family Bike Ride.
Family bike rides are a popular activity in our neighborhood.  My husband hooks up a tag-along to his bike and propels our younger daughter around.  A close friend jumps aboard her beach cruiser and pumps up the exercise level by biking uphill in her single gear.
If your neighborhood is not conducive to a family outing, here is an archived post on Olympia area family friendly bike rides.  You can find it by clicking here.
Use your nature journal to record what you see throughout your neighborhood.  Perhaps your children notice things bicycling that they don't notice on foot or in the car.  A different height brings about a different perspective.
             …to Tumwater Historical Park.
In my opinion, observations about humans count as journal entries.  On Saturday, dash over to the Tumwater Historical Park and register your child for a free kids run to benefit the Northwest Rett Foundation.
Got your sneakers laced up?  Join in the fun.  The Run for Rett is a family-friendly event with a distance for all.  Win a prize for the fastest 5k with a stroller or participate in a 3k walk that the whole family will enjoy.  What better way to be a role model of athleticism than to participate yourself!
I will note one logistical complication.  The Run for Rett starts at 9:00 am and nature journals can not be created until at least 10:00 am on Saturday.  Perhaps you will encourage your child's memory retention skills and see how much can be translated to the journal after the run.
               …to the water's edge at the Port Plaza.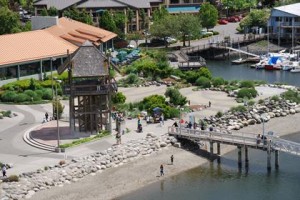 I have a bias (well, I actually have quite a few biases when it comes to my favorite Olympia destinations but we'll focus on just one right now) for the Port Plaza.  The location, on Budd Inlet, has everything that I need to entertain my kids – ample space to run, wildlife to observe, a tower to climb, and boats to watch.  It's easy to park nearby and benches to rest on to enjoy the scenic view.
"Located on historic and picturesque Budd Inlet, we invite you to bring your family to picnic on our beautifully landscaped grounds," says Port of Olympia Property Manager, Kathy Geist.
There is certain to be ample journal entries while exploring the Port Plaza.  Bring a picnic lunch or stroll over to the Olympia Farmers Market to grab a delicious meal or fresh produce.
Enjoy transforming your kids into nature detectives!
Visit our calendar for more weekend events.
What's your favorite inexpensive activity to do with your family in Thurston County?  Drop us an email suggestion at submit@thurstontalk.com.