By Leslie Merchant
Why is it that we try to grab onto the past only when it has faded away and is almost out of reach? I grew up hearing stories about my grandfather, yet I never truly listened with the respect his life deserved. As an adult, I realize now that his generation (and the many that came before) accomplished way more in the short time they had than most of my generation will accomplish in our lifetimes. It is with this thought that I recently sat down to talk with James E. Romero, Jr., Lt. Col USAF (Ret.) at his Lacey home in Panorama.
Born in Havana Cuba, Romero was sent to live with his grandparents in Las Vegas, New Mexico when he reached the 4th grade. His father was eventually assigned to Tampa, Florida and Romero was reunited with his immediate family at the beginning of the Great Depression. Typical of the men and women of his generation, Romero and his father pulled up their bootstraps and took work where they could find it, including picking grapes in a local vineyard. Romero would demonstrate this kind of "can do" work effort throughout his lifetime, and his get up and go earned him the respect and notice of his employers at Safeway where he worked part-time after school. With high school came the dream of graduating and attending Michigan University, but times were still tough and Romero had to work rather than advancing his education.
Life has a way of being serendipitous for those who work hard even through disappointment and adversity. While Romero wasn't able to attend University, he did meet the love of his life in 1940. Luada L. Ferris and James E. Romero were married May 24, 1941 just a few short months before the Japanese attack on Pearl Harbor. Not one to watch the action from the sidelines, Romero readily joined the United States Army Air Corps in 1942. Basic training ran the gamut from kitchen police duties to guarding prisoners. Soon Romero was selected for training as a pilot and was sent from base to base all over the South to complete his instruction.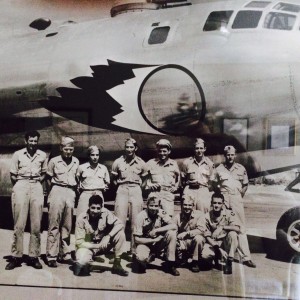 Trained to fly a B-17 combat aircraft, Romero was surprised to learn that he and his crew had been recommended to train to fly Boeing's newest and largest aircraft in the world, the B-29. The aircraft was designed to carry a ten-ton bomb and required a crew of 12 to operate. Humor can be found in even the most unlikely of situations. Romero recalls with a twinkle and a laugh, "My flight engineer was so short that on take off and on landing and going over the target, he stood on his haunches on the seat so he could reach all the buttons." And on the opposite end of the aircraft was Romero's tail gunner with his own unique build. "All alone in the tail, he was 6'3" and it was a job getting him in and out."
Bomber pilots were of the utmost importance to the war. Romero and his crew would fly 24 combat missions before the war ended, with the shortest flight being a shocking 12 hours long. One has to consider that these guys used analog technology to operate the plane, and that the most critical instrument on the craft was what was inside of their skulls. It was with unbelievable courage and grit that the men and women of Romero's generation fought for what was right and for each other during World War II.
Of the countless experiences Romero remembers from his war days, the Japanese surrender remains one of the most vivid in his mind today. "We flew up to Tokyo Bay to the Battleship Missouri and we watched General MacArthur come aboard. We circled it and we could actually see MacArthur's face. Then we watched the Japanese come aboard and they signed the surrender. We flew back home wondering where do we go next? The war is over." Indeed, Romero's career was hardly over. He continued to serve until the Berlin Airlift ended, went to electronics school, and was eventually sent to the Arctic on yet another assignment.
"My next assignment was a beauty. I was sent to Resolution Island in the mouth of Hudson's Bay in Canada." Romero was responsible for checking radar maintenance and making sure that communications were working properly. He was also responsible for carrying out some rather unusual work rules, one of which involved armed escorts and giant arctic critters. Romero reminisces with a smile, "the Squadron Commander established that anybody who went outdoors had to go with another person who was armed because we had polar bears. We broadcast whenever a bear was sighted and people knew not to ask to go outdoors if one was seen." The work that Romero and his Arctic crew carried out was critical in keeping the enemy from attacking due to their diligent and comprehensive monitoring of Resolution Bay.
Romero's military career continued with exotic posts in Japan and then New Delhi, India. After a two year stint at the Pentagon, he retired to civilian life and embarked on yet another 15 year career with General Telephone and Electric Corporation (GTE).
Luada faithfully followed Romero all over the world with their two daughters in tow. When the time came for Romero to retire a second time, it was Luada who requested that he follow her home to Pasadena, California. With a martini in hand, Romero readily agreed to his beloved bride's request. They remained there until Luada's health began to decline and they moved to where Romero currently resides in Panorama.
It would be impossible to describe even a portion of the experiences Romero had during his lifetime in one article. There are so many details that I could have included, it seems unfair to leave the rest of his story untold. Fortunately Romero authored his own book titled "Skyblue 79 Over and Out" at the encouragement of those whose lives he has touched. If you are reading this it's because you too are interested in grabbing onto a piece of our past. Romero can be reached by email at Skyblue79@comcast.net.