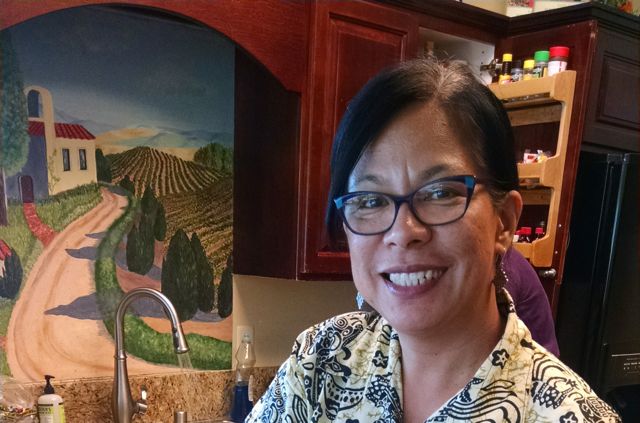 By Mary Ellen Psaltis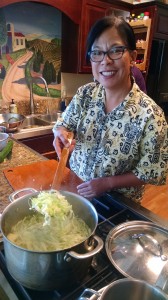 Pranee Khruasanit Halverson offered cooking tips looking directly at her students, all the while chopping lemongrass into neat pieces using a big, sharp knife. I nervously glanced at her fingers, but she was not concerned about nicks. That's because Pranee is at home in the kitchen – teaching, blanching, stirring, tasting, and dicing. It's ingrained in her very being, suffused with stories from her grandmother and years of practice. Pranee's classes at Bayview School of Cooking remain popular for many reasons.
Her most recent class was called Eat, Play, Cook: Food from Bali. The title may be a riff from Elizabeth Gilbert's best seller, but the dishes were inspired by Pranee's recent visit to Bali, where she attended cooking classes. She's all about Thai cooking, but she notices the similarities with Balinese foods. Students were treated to a feast starring yellow curry sauce and other regional delights.
Paula Leichty, herself a culinary lover, works for the cooking school and was kept busy prepping each course. She filled bowls and trays with diced chicken, jackfruit and multiple spices. She's also been around a kitchen and affirms that it's "a lot of fun." Leichty and her husband were part of one of Pranee's culinary trips to Thailand. Just thinking about that adventure brought a smile to her face. As it turned out, that evening's class was a semi-reunion of one of Pranee's previous tours.
Nancy Farman, one of Pranee's fans, was part of that small group to Thailand. "It was the most valuable trip I ever took," she says. "It makes such a difference to travel with a native." I got the impression that that trip involved quite a bit of food, but all the culture they ingested and sites they visited were more wonderful than they ever expected.
The evening's class was also attended by a young couple. He gave it to her as a birthday present, and, for them, it was also parents night out. The mood of the class was festive. The fee included a 2-ounce wine tasting, and participants were offered a full pour for $5 which was a popular option. It was time to sit back, relax and be entertained as Pranee stirred, mixed, and peppered the class with cooking tips. The smells were marvelous; food was coming soon.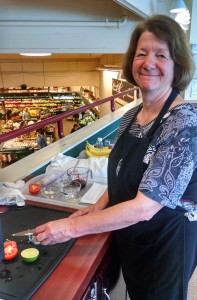 It's an exciting time for Pranee. She recently opened a kitchen space in Seattle where she is able to teach classes. One option is to go to the market, buy groceries and return for hands-on cooking. All this is part of her unfolding life dream. Her son is now in college, which allows her to dedicate more time to blogging and educating. Pranee will be participating in the Bite of Seattle through the Thai Council. Holland American Cruise Line features Pranee as a celebrity chef. (How fun is that!?)
Pranee loves teaching, cooking and traveling, so she can share her cultural traditions. After living in the US for twenty-five years, she appreciates the roads she has traveled. "You work so hard to make your dream come true." We're glad she keeps going. To check out Pranee's website, click here.
You can find out about future Bayview School of Cooking classes by clicking here.
To tease your taste buds, here was the menu for the Eat, Play, Cook:
Bali Yellow Curry Sauce, Chicken in Coconut Yellow Curry
Coconut and snake bean salad
Vegetables in peanut sauce (toasted peanuts)
Deep friend tempeh in sweet soy sauce
Steamed fish in banana leaves
Boiled bananas in palm sugar syrup
Note: Curry is not a spice – it's the marriage of many ingredients. This is Pranee's recipe.
Bali Yellow Curry Sauce
Base Bede Bumbu Khuning
1 teaspoon coriander seeds
1 teaspoon whole black peppercorns
1 teaspoon whole white peppercorns
2 cloves
¼ teaspoon nutmeg powder
3 large shallots
15 cloves of garlic
Galangel, sliced and chopped to 3 tablespoons (related to and looks like ginger)
Ginger, sliced and chopped to 3 tablespoons
Turmeric, sliced and chopped to 3 tablespoons or 1 teaspoons turmeric powder
2 Thai fresh bird-eye chilies
4 candle nuts or macadamia nuts
1 tablespoon palm sugar
1 stalk lemongrass, trimmed and sliced
2 salam leaves or bay leaves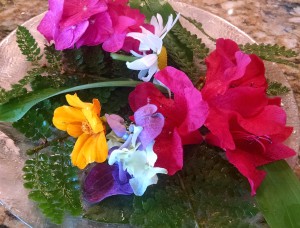 2 teaspoons shrimp paste, optional
3 tablespoons coconut oil or any cooking oil
Place coriander seeds, black peppercorns, white peppercorns and cloves in frying pan, stir on medium heat until fragrant, about 1 minutes. Let cool before grinding in a spice grinder (or use a mortar and pestle) and place in a food processor.
Add all ingredients except the coconut oil to food processor. Blend until it forms a smooth paste.
Heat coconut oil and fry curry paste on medium heat until fragrant, about 3 minutes. When it is cool, keep in the fridge for up to two weeks or the freezer for a year. Yield: 2/3 cup
Eat Well – Be Well