By Kathryn Millhorn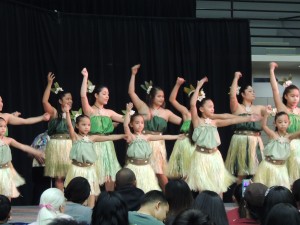 "Festivals promote diversity, they bring neighbors into dialogue, they increase creativity, they offer opportunities for civic pride, they improve our general psychological well-being. In short, they make cities better places to live." Producer David Binder could have been talking about Thurston County in those thoughts as we're a region that loves parades, block parties, celebrations, and community get-togethers.
On Saturday, March 7, the annual City of Lacey Ethnic Celebration takes place at Saint Martin's University. This free event showcases our region's tremendous diversity through an array of food, art, dance, music, crafts, and cultural exhibits put on by clubs and civic organizations from around the globe.
Jordy Beasley, Recreation Coordinator for the City of Lacey's Parks and Recreation Department, is excited for this year's offerings. "It is an awesome and unique event that allows a lot of community groups to share their culture with the public. It also has the capacity to include all ages; we have groups from the North Thurston Public Schools and Saint Martin's participating as well as adult clubs and organizations that have been around for a long time."
Amongst this year's attendees will be at least 23 different performance groups, 17 commercial vendors, 25 informational booths, 7 providers of delicious global cuisine, and presenters on a variety of topics ranging from West African Drumming to skilled Bonsai care. There will also be a children's area with activities for the younger set, including hands-on crafts and educational activities.
Events will run from 10:00 a.m. – 6:00 p.m. at Saint Martin's, with new performers on the three stages throughout the event. No matter what your personal heritage or interest, the day promises something for everyone. Both parking and the event itself are free.
City of Lacey Arts and Events can be found on their website, and include such family-friendly offerings as an upcoming Arbor Day Seedling Giveaway and the Lacey Family Fish-In.
Maya Angelou wisely declared "it is time for parents to teach young people early on that in diversity there is beauty and there is strength." Our world is glorious for the rainbow of colors, sounds, scents, and tastes it contains. If anyone can find true delight in that rainbow, it's our wide-eyed children.
For a full list of vendors, booths, civic organizations, and performers, visit the event's home page. From there, you can find not only performance times, sponsors, and presentation topics but the countries each group celebrates. Where else can you tour the globe for free, rain or shine, all on a lazy winter Saturday?