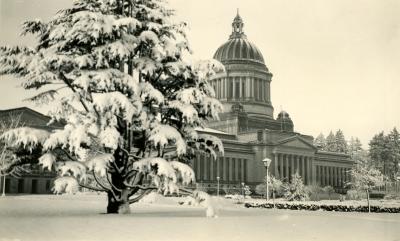 By Jennifer Crooks

Ice skating is a favorite activity usually associated with winter. There is nothing quite as exhilarating as gliding around on the ice, weightless and free—or at least trying to. A moderate climate and the nonexistence of indoor facilities in early Thurston County made wintertime ice skating a rare, outdoors, community activity—one that was greatly enjoyed by numerous  residents.
When weather conditions made ice skating possible, many people in Thurston County would become very excited. Local newspapers faithfully announced rare ice skating conditions. "Although other parts of the Sound get more or less skating during the winter months," gushed a December 24, 1909 Morning Olympian article, "ice skating is considerable of a novelty in this city. The news that ice has formed at Barnes Lake has spread all over the city and skates of all kinds and descriptions are being pressed into service."
Indoor ice skating rinks were developing elsewhere during the early years of Thurston County, but they were neither practical nor economical for even Olympia, let alone the smaller towns and communities that dot the region. Thus outside, wintertime skating on natural lakes and ponds was the only option.
Many settlers and later immigrants came from areas that regularly enjoyed outdoor skating, but the moderate climate in Thurston County was and remains typically unsuitable for this activity. While winters are usually rainy, they do not tend to get cold enough to solidly freeze more than puddles. What was needed for good ice skating was several days of freezing nights and bitter cold days that did not melt the ice. These conditions did not occur every year and when they did they usually lasted only a few days. For example, while 1894 and 1896 enjoyed good ice skating, in 1895 the lakes did not freeze over enough to allow for skating.
Skating lakes needed to be shallow and rather marshy to freeze over well. Thus there were only a limited number of lakes in the area that were available for skating. These included Barnes Lake (in Tumwater), Moss Lake (a small lake in Olympia near Steven's Field that was filled in with the construction of I-5), Tollner's Lake (near the Plumb Station community and train stop), and a marsh on Woodard Creek. Barnes Lake was a particular favorite, because it usually had good ice and was near a population center. All these lakes had to be traveled to—by foot, wagon, sleigh, or later, automobile. Having to work to get there probably made the experience even more memorable.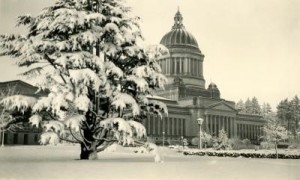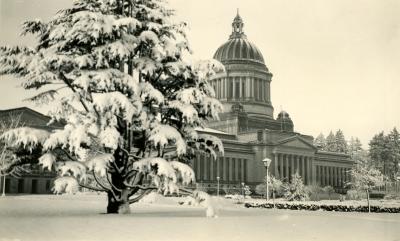 Setting up for ice skating was also difficult. The Zamboni (or ice resurfacer) was not invented yet, so people cleared the ice as best as they could. But even then the ice would not be flat and smooth. Snow on the ice and frozen plants sticking through the ice were particular problems. Moreover, many people did not own ice skates. Although they could order them from catalogues such as Sears and Roebuck, local hardware stores would often have a brisk business of making ice skates during periods of sustained icy weather.
Ice skating was primarily a community activity. The "Society" sections in local newspapers recorded numerous "parties" of people going out to skate in the evenings (days being busy with school, work, and farm chores). Children and teenagers were often noted as making up the bulk of the crowds on the ice, but older people enjoyed skating as well.
Property owners would sometimes extend a friendly invitation to the public to come and skate on lakes on or near their property. John Dodge, a businessman who owned a dry-cleaning business in Olympia, invited people out to his county home on what was then East Fourth Street and Johnson Hill (now Pacific Avenue near the junction of Lily Road in Olympia), to come skate on nearby Chamber's Lake. "Bring your skates and come on," he wrote for the December 22, 1921 issue of the Olympia Daily Recorder. "It doesn't cost a thing and believe me you can have a good time."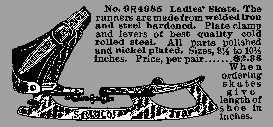 Later, Thurston County would have indoor ice skating for a time. Currently the nearest all-year indoor ice rink is Sprinker Rink in Spanaway, Pierce County. Also, there are several seasonal outdoor ice rinks composed of synthetic ice throughout the Puget Sound region. These include ones in Tacoma and Bellevue. On the other hand, outdoor ice skating on lakes and ponds, enjoyed for decades by many Thurston County residents, is presently enjoyed by very few people. The fun of ice skating, however, remains a constant despite significant changes in American society, culture and technology over the past century.
Further Reading
"Skaters Taste of Winter Sport." Friday, December 24, 1909, Morning Olympian (Olympia, WA), 1.
"Boys and Girls Enjoy Skating." Wednesday January 5, 1910, Morning Olympian (Olympia, WA), 4.
"Good Ice Skating Here." Thursday, December 22, 1921, Olympia Daily Recorder (Olympia, WA), 1.