Olympia is my home. However, it's not where I was born or raised. As a result, my family all live far away and when they come to visit, I'm can't wait to show them around. This holiday, I'm hosting not only my parents from Spokane, but my sister's family of five from Colorado. With 11 people in my house for eight days, I'm going need to get creative in my activity planning to keep the crew entertained while experiencing all that Olympia has to offer.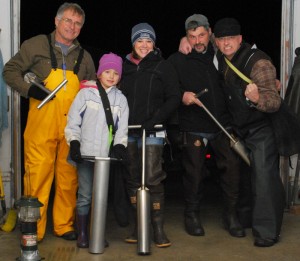 As I suspect many of you also will find yourself with a house-full sometime this year, I thought I'd share our plans in hopes that you, too, will find inspiration.
Adventures at the Beach
Since my out-of-towners are all from landlocked locals, I intend to give them a good dose of Puget Sound and Pacific Ocean fun.
With razor clam tides scheduled through the spring, heading to the ocean for the time honored tradition of digging for dinner is a must. We rustle up a few clam guns, throw on the slickers and boots and get set for an experience that is very "Pacific Northwest." Check tide schedules and pick a beach (we are choosing Moclips). You'll be wet, so bring a change of clothes for a hot chocolate or chowder pit stop on the way home.
Closer to home, we'll venture to a local beach. My family are awed by hiking the mossy, ferny pathways, so unlike their arid climates, leading to beaches teeming with life year-round. My nephews aren't deterred by a little muddy sand (have guests bring their rubber boots if they can) and a winter low tide can reveal amazing creatures to discover.
We will also hike the Nisqually Wildlife Refuge. This peaceful estuary is like nothing they have at home. Tips for a successful winter trip can be found here.
If you have access to a boat, take your guests on the water (just watch the weather forecast). We will venture out in Boston Harbor, drop the crab pots and throw in a fishing line. My nephews (and brother-in-law and father) are beside themselves with excitement to catch crab and try out salt-water fishing.
Adventures in Town
The Capitol Building's dome and gothic columns are, for visitors who live far from a state capitol, a memorable highlight. Watch an awed hush descend on your guests as they gaze into the impressive Rotunda and Legislative chambers. My dad, the history buff, will get sidetracked by historical plaques and the many monuments on the grounds and I have no doubt the kids will race up the stairs and around the fountain. Click here for 10 free things to do with the kids on campus.
My guests aren't big shoppers (are we related?), so we likely won't spend a lot of time browsing Olympia's local, independent shops. However, I can't resist a short stroll through our downtown shopping core. I'll use picking up a latte (very Northwest, you know) at Batdorf and Bronson as an excuse to circle the downtown core at least once, sharing my favorite local shops and eateries. We'll bribe the kids with a cupcake or two and drop the men at Three Magnets Brewing for a pint.
As outdoor sportsmen, they are begging for a trip to the Lacey Cabela's. It's an outing for ogling the latest gear, dreaming up fantastic outdoor adventures, and checking out the animals for the kids. The Colorado crew lives far from a Cabela's store and a chance to browse in person, not in the catalog, is an afternoon of ready-made fun.
Adventures in Eating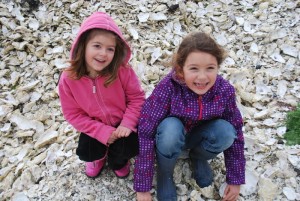 One word – seafood. We tend to take it for granted that fresh, local seafood is available whenever we want. But waft a freshly shucked Olympia Oyster or Dungeness Crab under the nose of an "in-lander" and you are likely to get a pretty strong reaction (hopefully positive!). We always make sure to plan a "seafood feast" night for our guests where we spread newspapers on the table and crack crab and dunk it in butter until we can't eat any more. Or we fire up the BBQ and cook some fresh oysters – winter is the best season for these local delicacies.
If your visitors are fascinated by bivalves, take a field trip to Taylor Shellfish Farms or further north to Hamma Hamma Oyster Farm to explore the bounty of the sound at the source. Even in the winter, an adventure on the Hood Canal is well worth the drive.
If cracking and shucking aren't your gig (and if we end up with empty crab pots), choose one of our area's stellar seafood restaurants and let the professional chefs do the work. Or, visit Olympia Seafood Company for a compromise. Their ready-to-cook options (think fresh crab cakes) and expertly prepared fish take just minutes to finish off at home for a true taste of Puget Sound.
Adventures in Planning
ThurstonTalk's talented writers spend their time scouring the county for inexpensive, family fun (in our Thrifty Thurston series) and detailing the best places to hike, play, spend a rainy day, swim, and dine. Check out the articles in our archives to plan some of the best activities and outings Olympia has to offer.
By utilizing the filters on the ThurstonTalk events calendar you can sort current events to find just what you are looking for whether it's live music or holiday bazaars. Use the tabs on the homepage to select a section, like outdoor activities, and scroll through suggestions galore.
I'm looking forward to sharing Thurston County, where I live, work and play, with my out-of-town family. I hope they find as much to love here as I do. And, maybe they will even decide to stay.