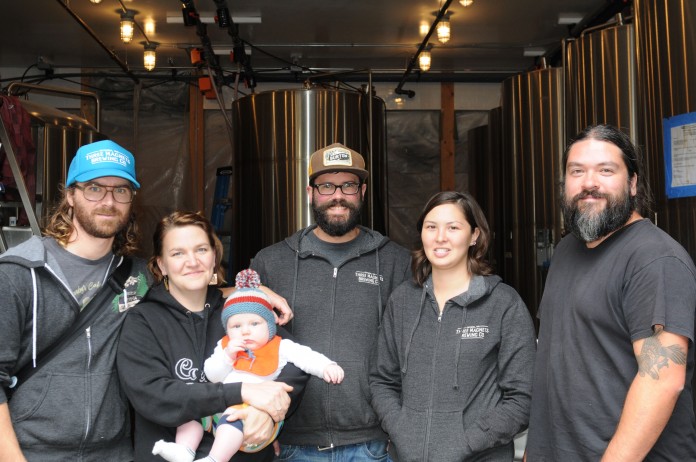 By Lisa Herrick

The highly anticipated opening of Three Magnets Brewing Company will soon be here, although it is intended to be a quiet and understated event. The plan is to open with a soft launch by the end of October and unveil the brewery's craft beers with a limited menu.  The full menu featuring a casual take on pub style goodies, which includes house-cured seafood, seasonally inspired cocktails and regional wines, will slowly be rolled out in the following months.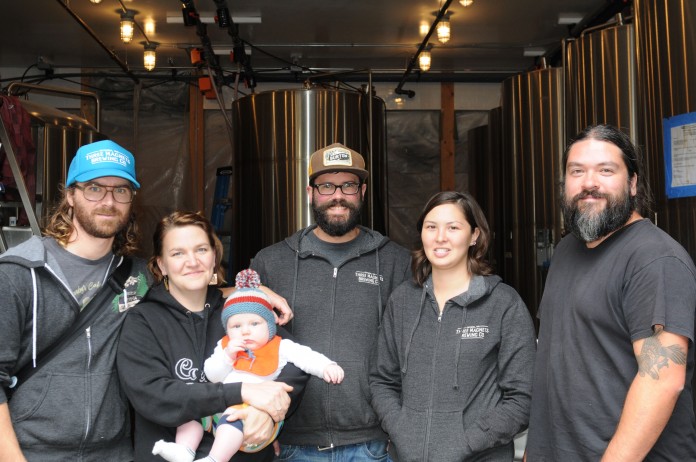 This gradual introduction of the locally sourced and made from scratch menu is an intentional decision to ease the 40 new employees and thereby the community into a successful experience with the new brewpub. I recently toured the brewery with the Three Magnets Brewing Company gang. I suspect my experience is precisely the vibe they are striving for – the sharing of quality beer with lively discussions in a family friendly setting. I could engage in conversation and drink beer with them any day.
"What we have been hearing is how excited people are to have the brewpub in Olympia and how thrilled they are that they can bring their kids to a public house," share Sara and Nate Reilly, owners of Three Magnets Brewing Company.  You may recognize the couple as the owners of Darby's Cafe also located in downtown Olympia. The Reillys aspire to honor Olympia's brewing history while creating a community gathering space. "People want to be associated with beer in this area because it is a key part of our heritage," Sara explains.
The Reillys have designed the brewpub to include an all-ages dining area, an open kitchen for customers to view their meals being made from scratch, an open brew space where beer will be served directly from the tanks, and a 21+ pub offering indoor and outdoor seating. While the brewpub's layout is integral to the community gathering space design, the Three Magnets Brewing Company name creates the ambiance.
"Three Magnets is based on a 115-year-old book called Garden Cities of To-morrow by Ebenezer Howard," explains Sara.  "Basically, Ebenezer considered himself an inventor of the perfect community. He thought he could take the best of both rural and urban living and blend them into a perfect town-country. When reading this, everything called out to us as Olympia, either what we are or what we strive to be."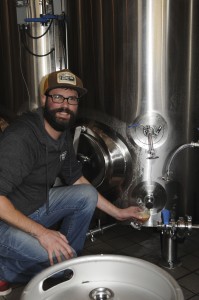 "We don't know if we are there yet but it is where we want to be and it is what we want to do as a business to help the community get there," agree Nate and Sara.
Nate continues, "The community support has been awesome. So many businesses have reached out to put our beer on tap, help us move our tanks or welcome us to the neighborhood. They truly want us to be successful."
The Reillys consider success as a thriving business that gives back to the community.
Three Magnets Brewing Company has named their flagship beers after some other local icons.  Proceeds will benefit local causes within the community. Nate explains, "We currently have three namesake beers reflecting some of our favorite places in the community – The Brotherhood Brown named after the Brotherhood Lounge, Rainy Day IPA named after Rainy Day Records, and the Helsing Junction Farmhouse Saison named after Helsing Junction Farms. Early next year we hope to introduce the Oldschool Lager to be named after Oldschool Pizzeria."
"The plan is to donate a designated amount from each pint of these beer sold to a cause mutually decided between us and the namesake business," Nate continues. "For example, $.25 of every pint of the Brotherhood Brown sold at Three Magnets Brewing Company will go toward SafePlace, an important cause to Brotherhood Tavern owners Pit and Melissa. They are also doubling-down on this and will be donating $.25 of every pint that they sell of the Broho Brown over their bar to SafePlace as well." Three Magnets Brewing Company will soon be announcing the charitable causes for the Rainy Day IPA and Helsing Junction Farmhouse Saison.
In addition to the namesake beers, the brewery tanks are full and ready to serve Session IPA, Session Saison, Brewers Best Bitter and Rye Ale.  A Fall Harvest brew is in the fermentation tank and ready to be moved over while two fresh hopped IPAs are fermenting away.  Each of these beers will be available once the doors open. Until then, you can fill your growler at Gravity Beer Market or find their beer on tap at The Brotherhood Lounge, The Old School Pizzeria, Cooper Point Public House, Farrelli's Wood Fire Pizza, Dillinger's Cocktails and Kitchen, Darby's Café, i.talia Pizzeria, Mercato Ristorante, Ramblin' Jacks, Rhythm & Rye, Skep & Skein, Vic's Pizzerias, The Westside Tavern, Waterstreet Café & Bar, and The Eastside Club Tavern.
Here's to toasting the innovative brews, delectable menu, and the pursuit to create the ideal community. To stay informed of the Three Magnets Brewing Company progress visit their Facebook page.
600 Franklin Street SE, Suite 105
Olympia, WA 98501