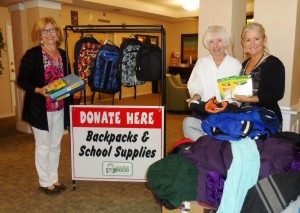 The gradual slide into autumn always makes me stop and take stock of things.  Swapping out the shorts, sandals, and toys of summer for coats, boots, and holiday decorations is when I do my biggest donation pile of the year.  I like knowing that outgrown clothes and surplus housewares will do more than help someone in need, they'll give them pause to be as thankful as I was when others shared with me.
Sir Winston Churchill said, "We make a living by what we get, but we make a life by what we give."  In our area, this philosophy is embodied by the caring hearts and hands at Olympia's Garden Courte Memory Care Community.  Whether for full-time residential or short-term respite care, they lovingly provide a safe, healthy environment for family members with Alzheimer's or dementia.
But the staff at Garden Courte does more than just care for our relatives.  They also donate to, host, and provide for many local non-profits in the Thurston County region.
Community Marketing Director Marilyn Richards is proud that Garden Courte serves "Community Youth Services alongside the Haven House which this year we just added to our list of agencies and organizations.  We continue to serve The Little Red Schoolhouse Project where we collect gently used and new coats for kids.  In April, it was Purple Up for Military Kids NO BULLYING dinner at The Boys and Girls Club of Lacey.  Here we cooked, served, provided a bagful of goodies for each child and did a video presentation on bullying.  Not to forget the seniors we serve in Thurston County, Garden Courte is always a sponsor of high profile events alongside other facilities that share in our interests like the Living Well, Living Long Conference, yearly Alzheimer's Conference, The South Sound Alzheimer's Walk, Lakefair 50+ In the Park and our own Caregiver Support Group held at St. Michaels and in our facility once each monthly."
Garden Courte is also a member of the Senior Action Network, where both Dawn Peterson and Marilyn Richards serve on the Board of Directors.  They also work with Meals On Wheels, the South Sound Alzheimer's Council where again Dawn and Marilyn serve on the board, and support fundraising events monetarily by attending banquet auctions at The Crisis Center, Community Youth Services, Senior Center for South Sound and Dispute Resolution Center.
Haven House/Safe Shelter Program Director Brian Hosford recounts his meeting with the staff at Garden Courte.  "Dawn Peterson reached out to me in June to inquire as to how Garden Courte could support Haven House.  This was a very welcome call and I quickly agreed to meet Dawn and Marilyn to provide a tour of our facility and allow them to assess needs.  This assessment meeting itself spoke volumes about Garden Court's proactive approach to helping the community.  Just a week or two after our meeting, Haven House received many backpacks and journals– items we sorely need and are always running out of.  Here in September, Dawn & Marilyn also provided a delicious dinner that our kids really enjoyed.  Four extra large pizzas from Papa Murphy's that the kids mentioned many times how awesome the treat was.  Staff helped the kids see that the community does care about them and organizations like Garden Courte are trying to help in any way possible.   This helped the kids feel supported in a time of crisis in their lives.  I look forward to working with the awesome Garden Courte team in the future.  Garden Courte is clearly concerned with assisting social programs in need and I appreciate their efforts to reach out and help in any way they can."
Even when economic times are tough and communities as a whole are struggling, it's heartwarming to see the power of sharing.  We are all able to reach out to someone in need, whether through time, money, or donations of extra blankets, clothes, or food.  Organizations like Garden Courte not only care for our aging relatives but our service members, school-children, and caregivers.
Check the Garden Courte calendar regularly, you'll find endless opportunities to learn from, mingle with, and support the community we all call home.  Live as poet Maya Angelou proclaimed, "If you find it in your heart to care for someone else, you will have succeeded."