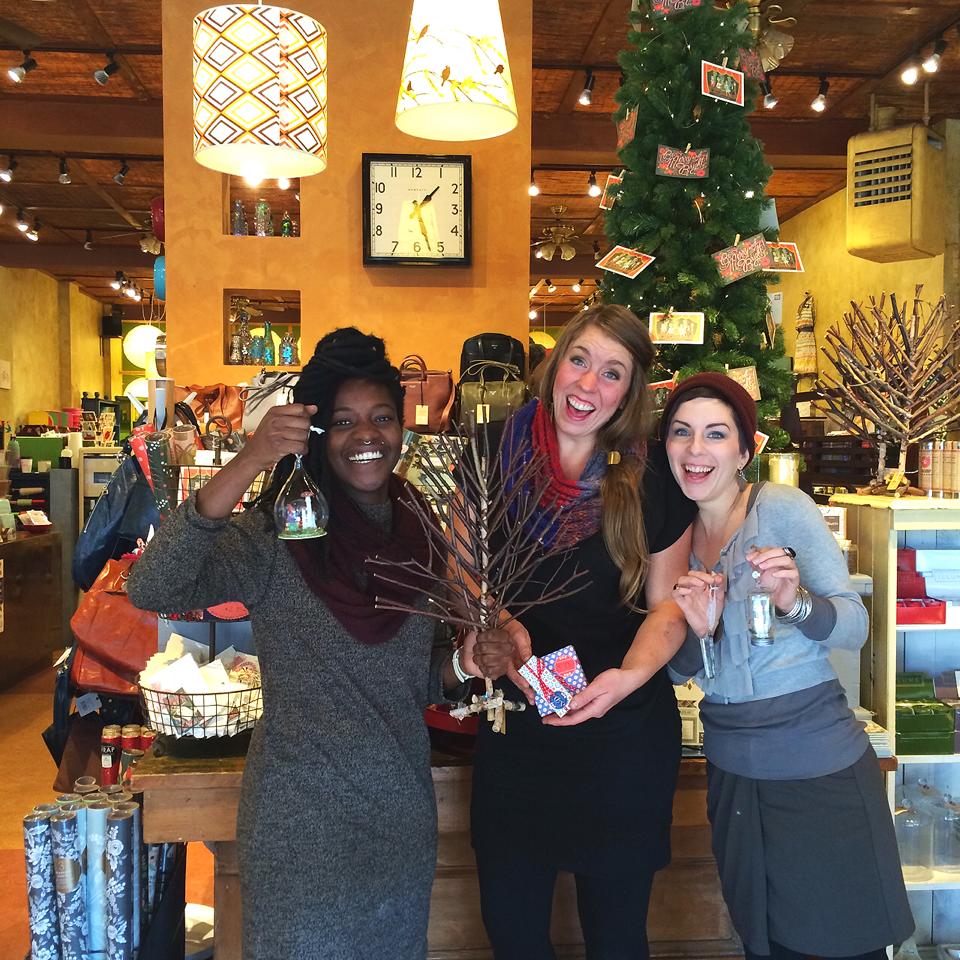 By Katie Doolittle

Confession: for the past few years, my holiday shopping has been an unpleasant and stressful obligation, usually carried out at the last minute. Picture me strolling through a crowded store on December 23, desperate to find something marginally sufficient and irrationally annoyed by other customers doing the exact same thing. After several hours jockeying for parking and waiting in line, my Christmas spirit always dwindles to pathetic Grinch-like reserves.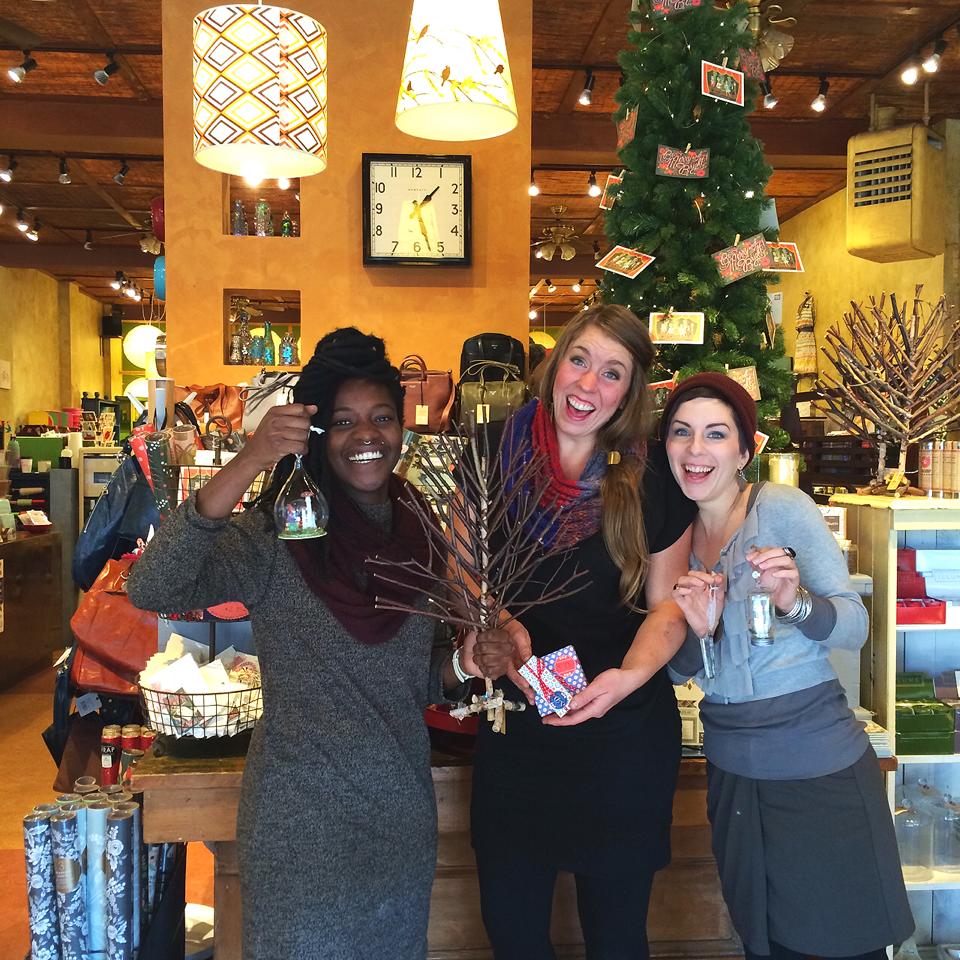 But this year, I want to experience gift giving as the joyful celebration it's meant to be. That means I need to shop early in a location I actually enjoy. Which is exactly why fellow fans of downtown Olympia may bump into me during Small Business Saturday shopping around town.
Nationwide, Small Business Saturday occurs the first Saturday after Thanksgiving. Sandwiched between Black Friday and Cyber Monday, it promotes patronage of small and local businesses as a thoughtful consumer alternative.
I love the idea that my money stays in the community. I want to support my neighborhood business folk… especially since they, in turn, support so many local causes and groups. In terms of personal benefits, the idea of shopping downtown is much more appealing than trudging about under the fluorescent lights of a big box store.
It begs the question: why haven't I changed my shopping habits before now?
Sad but true answer: I'm cheap.
As it happens, I am (or was) also ridiculously uninformed. I fell victim to the noxious myth that local stores are more expensive than chain retailers. Not true! A little pre-shopping research revealed that I can spend $35 or less for each person on my list and, in the process, get something lovely and unique.
Here are just a few Olympia shops I recommend for your own gift-giving needs:
The All-Stars
Archibald Sisters has been my favorite downtown store for over 20 years now. They really do have reasonably priced goodies for everyone. Go for the silly (stick-on mustaches), the kitschy (Elvis mugs), or the hilarious and unique (I'm thinking of their well-stocked stationary section). My personal favorite: the bath and skin care products you can order in your preferred scent.
Compass Rose sells gorgeous imports alongside lovely locally made goods. From books to baby gear and jewelry to kitchen goods, the unifying theme in this eclectic store seems to be that I want to take everything home. Bonus: Compass Rose annually donates 10% of its income to nonprofits and NGOs.
Shopping at Radiance Herbs and Massage actually feels soothing (and we have already established that I am not the calmest of customers). Take home some of that peace in a bottle; the essential oils and personal care products at Radiance are fantastic. Plus, their support of fair labor practices makes every candle and stick of incense smell all the sweeter.
Get a double bang for each buck by picking up a bag of locally made dog treats from One Spoiled Dog Treat while shopping at locally owned The Pet Works, located in the old Olympic Outfitters building.
For The Littles In Your Life
Captain Little is my go-to store for non-toxic toys (a must for my baby, who likes to put everything in his mouth). The sales staff are hard-pressed to recommend just one item within my price range. "We have a ton of stuff for $30 or under: games, art supplies, puzzles, toys, beautiful books, Klean Kanteens, and lunch boxes."
Simple Cloth sells baby carriers and natural parenting items in addition to cloth diapers. For $32, you can gift new parents with a two-pack of Aden+Anais Swaddling Blankets. Julie Triplett, store owner, says, "They are large enough to work well on a big or long baby and they're lightweight for multiple uses." If swaddling equates to better sleep for baby, this gift is truly priceless!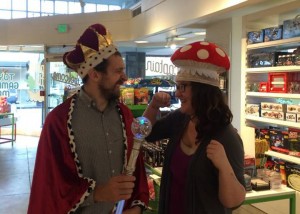 Poppet Olympia is chock-full of mint-condition consignment merchandise for babies and kids. It feels good to give new life to a gently used toy or outfit; scoring big ticket items at half their retail price certainly doesn't hurt.
For Chefs and Foodies
At Olympia Olive Oil, it's $12 each for any of their 200 ml bottles. I recommend the Persian lime olive oil and blackberry ginger balsamic vinegar. Pair these two together for a super salad dressing.
Buck's Fifth Avenue sells spices, teas, and exotic cooking tools. Overwhelmed? You can choose from their pre-created kits and gift packages. Currently, I'm wavering between the sea salt sampler ($22.40) and international curry sampler ($28.50).
For the Artistically-Minded  
Art supplies purchased at Olyphant make great stocking stuffers, and the staff can help you find budget-friendly items in any artistic medium. Want to know more? Check out this past article.
A gift certificate to Painted Plate is perfect if you want to give an experience rather than an object. Bisque pottery pieces start at just $6.
Right next door on Washington Street, Let's Paint!  offers scheduled classes (some costing only $25) that give budding painters a chance to explore their talents using acrylic on canvas.
As you leave downtown Olympia, swing up to DescoAV for the music lover on your list.  Bring a turntable and five records to be professionally cleaned during their vinyl event on Small Business Saturday.  Get more details here.
For the Personally Fashionable  
Hot Toddy offers modern fashion with a retro soul. For under $30, you can take home novelty T-shirts, accessories, or jewelry. As another option, makeup lines in the store include Besame cosmetics and Butter LONDON nail lacquer.
Bon Lemon, in their new location in West Olympia on Harrison, is a great stop for jewelry, scarves, and gift items.  See their items online before swinging into the shop.  Proprietress Amy Evans' is constantly changing her stock to ensure that the latest trends and fresh ideas are available for sale.
Newcomer LOLA Lifestyle Boutique can outfit the fashionably conscious female on your list.
Don't forget the sartorially splendid men in your life! Though g. miller menswear has lovely items in my price range, if I splurge anywhere it will be here. Two words, folks: custom tailoring.