By Kate Scriven
Everyone deserves the opportunity to engage in productive work.  To be useful and feel a sense of accomplishment at the end of the day brings fulfillment. Olympia non-profit, Morningside has been helping create meaningful and productive job opportunities for people with disabilities for over 50 years.   You've likely interacted with Morningside trained employees at the grocery store, your office or possible at The Evergreen State College. It's on campus that you'll find an innovative Morningside program helping launch high-school students with disabilities into the job market – Project SEARCH.
Project SEARCH is run in partnership with the Olympia School District (OSD), The Evergreen State College (TESC) and Morningside.  Launched in 2009, Project SEARCH is designed for students in their final year of high school (ages 18 – 21) interested in gaining independence and employment after graduation. Students apply to the program, showing a sincere desire and aptitude to learn job skills in a workplace internship.
This year's cohort, the sixth in the program, is the largest at 10 students.  "With each group, we continue to adapt more quickly, personalizing the program to each student," shares Krista Milhofer, the full-time Morningside Job Coach for Project SEARCH.  "Students enter the program with various needs.  Being able to come together as a team on their behalf has been a huge advantage."
The team Milhofer refers to includes Lisa Larson, OSD Special Education Teacher and Holly Joseph, liason between TESC and SEARCH.  Together with OSD social workers and transition coordinators, the women work diligently to ensure students are not only ready for the workplace upon graduation, but their basic needs of housing, transportation, and insurance are in place.
The students start the year with interest and skills assessments along with goal setting.  "We really focus on the end goals of employment, education and independent living," shares Larson.  "The biggest thing for us is that the students really want to go to work when they graduate."
All participants have an IEP (Individual Education Plan) from OSD and show awareness of their disability.  The team helps refine their understanding of their skills, interests, abilities,
and needs.  "We teach them how to advocate for themselves so that they can be successful and independent in the workplace, asking for accommodations if needed," shares Milhofer.
Students cycle through three 10 week internships.  The placements are determined by interest and aptitude surveys, helping students understand what they might want to do for employment in the future.  Students are on TESC campus full time and "on the job" four hours a day, Monday through Thursday.
Fridays are devoted to life skills trainings including Intercity Transit training, CPR certification, and uniform shopping.  Job search, communication and interview skills, resume writing and application completion are also taught.
This work culminates in creating a career portfolio.  "The portfolio includes their resume, internship assignments, supervisor's names and contact information, tasks they can do, and information on resources they may need to access," explains Larson.  This portfolio becomes a reference for students as they launch into the employment market, helping ensure successful transitions.
Holly Joseph is instrumental in arranging successful placements throughout TESC departments.  "Our employees benefit greatly from the program, too," she notes.  "They serve as mentors, helping students master 'soft-skills' such as appropriate conversation in the workplace and we see growth within our employees each year."
The number of departments hosting Project SEARCH interns has increased each year and students have a wide range of internships options including:
Aramark Food Service including The Greenery, The Market, the POD, and Einstein Bagels
Grounds and Motor Pool
Residential and Dining including Linen, Custodial and Grounds
Childcare
Office Work
Building Services
"Students are able to refine their knowledge of each job answering the question, 'Do I really want to do this?'" explains Larson.
I visited with several students throughout campus, currently engaged in their first Project SEARCH internship.
Emma Thomson
Emma works in her own office space in the library completing a variety of office tasks. She's currently working on a computer data entry project.  "It's hard work, sometimes," she shares, "but I really enjoy helping get things done."  The Olympia High School student says she's good at office work and thinks it may be a good fit for her future.
Emma's mom, Eileen Thomson, shares her impressions of the program so far. "This is a fabulous fit.  The bar is set very high and I know that when the bar is set high, Emma typically reaches for it. If it's not set high, she tends to stay at that comfortable level.  She's doing skills on the computer that I had no idea she could do, which is really exciting.  I am very grateful to the program."
Maddy Beerbower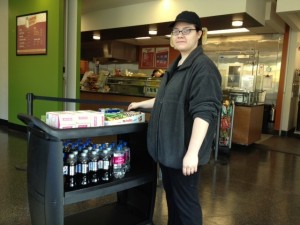 Maddy works in the Student Accounts office on campus.  Her current work involves accessing the college database, updating student accounts as paid or past-due. "I really like the office atmosphere," she shares.  "It's laid-back and relaxed here and has a slower pace than other jobs."
Maddy shares how she is learning to advocate for herself.  "It's about what we can do, not what we can't," she explains.  Self-awareness and communicating your needs is actively taught during classroom time to SEARCH students.
Maddy also holds a second paid job at The Greenery, working in the kitchen during the dinner shift.  "I love the team atmosphere there," she shares.  "We really work together."
Angie Fitzpatrick
Angie works in the food service department for Aramark, a valuable partner for both Morningside and Project SEARCH.  Her duties include cleaning tables, stocking "grab-and-go" items and helping make pizza on the line.  Angie is shy, but shares that she likes keeping things organized in her job.
Initially, Angie struggled with tracking food items that needed restocking as she took her cart to a neighboring building to gather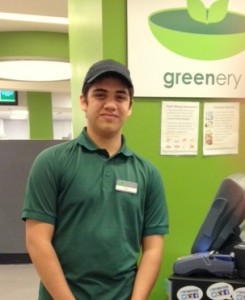 supplies.  Her job coach helped her request a list she could utilize to create a check list. This accommodation has created success for Angie.  "Having a sense of accomplishment raises self-esteem and can make all the difference," shares Larson
Harley Larriva
Harley's smiling face can be seen Monday through Thursday in The Greenery.  He helps clean, restock, sweep, and cashier.  "The people here are so nice and really show me what I need to do.  I love the fact that I can clean – I just love to clean," he shares.  "I really feel accomplished and actually tired at the end of the day and I really like that," says Harley.  "It feels like I worked hard."
His supervisor, Brooke, shares, "Harley is so helpful to us.  We really love having him as part of our crew."
The impact Project SEARCH creates on the greater community is immeasurable.  Not only is the program training tomorrow's productive workers, but it's creating independent, self-motivated citizens.  "Having Project SEARCH on campus makes all of us better," says Josephs, a statement that everyone in our community can likely agree on.