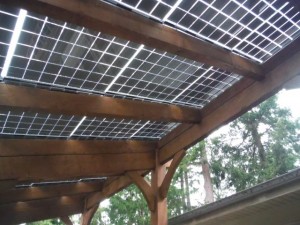 A decision to "go solar" lessens dependence on non-renewable energy sources while producing clean electricity gathered from the sun. Yet capturing this free, renewable source of energy requires set up costs. Solar will provide a financial return on investment and save you money on utility bills.  Right now is a wise time to invest in a solar energy system as tax credits and production incentives are offered. Several local lending institutions work directly with South Sound Solar to offer loans specifically for solar projects.
Federal Renewable Energy Tax Credit
This tax incentive allows up to 30% of the installation cost of a solar energy system to be credited to your federal income tax. This is a tax credit not a tax deduction. If you buy a $10,000 system you would shave $3,000 off of your taxes.
Washington State Cost Recovery Incentive Program 
Washington State, in partnership with local utilities such as Puget Sound Energy, offers an solar production incentive. For electricity produced by your solar panels, you can earn a minimum of $0.15/kWh for every kilowatt of electricity you produce. This steps up to $0.54/kWh if the solar products are manufactured in Washington for a maximum of $5,000 per year. You can apply for this credit every year until the current expiration date of 2020.
Net Metering
Your home or business will use the electricity generated by your solar panels before it uses electricity generated by your power company. If you are producing more electricity through your solar system than you need, the electricity will go back to the utility and you will receive a credit at the retail rate.
Financing
Olympia Credit Union's and Generation's Credit Union loan programs require zero down, no home equity, and will finance 100% of the purchase and installation of the system. Olympia Federal Savings has a low interest home equity "green home" loan. As solar immediately raises the value of your home, OlyFed factors that future value into their equity calculations.
When South Sound Solar performs a Solar Site Survey your bid includes a custom calculated payback analysis. Keep in mind the sooner you buy solar the more incentives you earn before the incentives expire.
To learn more about solar incentives, credits and financing visit the South Sound Solar website by clicking here, calling 360-352-7869, or attending an upcoming informational workshop.