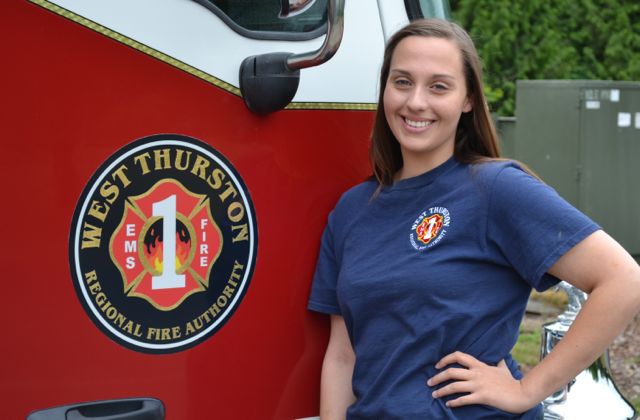 By Barb Lally

Though she has faced many challenges, Orianna Clarke has emerged stronger, more confident and able to pursue the dreams that she has had all of her life. A big part of her success was finding a place where her best talents could be applied, where she could learn and grow in her own individual strengths.
Growing up, Orianna had been unhappy in public schools because she didn't fit in and found it difficult to learn. She says she was socially awkward, had a hard time making friends and constantly butted heads with authority.
"I was different. There were times in school that I felt like a criminal," Orianna explains. "I felt beaten down. I knew I deserved better, I knew I could do it."
Finding an alternative
She and her mother sought alternative schooling where Orianna would be more comfortable and capable of learning.
They found that at the Sudbury School in Olympia. Though the school has since closed, it provided a greater chance at learning for Orianna because it gave her the reins to do what she knew she could.
However, the school was not accredited and when her scholarship ran out her sophomore year of high school, she had to look elsewhere to get her diploma. Orianna didn't want to jump back into a traditional high school where she knew she would not fit in.
A place to learn
That's when her mom found Secondary Options in the Tumwater School District with an "alternative approach to educating youth in a caring environment," according to its head instructor Jeanette Holocher.
Holocher explains that their classrooms are wherever there is learning. For example, the school has no formal lab, so local parks serve as great classrooms for Biology. A Friday field study class that met last quarter compared the ecosystems of McLane Creek, Tolmie, Burfoot, Priest Point Parks and the Mima Mounds.
Orianna was reluctant to attend the school at first and wondered about the weird types that might be part of its student body, but she soon found that she fit right in.
"There were all types," explains Orianna. "There were students who had straight A's in traditional high school, and home-schooled kids and adults. I loved that we were all different. We affectionately called ourselves the 'Island of Misfits' but we all really respected one another."
Taking on the challenges
A huge challenge and potential roadblock to her education was that she transferred into the program her junior year with .5 credits and needed 21 to graduate. It was a lot to make up in two years.
Typically, Secondary Options students attend one class a day for two and half hours with an equal number of hours in independent studies. Orianna took on two classes a day earning 3.75 credits every quarter completing four years of high school in two years' time.
It is a remarkable feat for this amazing young woman who also became a chief caregiver in recent years for her mom who was diagnosed with a disabling neurological disorder.
Orianna graduated with her Secondary Options class of 38 this past June.
"Secondary Options is amazing," says the new graduate. "They take their time with you as an individual. They knew us, how we got there and how we learned so we could succeed. We were not just another chair in a big classroom."
"Needless to say, her determination and ability to work is impressive," says Holocher about Orianna. "She has always made any class she was a part of better because she causes her peers to think about what is important, reminds them to be grateful, and encourages them to be the best part of themselves. She will be a blessing to the classrooms and workspaces she enters in the future."
Fired up for the future
Orianna has always dreamed of being a firefighter and sees it as an opportunity to give back to her community.
To pursue that dream, Orianna sought the help of the Community Youth Services CareerTREK program before she graduated from high school. Her case manager there found her a firefighter's internship program.
Having completed her internship with the Littlerock Fire Station this summer, Orianna is now applying for the The Fire and Emergency Technology Services Program (FEST) that offers students hands on experience while working toward their Fire Protection Technology degree.
"She picked us for her internship," says Lt. Lanette Dyer, the Public Information Officer for the West Thurston Regional Fire Authority in Littlerock. "She could remember the lights and sirens of the Littlerock fire trucks going by her home when she was a kid. It is why she wanted to intern here."
A firefighter herself as well as the Emergency Medical Services Officer, Lanette acknowledges Orianna's advantage in helping people.
"All of the challenges Orianna has overcome will make her a unique responder for her community, with a perspective of what people go through. We are very excited about being part of her amazing journey."
Despite the many things she has had to overcome, this unique young lady is now looking forward to a bright and promising future. Orianna has proven that being "different" is a good thing and she is grateful to friends, family, a great school and a fire station who understood that and have believed in her.