By Mary Ellen Psaltis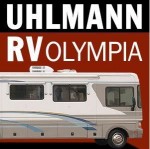 You may think camping is all about roughing it – pit toilets, well water and smoky clothes. Nevertheless, there's no need to lack luxuries in the food department. Consider upgrading your camping life with gourmet touches. The benefits are outrageous (eating like royalty) and you'll likely have time to savor every bite. By taking only a few extra minutes of preparation before you head down the road, you'll be surprised how much fun is found with your camping meals.
Scott McHugh, Store Manager at Boston Harbor Marina, eagerly offered suggestions. He recommends buying a whole fish such as a salmon, putting it in a grill basket and then letting the coals do their magic.
The day I visited the Marina there was fresh tuna. Boston Harbor sells fresh crab and clams that McHugh said you can "boil right in the sea water!" Tuck a few lemons in your picnic basket for your seafood feast. Bring along a local loaf of artisan bread and a stick of butter. Better make that two loaves. Being outside all day revs up the appetite. By the way, Boston Harbor Marina has beer tasting on Fridays from 5:00 – 8:00 p.m. You can stop by, taste, pick your fish and head out for your camping weekend.
Rather have beef for dinner? A few days before you leave, marinate steak cubes in a plastic bag then freeze. Add the frozen bag to your cooler. It will help to keep other things cold and will be largely defrosted by your second day out. Then skewer your seasoned cubes and pop on the campfire.
Vegetable lovers will do well by chopping up carrots, potatoes, onions, broccoli, and zucchini (anything you choose). Lightly coat with olive oil.  Portion into aluminum foil pockets. Top with rosemary, salt, pepper, and garlic. Wrap tightly to create another item for your toasty embers.
If you are ambitious, you can make individual salads in glass jars. Layers of tomatoes, cucumbers, peppers and lettuce look pretty and the work is done at home. No jars? No problem. Put these same ingredients into a plastic bag (except the lettuce) and your salad will be almost ready to serve. A bag of miscellaneous greens will allow each person to take the right amounts. Select a bottle of dressing that you don't usually have at home. Sometimes a little change is the remedy to enliven an otherwise standard dish.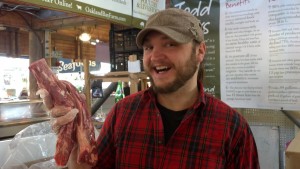 Who wants cold cereal on a cool summer morning? Not me. Soar to new heights of culinary delight by cooking a griddle laden with Oakland Bay Farm's bacon. It's thick and stays flat upon cooking. Eat as-is or cover each cooked piece with pancake batter that you have premeasured at home. Milk is in one container and the eggs in another. Now you have a bacon-infused pancake. Top with real maple syrup or berry jam. Way more fun than soggy breakfast flakes.
Do you need a cup of coffee (or two) before endeavoring to cook breakfast? Coffee professionals at Batdorf and Bronson have as many ideas as varieties of coffee. Graeme Smith gave me a taste of Skye's Mountain Blend, which he thinks makes a fine dark roast for your first outdoor cup. Adam Carter suggested the Bohemian Blend, another dark roast. Knowledgeable, jolly and helpful, Batdorf and Bronson hosts are on hand to find a coffee to satisfy your desires.
Don't stoop to instant coffee crystals. Carter showed me the Aeropress Coffee and Espresso Maker, a small, unbreakable option that would look mighty fine on your picnic table. It's similar to a French Press, but easier to clean and sends fewer particles in your cup. If boiling water is the extent of your cooking skills then brew up a pot of concentrated coffee ahead of time. Store in a tight-lidded Mason jar and then add your hot water to a small amount of the concentrate. You can also use the concentrate for iced coffee. Have cream and sugar on hand.
Are you taking along starving children? Or hike-hungered adults? Mix up refried beans with a can of chili beans, cream cheese, chopped peppers and salsa. Bring a huge bag of tortilla chips and a bag of baby carrots. Perfect snacking.
Another fun snack is popcorn. Yes, you can buy a pre-popped bag of someone else's, but I say pack your own oil and a sack of Orville Redenbacher's corn. Make sure you have a decent pot with lid and cook on your camp stove. All you need to add is a few shakes of salt. Remember to bring festive beverages such as sparking cider, a bottle of Prosecco or your favorite wine.
Finally, dessert.  Lug a whole watermelon – and bring a sharp knife. It tastes fabulous on a hot summer afternoon. For a more intimate crowd, pick up a small sized yellow (on the inside) watermelon. I used to make a 9×13 pan of cookie bars. They survive travel and can be cut into any sized pieces. The inclusion of nuts, raisins, and oats gives the illusion of health.
The best thing for us about camping is the time and space to disconnect from the usual demands at home. It always seems like work to get ready  – packing up the gear and fixing the food, but when the sleeping bags are unrolled and the fire is laid, there's a collective sigh of relief. Once you've made your gourmet preparation, all you need to do is decide what to eat first.
Eat Well – Be Well