Submitted by Thurston County Fair
The Thurston County Fair was once again a sizzling summer hit in its 143rd year with a total of 36,700 people enjoying fun for the whole herd between July 30 and August 3. That's up from 33,500 attendees in 2013 and 28,800 in 2012—nearly 8,000 more attendees in just two years.
The 2014 fair showcased all of the traditional fair favorites—animals, agricultural exhibits, sweet treats and savory snacks. The Live and Local Concert Series and the Savor South Sound beverage tasting events also were back for their second year with some new vendors and some new performers. And new to the fair this year was the Rescue Pet Round Up event, bringing fresh faces to a community event that reaches back to 1871.
"So many staff and volunteers work tirelessly all year long to make the fair a success. We are grateful to everyone who helped make this year's fair successful and so much fun," said Thurston County Commission Chair Karen Valenzuela. "I was particularly pleased with the Savor South Sound event this year. It was great to see so many of our local brewers, vintners and cider-makers and taste what they have to offer. It's a great showcase for our local agriculture."
"County fairs like this are a lot of fun, but they also play a critical role in promoting local economic development and local agriculture," said Commission Vice Chair Sandra Romero. "Many thanks to everyone who helped make this year's event special, and a special thank you to the 400-plus of the youth who worked so hard on the projects and displays that made the fair fun and educational."
"I always enjoy visiting the fair, and particularly the opportunity to meet so many fair volunteers at the Commissioners' annual pancake breakfast. It's our way of thanking them for all of their hard work to make the fair so much fun for the community," said Commissioner Cathy Wolfe. "I want to thank all of the sponsors who recognize the value of this event and who helped make this another great community celebration."
The 36,700 fairgoers brought in more than $200,000 in revenue for the fair, up about $5,000 compared to 2013 fair week revenue based on early estimates. The 2014 estimated revenue also beats the 2012 total of $178,000 by $23,000.
Since 2009, the Thurston County Fair has been a self-funding program of Thurston County government, with all of its operations paid for by the revenue from fair week, along with other activities and events throughout the year, such as RV and boat storage, the annual Secondhand Safari community garage sale in May, and the Holiday Bazaar event in November.
The biggest increase in attendance compared to 2013 was on Friday, August 1. A drizzly, wet day in 2013 kept attendance at about 5,000, but this year's dry weather and sunny skies attracted more than 6,300 fairgoers on Friday.
2014 Thurston County Fair Attendance:
Wed, July 30 attendance – 9,450 …….. (9,300 in 2013 – 8,400 in 2012)
Thu, July 31 attendance – 7,200 …….. (6,500 in 2013 – 6,100 in 2012)
Fri, Aug. 1 attendance – 6,300 …….. (5,000 in 2013 – 5,100 in 2012)
Sat, Aug. 2 attendance – 7,850 …….. (6,800 in 2013 – 5,700 in 2012)
Sun, Aug. 3 attendance – 5,900 …….. (5,750 in 2013 – 3,500 in 2012)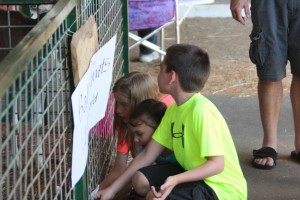 Other 2014 Thurston County Fair Highlights:
The 2014 "One Buck Wednesday" food drive event shattered the record for the amount of food collected from generous fairgoers. The Thurston County Food Bank received a staggering nine and a half pallets of food, smashing the old record of eight pallets of food collected in 2012. Each pallet contains about 1,000 pounds of food, which means that 2014 fairgoers helped collect nearly 10,000 pounds of food for needy families in the Thurston County community.
Approximately 900 Military Appreciation Day discount admission tickets were sold—up from the 800 Military Appreciation Day discount tickets sold on a soggy Friday in 2013, and matching the total from 2012.
2014 saw the grand re-opening of the Hicks Lake Barn. The barn was a total loss after a fire in February 2013, and a large tent was used in its place for the 2013 fair.
New in 2014 was the Rescue Pet Round Up on Sunday, August 3. Six animal rescue groups participated in the event, and many are looking forward to an even bigger event in 2015. Families are currently being screened for three of the dogs brought by Seattle Purebred Dog Rescue, and applications were accepted for one adoptive home for a horse and for one new foster home by Hooved Animal Rescue. Dogs on Deployment was also able to reach many military personnel and local families and educate them about their program that provides foster homes for pets owned by active duty military personnel on deployment.
Winners for this year's Dessert of the Day contests include:

Maoreen McLemore, 2014 winner of the Chocolate Cake Contest—Adult
Jackson Scofield, 2014 winner of the Chocolate Cake Contest—Youth
Sarah Osborne, 2014 winner of the Cookie Contest—Adult
Yumi Sawabe, 2014 winner of the Cookie Contest—Youth
David Reister, 2014 winner of the Spooner's Berry Best Pie Contest—Adult
Stephanie Larsen, 2014 winner of the Spooner's Berry Best Pie Contest—Youth
Cindy Cartwright, 2014 winner of the Cupcake Contest—Adult
Bree Ask, 2014 winner of the Cupcake Contest—Youth
Join us at the Thurston County Fairgrounds for the Holiday Bazaar in November, Secondhand Safari on May 2, 2015 and for the 2015 Thurston County Fair July 29 through August 2. For more details about these events, facility rentals, and other events and occasions at the Thurston County Fairgrounds throughout the year, contact the Fair Office at (360) 786-5453 or visit www.ThurstonCountyFair.org.