By Eric Wilson-Edge
The first thing I notice about 11-year-old Gabi Charnesky is her socks. They're bright, multicolored streaks that end in an image of the Seattle skyline. Charnesky just finished basketball practice. I meet Gabi and her mom, Dani, at Skateland. When I arrive Gabi and her siblings are unloading bottles of water and food.
Gabi doesn't say much – at least not to me. For now she seems content letting Dani do the talking.  We're here because of a conversation between mother and daughter that took place over a year ago.  Gabi saw an ad for the Susan G. Komen Race for the Cure and wanted to participate. When Dani raised concerns over the distance Gabi was quick to say "'they're fighting for their life mom, it's the least we can do,'" recalls Dani.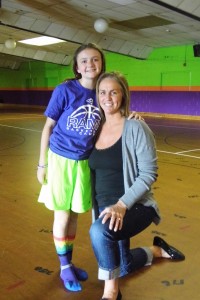 Unfortunately, Race for the Cure doesn't allow participants under the age of sixteen. Dani did a little digging and found the local chapter of American Cancer Society's Relay for Life.  Gabi started her own team – Cray Cray – and together they raised $5,000.
This year both Gabi and Dani want to do even more. Dani has enlisted the help of the roller derby community – she's a member of the Oly Rollers. They're going to hold a fundraiser on Thursday, June 19 at Skateland. Doors open at 6:30 pm and will feature four different teams – Cray Cray Strikes Back, Hashtag, Yo Moma and Selfie. There will also be food, an auction and raffle. Tickets are by donation but the suggested price is $5.
Gabi hopes to raise $5,000 before Relay for Life on June 27. At the moment she's collected just over $2,000. When asked what makes her daughter so special Dani says, "the whole town contributes to what she is, not just us.  This is a product of where we live."
So why does a young girl get involved with something so heavy? One of Gabi's classmates has a sister who is battling cancer. This is how she could help. The message resonated with Dani. During last year's event she recalls seeing cancer survivors walk the first lap. "I looked across and I saw this family that I know.  I looked at my husband and told him 'I don't know if I can do this.'"
But she did and so did Gabi. In fact, Gabi was the only member of her team who stayed the entire time.  She took a brief nap between 12:30 a.m. and 2:00 a.m. but that's it. She walked the rest of the 24-hour event.
Mother and daughter are more resolute than ever. Besides the $5,000, the pair hope to raise another $2,000 at Relay for Life. "Cancer hits everybody," says Dani. "I play derby, I have good things and at any given time it can be done."
Gabi, her bright socks dangling off the bench, puts it more succinctly.  "Cancer sucks."
You can donate to Gabi's team by clicking on the link.  Relay for Life of Thurston County is slated for June 27, beginning at 6:00 pm at Timberline High School.