By Tom Rohrer

A hole-in-one evokes a sense of accomplishment rarely matched in athletics.
That is, only for the one who made the shot.
For friends and fellow players, an "ace" can bring about an overwhelming sense of jealously and longing.  Following her first ever "one-stroke" this past weekend, Chelsea Kelley witnessed the unflattering reactions from the three male players in her group.
"Oh yeah, you could sense the jealousy," said Kelley, an esthetician at Spruce Skin and Wax Shoppe in Olympia. "They were sort of bittersweet and mad all day long.  They all have yet to hit one and none had ever seen one in person."
Playing with her husband, Spencer, and two other male friends this past weekend, Kelley used an 8-iron to hole her tee shot on 17 at Olympia Country & Golf Club.  It was Kelley's first hole-in-one, a rare feat for even the most accomplished and experienced players.  Now in her fifth year playing the sport, the Olympia Country & Golf Club member knew from the moment the ball left the tee that it had a shot of rolling in.
"I clubbed up one club, and when I hit it I thought 'oh man, this is going in' and it hit the fringe and bounced towards the hole," she said. "I think it landed a foot and a half from the pin.  We saw it hit and the guys said 'it's in, it's in.'  It didn't feel real."
Standard procedure following a hole in one is for the lucky (or is it skilled?) shooter to buy a round of drinks for those in the clubhouse.  Unfortunately for patrons at the club, Kelley didn't deliver on the tradition.
"It was such a nice day so not too many were people in (the clubhouse), so we just left," Kelley noted. "Boy, that could've been spendy."
Originally from University Place, Kelley picked up the game from her husband, an accomplished six handicap player who grew up walking the fairways of the OCC and then played varsity golf for Capital High School in the early 2000s.  Now members together at the Olympia Country & Golf Club, the pair designates a large amount of their free time to the fairways, greens and occasionally the roughs and bunkers of the Pacific Northwest.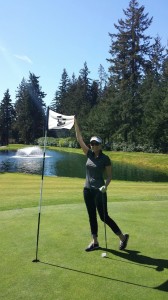 "It's a game we can grow old together playing," said Kelley. "It's fun to grab some beers and play whenever it's nice.  It's very relaxing, but fun, active and competitive as well."
Further evidence of the couple's passion for golf was their honeymoon following last year's wedding. The two took a trip to both Coeur d'Alene, Idaho, and Lake Chelan, where they played six rounds at a collection of renowned courses in the area.
"It was ideal," she said. "I think it said a lot about us, and it was exactly what we wanted to be doing."
To feed their obsession locally, the Kelley's look to the Olympia Country & Golf Club, an establishment they're proud to be a part of and looking to continue to support.
"We like the club and love the new clubhouse.  It makes us want to be there more and you can see sort of a youth movement forming there," she said. "We're trying to bring in more young people and just show how cool of a place this is."
Already armed with great memories from her time at the club, Chelsea Kelley now has one that can stand out from the rest.  Kelley kept the ball from her faithful shot and plans to make a plaque for display.
"It's kind of a cheesy thing to do, but hey why not?" She said. "It may never happen again."
Like anyone who's accomplished a rare achievement, Kelley called her parents and in-laws.  While talking to her father-in-law, Kelley realized she was now part of an exclusive group.
"He's had four hole-in-ones in his life so he was pretty amused and happy to hear about it," she added. "The first thing he said was welcome to the club.'"
Olympia Country & Golf Course
3636 Country Club Drive NW
Olympia, WA 98502