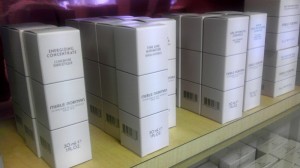 When you are young, your skin cells reproduce every 14 days. This relatively fast process keeps those cells plump and results in youthful looking skin.
As we age, it takes longer for those cells to travel to the top layer of skin called the epidermis. Instead, the cells arrive at the epidermis looking flat and dead. These flat cells cause the skin to look older.
Fortunately, there are excellent skincare products, like Merle Norman's Glycolic Rejuvenating Pads or Micro-Refiner, that speed up the journey of each cell as it travels to the epidermis, preserving the appearance of a plump cell, which keeps skin looking incredible.
Anti-aging products work because they plump the skin cells therefore reducing fine lines and dry patches.  The use of Merle Norman's Energizing Concentrate, Fine Line Minimizer, and other products.
Another way to renew the skin cells is through exfoliation. One mistake many people make when they get older is that they forget to exfoliate. When you are young and have acne, you exfoliate constantly. Men get rid of dry skin when they shave. Exfoliation simply means getting rid of dead skin. This process helps you look younger by cleaning out the pores and removing dead skin. Micro-exfoliants are an excellent way to start sloughing off the dead skin.
Toners also exfoliate. Toners are used to remove any residue left by a cleanser and keep pores from getting larger.
Not all of us need the same products. Merle Norman customers know they can visit Merle Norman in Lacey and consult with a skin care expert in a private setting. Merle Norman's consultants excel at helping customers find a regimen that is right for their unique skincare needs – having products for just about every skin type, from sensitive skin and rosacea to acne prone skin.
Merle Norman Cosmetics, Wigs and Day Spa
3925 – 8th Avenue SE, Suite F
Lacey, WA 98503
360.491.4911