Creating local jobs, encouraging school children to read and paving a successful life path are all worthy goals. Little Caesars Northwest strives to meet all three in an atmosphere of team spirit. And there's hot pizza, too
Who is the power behind the pizza? Sebastian Brost is the franchise owner. His brother Emmett Brost is Director of Communications and the partnership is rounded out with the Director of Operations, Gilbert Trujillo. Working as a unified team, they bring together their talents and drive to serve the community.
The Brost brothers grew up playing sports – "a lot," smiles Emmett. His brother was both an All-State football and baseball athlete. Competition and playing on teams was part of every day life. Five brothers might have also played an influence.
Both brothers carried an entrepreneurial spirit from a young age. They learned that hard work paid dividends. From experience, they learned that school sports could continuously use a financial boost.
One of the ways Little Caesars Northwest supports local schools and athletes is with their Half Court Shot event. To pump up the energy for attending basketball games, ten attendees are randomly selected to come to center court at half time. Each person gets a chance to shoot – and the first person to get a basket wins 10 free pizzas. If no one gets a basket, then each of the ten earns a free pizza. In addition, Little Caesars serves pizza to the teams following the game. Schools that want to sell pizza at their concession stands can also earn profits by purchasing whole pizzas then reselling them by the slice. Everybody wins.
It's not only sports that interest this group, but students in general. Programs that recognize reading and finishing homework are also available for schools to use. You can be sure there are pizza rewards and even tickets to the Tacoma Rainiers.
If your school places value on deeper community support, Little Caesars Northwest sponsors a food drive at the end of the school year to supply area food banks with needed goods for families during the summer months. The program is a competition with the winning school earning a pizza party.
Little Caesars Northwest believes that it is important to create local jobs where entry-level applicants can develop their own work ethic, manage their time, become part of a team and have the experience of working hard and finding success. Brost said that he realizes people likely won't stay in those jobs forever. It's a compliment to have employees leave for jobs that are higher skilled because they have become more prepared.
Then there's the pizza. You may be surprised to learn that the sauce and pizza dough are made fresh every day, in each location. Their machines can produce 50 pounds of dough per batch. All pizzas are topped with 100% real cheese.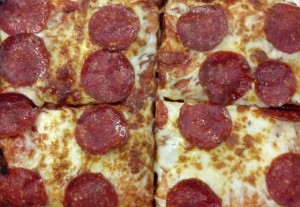 Pizzas are valued priced: a large pepperoni pizza is $5.55 and a five topping large is $9.99. Little Caesars locations are take-out only, so there aren't tables for eating. You get to drive home and inhale that familiar smell. Can you refrain from eating a piece before you get home… or not?
Little Caesars uses proprietary technology to have certain menu items available with their Hot and Ready program. Pepperoni and cheese pizza, crazy bread and Caesar wings are always ready for you to pick up on a moment's notice. Lunch boxes are Hot and Ready from 11:00 a.m. to 2:00 p.m. and at dinner time between 4:00 – 8:00 p.m. the choices also include the 3-Meat Treat, Hula Hawaiian and the Deep! Deep! Pepperoni.
At the end of the day, unsold pizza is donated to the Thurston County Food Bank that now has a program to reclaim restaurant food, repackage it and save it from going to waste.
The Brost brothers maintain high ideals. They invest in their employees by partnering with the South Sound YMCA and offering incentives for further education. They derive great joy from supporting the military, schools, families and children via fundraising and fun-raising activities. Our community gets jobs. All this happens by making a product that is made well and still affordable. As their well-known mascot would say, "Pizza! Pizza!"
Let Little Caesars Northwest show you ways to find that "Pizza is fun."
You can find Little Caesars Pizza at the following Thurston County locations:
Shannon Edmondson, Manager
1520 SW Cooper Point Rd. Ste.310
Olympia
360-489-0041
Kirsten Erps, Manager
805 College St. Ste. C.
360-456-4226
Nicole Tozier, Manager
1350 Marvin Rd NE Ste. D
Lacey
360-489-1887