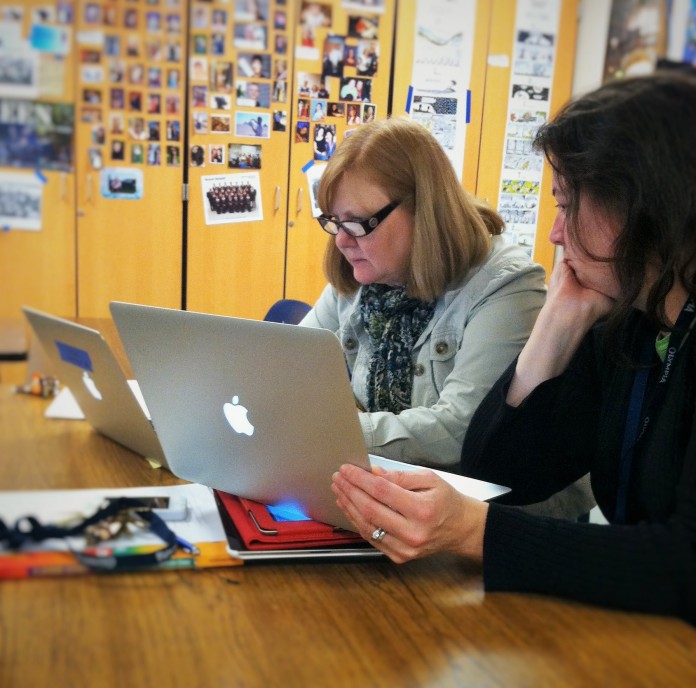 By Tali Haller

Technology is becoming increasingly prominent in schools: cell phones on desks, iPads in backpacks, and the occasional iPod bud dangling from a jacket pocket. While many are looking for ways to reduce the prominence of technology, some are using it to their advantage. Embracing Twitter, Justin Bieber, and savvy gadgets, Olympia High School teacher Kate Chan has designed a Spanish curriculum that incorporates technology, allowing for maximized engagement.
"One of my main goals is to create relevancy in the classroom," explained Chan. She wants to bring language alive through culture and authentic audio. However, Chan realizes that textbooks are often dry and out-of date. "They have pictures of what I looked like when I was in high school," she observes. "I don't want students to think that these are accurate current representations of other countries." But equipped with a classroom set (35) of multi-colored, high-speed iPads, Chan is able to provide a hands-on learning environment that gives students the tools they need to obtain an accurate portrayal of today's Spanish-speaking countries.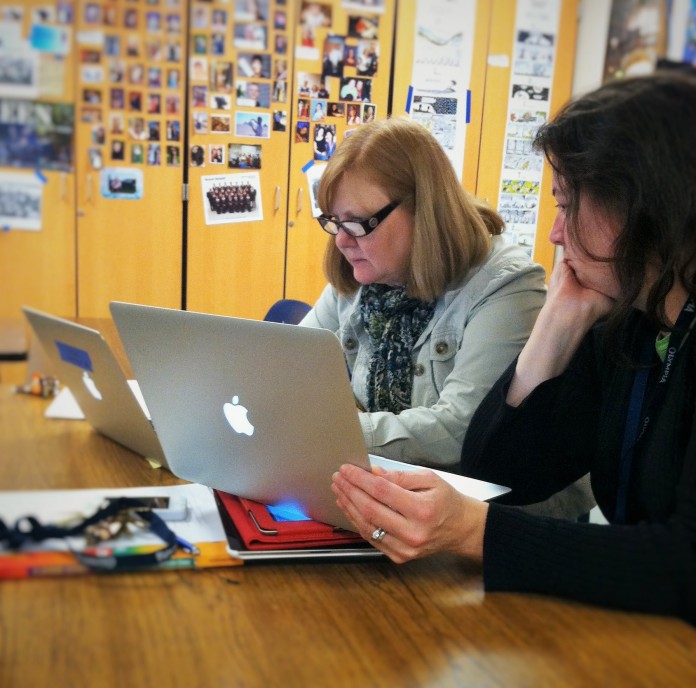 In fact, all but two classes in the OHS foreign language department are furnished with classroom iPad sets. "I think a language classroom is the perfect place for technology," said Chan, who believes the many skill sets language encompasses -reading, writing, speaking, and listening- are best learned through a variety of mediums and tools, which technology allows for.
The iPad has a myriad of uses in the classroom, from basic programs to apps (small, specialized programs typically downloaded onto mobile devices) specifically designed for language-learning individuals. "Many people assume that we use technology mainly for translation devices or dictionaries, but it's really so much more than that," remarks Chan.
As a medium for receiving worksheets and turning in homework, students use an app called Drop Box. Here, they can also access worksheets and assignments from earlier in the curriculum. Taking a different spin on the regular Drop Box app, the audio drop box app enables students to make audio recordings. Chan uses this app for quick speaking assessments. "I assign a prompt, the students make their own recordings simultaneously –usually within 5 to 20 minutes, send them to me, and I can listen at home," said Chan. "If I were to use class time to listen to every student speak, it could take up to three days."
Another app, Move and Match, is essentially color-coded, paperless flashcards. Students can open up a teacher-made set or create their own. "Paper flash cards are easy to lose, they take a lot of time to make, and you have to keep track of them," explained Chan. "But digital flashcards stay in one place and their color-coding capabilities allow students to easily identify problem areas." Students also use email to send work home, Photo booth to take pictures, Word Reference to find specific translations, and the music library to listen to pre-installed music in Spanish.
While there are a lot of great utility apps, there is also a broad selection of apps designed for fun. The Explain Everything app is a visual Powerpoint tool with sound, resembling an animated whiteboard. Chan uses this app to have students reteach things. "Students can get creative and use their storytelling abilities while demonstrating competency," she said. Puppet Pals is another fun app, allowing students to create puppets of themselves that speak. "It seems silly but it's engaging and it gets kids to record the dialogue more times than they normally would," Chan observes.
Students also write a weekly blog post, complete with pictures and other multimedia. Using the app Blog Pad Pro, students generally start their blogs in class, receiving any necessary help from the teacher. For homework, they can access their blog from anywhere with internet to finish a post. "The blog makes writing in Spanish more fun. Plus, it's a great way to see my progression as the year goes on," said student Ben Gilverparke, an up-and-coming writer himself.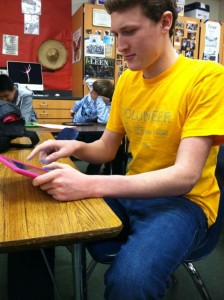 Students' reaction to the use of technology are extremely positive. "I love using the iPads," said student Levi Bisonn. "One of my favorite activities is going on twitter and checking out live tweets in Spanish. It allows you to see how teens in other countries are interacting with each other and the whole experience just feels so real."
Other students agree, adding that the relevancy is extremely motivating, often serving as a reminder of the purpose of learning a foreign language: communication. Another student, Emily Halvorson, enjoys the self-pacing that the iPads allow. "If we're watching a movie as a class, it's easy to get lost or confused, with no time to catch-up. But with the iPads, you can replay a clip as many times as you need," she explains.
Chan's interest in using technology was propelled by her desire to create classes that accommodate every students' needs. "Offering a variety of practice tools is such a blessing because it meets the learning styles of almost every student," said Chan. According to her, engagement and attention levels have raised noticeably with the implementation of technology. "I see a huge improvement in students risk-taking as well," said Chan, who emphasizes how intimidating learning a new language can be. "Some students are more willing than others to talk, but many students have real panic at the thought of giving a presentation out loud to the class."
Being able to submit an audio recording privately seems to be a win-win, the teacher can hear the student's recording and the student can avoid the sometimes painfully humiliating experience of public speaking. "People often ask me, 'Aren't you just giving them a way out of presentation?' But the one thing I really care about is practice," she said. "When I watch a student record something, they will record it multiple times, until they get it just right, and then submit it. When you present, you get one chance -if you make a mistake, you make a mistake. The amount of practice that students end up getting pays off."
Technology began filtering into the foreign language just over 10 years ago when the teachers applied for grants to receive Mac desktop computers. Coming through, the grant provided three to Chan's classroom. While the computers helped with research and printing, only a few students could use them at a time. Then four years ago the Foreign Language Department Head and French teacher Jody Underwood brought in iPods. "The iPods have that great listening piece and we noticed their success with self-pacing and engagement, but we wanted more," said Chan. When the iPad came out, Chan said she saw the potential right away. "Students would be able to visually access the places we were talking about, along with research, audio, and other multimedia content," explained Chan. In 2012, Underwood received iPads for her class in lieu of textbooks and other classrooms were soon to follow.
What's more, technology seems to be a pervading element within OHS. Together, Underwood and Chan give technology trainings for other teachers on campus. "Some teachers only have a single iPad, but I want them to recognize the power of that – how such a tool can make their job easier, how it can make their job more dynamic," said Chan. Other classes like visual communications, web design, and yearbook are also avid technology users, working primarily on computers. In addition, many classes use Smart Boards, essentially interactive whiteboards and all classes have access to computer labs or the set of traveling laptops.
OHS also offers a computer science class, where students learn the elements of coding from teacher, Janet Stuckey. "I would love to see students taking coding classes in middle school so when they enter high school they can create their own apps to study with," she said.
Back in the language department, Chan sees technology as the foundation for most classes in the future. In her home city, Chicago, she hears about many of the districts equipped with only electronic textbooks. "Education is becoming more paperless," she said. "But when technology doesn't work, you still need core teaching skills: classroom management, knowledge, etc.," reminds Chan, who sees schools remaining an important part of the learning process. Chan and other teachers like her are early adopters, clearly demonstrating how the power of technology, creatively applied, can empower the learning process.