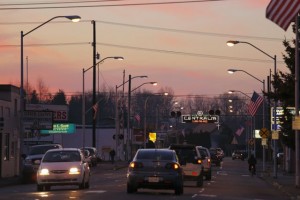 It's hard to get excited about street lights. They're both ubiquitous and invisible. The only time I really notice them is when one burns out or starts to flicker. I know this is the first time I've ever thought about their benefits.
The street I live on is much less creepy because I can see through the dark and make sense of the shadows. I've likely avoided hitting pedestrians because of this overhead illumination. My wife and I can take an evening stroll and not trip on a hidden hazard or step in something foreign.
Street lights aren't sexy – they're utilitarian. That's why Centralia is upgrading all 1,625 of its street lights from high pressure sodium bulbs to LEDs. LEDs provide, "a better quality of light in terms of brightness and in terms of coverage," says the city's Public Works Director Kahle Jennings.
The new lights are also budget friendly. Joe Bettridge of Sunset Air estimates switching to LEDs will save the city $77,000 a year. "LEDs use a lot less power and have a 10 year lamp life as opposed to a two year lamp life," says Bettridge.
Sunset Air has contracted with the city on this project. The first step was finding out just how many lights were in town. This meant doing a survey and plotting coordinates with a GPS.  Bettridge and his team then created a file on Google Maps that contains details about every light. This file can be accessed by the city in case repairs need to be made or a bulb eventually burns out.

Changing out the old sodium bulbs with new LEDs isn't as easy as it sounds. The project is slated to begin later this month and will take a few months to complete. Crews will have to replace the lighting head fixture on every single unit.
The cost of the project is a little over $900,000.  However, grants from the Department of Commerce and Bonneville Power Administration will help bring the price tag down. Making the switch to LEDs is just one part of a bigger plan by the city to spot and replace inefficiencies. "We're also replacing lights at the historic train depot and doing work with irrigation controls at the Borst Park Sports Complex," says Jennings.
There is one potential downside to the new street lights. "I anticipate phone calls in the beginning," says Jennings. The reason? The lights are really bright. People may not be accustomed to seeing things so clearly.  Sounds like a good problem to have.