By Emily VanMarter, Northwest Christian High School Intern to ThurstonTalk
Have you ever had a teacher that has really influenced how you act? Or the decisions you make in your life? Or maybe, this teacher is someone you just look up to as a person. Perhaps they not only teach you math or science, but also life skills. They are a role model.
Gloria Walker is the art teacher at Northwest Christian High School (NCHS). She grew up in Southern California, and completed her schooling there. Though Walker didn't start considering teaching until her junior or senior year of high school, she had been interested in the arts since before she was even in school. "My mom would always bring home new art supplies for me to play around with. I remember loving to draw, even back when I was three or four years old."
For most, hard work is required to achieve the skill and talent of Walker, but she didn't have to try hard at all. "Most of my skill is natural. The only classes I ever remember taking were maybe a couple in middle school. But besides college, because I majored in art, I never really took art classes," commented Walker.
In between junior or senior year in high school, Walker visited a college art class with some of her friends. "This was really my motivation to become a teacher," she commented. "I was really nervous, and I thought for sure they weren't even going to let me in because I was in high school. But it honestly ended up being the most amazing experience. I learned a lot, and realized I wanted to teach it to others as well."
After deciding this was her calling, she got to work. She finished school in California and began teaching in Southern California, working in ten different elementary schools over 13 years. She then transitioned to teaching at a junior high fed by the elementary school she'd taught at before.  "It was really cool, because by the time I got done teaching at the elementary school and moved to the junior high, the kids I had originally taught had moved up, so it was like I was moving up with my students," commented Walker. In addition, she found time to teach an art class at night at Azusa Pacific University for six years.
Eight years ago, Walker moved to Washington from California. "It was really my husband's decision. I was really nervous to leave my family, but it was an adventure, so we took it." Her husband had retired, and he encouraged her to take some time off as well. So instead of looking for a job right away, she taught a small art class at a crafts shop in Olympia.
Then, three years ago, she met another teacher from NCHS, Judy Hadley. After Hadley mentioned the school was looking for a new art teacher, Walker offered up her services, interviewed, and was offered the position. For the last three years, she has held the position of the art teacher, and has lofty goals for all her students.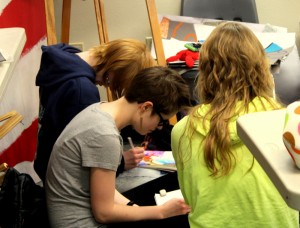 "I like to think of my teaching as art therapy. When I teach a student something they haven't learned before, I make sure they know it doesn't have to be perfect every time, or perfect at all. I grade their work based on effort, not on skill. Someone with amazing ability could pump out a piece of work that might take someone else hours or even days to do. But I want them to enjoy what they are doing – something that they are interested in. I want them to love the work that they do."
This style of teaching has helped many kids that have come through her classes find the artist inside of them they didn't know was there.
And yet, through all of her skill and experience, Walker has never looked for fame. "I have never wanted to be famous," she commented. "I have thought about it, but I'm a very shy person, and I don't really like receiving public praise for the work I do. It is nice to be recognized every once and a while by people I know, but I have never wanted it to be public."
Though she is modest in her works, Walker encourages her students to push their limits in their artistic abilities. As a teacher, she not only teaches the subject, but helps the students understand it on a deeper level, and apply it to their lives.