By Drew Crooks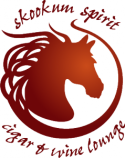 The history of Olympia is filled with people who have contributed to the community. Two such individuals are Edmund Sylvester (1821-1887) and his wife Clara Pottle Sylvester (1832-1917). Their legacy to Olympia was a significant one.
Edmund Sylvester was born on March 2, 1821 in Deer Isle, Maine. He came to the Pacific Northwest, then known as the Oregon Country in 1843. Three years later Sylvester took a claim on Chambers Prairie in South Puget Sound while his business partner, Levi Smith, settled on land called Cheetwoot that later became Olympia. When Smith drowned in September 1848, Sylvester inherited the Cheetwoot claim. In 1849 Edmund Sylvester left Puget Sound for the California Gold Rush.
No richer, but perhaps wiser, Sylvester returned on the brig Orbit to South Puget Sound in January 1850. Soon he established a town on his claim, named Olympia after the Olympic Mountains. Sylvester was a generous founder who donated land for a park, customs house, school, Catholic Church as well as ten acres for the Capitol grounds.
Edmund Sylvester married Clara Pottle while on an 1854 visit to his home town in Maine. The couple returned to Olympia. They had one child, a daughter named May. Clara proved to be a strong supporter of women's rights, including the right to vote. Visiting suffragists often were hosted at the Sylvester home. In 1883 the first meeting of the local Woman's Club took place at the same residence.
Besides other business ventures, Edmund Sylvester operated a shop that was located a little north of Fourth and Main Streets (now Fourth Avenue and Capitol Way). He was an easygoing businessman and would rather play checkers with visitors than sell merchandise.
On September 20, 1887, Edmund Sylvester died in Seattle, Washington. The obituary of Olympia's founder characterized him as being "unostentatious, courteous, always lavish with his money, honest and industrious." Clara Sylvester moved to San Diego soon after Edmund's death.
She remained there until her death in 1917.
While in Olympia, Clara and Edmund Sylvester resided in an impressive Italianate-style House that was built in 1856/1857. A local craftsman, Konrad Schneider, cleared the land and constructed the residence. The Sylvester House was located between Seventh and Eighth Avenues. From a third story tower the Sylvester's could see the nearby town square (presently Sylvester Park) and much of the community. For over a century the Sylvester House stood as a landmark in Olympia. Then in the mid-20th century attempts were made to move the structure and renovate it. These efforts failed and the historic building was destroyed by arson in 1961.
In recent years the Sylvesters and their house provided inspiration for a project that combined both history and art. Educator Lynn Erickson and artist Robert Chamberlain teamed up to produce "Sylvester's Window" in 2005. This project used written information and illustrations to explain the changing landscape of Olympia as it would have been seen looking north from the Sylvester House's third story tower.  A number of Olympia schools utilize "Sylvester's Window" to teach local history, while the original paintings by Robert Chamberlain are on permanent display at the Olympia Timberland Library.
One important contribution of Edmund and Clara Sylvester to Olympia was the donation of land for a public square. It was marked as Block 16 on Olympia's original plat. For its first few years the square remained undeveloped, covered by fallen trees. Then the area was cleared. Livestock sometimes grazed there, and a wooden blockhouse constructed on the Square's southeast corner during the Puget Sound Indian-Settler War of 1855-1856. After the conflict ended, the structure served for years as the public jail of Olympia.
In 1893 Olympia's town square was officially named Sylvester Park. The space was re-landscaped, a fitting complement to the new Thurston County Courthouse that stood across Washington Street to the east. Shortly after the turn of the century, the Washington State government purchased the Courthouse, added a wing and made it the State Capitol. Sylvester Park was deeded to the state and renamed Capitol Plaza. The plaza became the site of speeches by visiting political leaders (including Presidents Teddy Roosevelt and William Taft). It also remained the scene of 4th of July festivities and other community celebrations.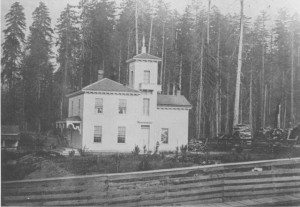 When Washington State government moved to the new (and current capitol) in the late 1920s, Capitol Plaza went back to the Sylvester Park name. However, to the present day the square is owned by the state. It is still a place to host community celebrations. A bandstand erected in 1976 by the Patrons of South Sound Cultural Activities (POSSCA) provides a focal point for events.
Edmund and Clara Sylvester left a legacy of generosity and social action for Olympia. They helped Olympia become a real community. Sylvester Park is a great place to remember their contributions. 
Further Reading:
Crooks, Drew W., edited, Olympia, Washington: A People's History (Olympia, WA: City of Olympia, 2009).
Erickson, Lynn, Sylvester's Window (Olympia, WA: Lynn Erickson, 2005).
Stevenson, Shanna, Olympiana: Historical Vignettes of Olympia's Peoples and Places (Olympia, WA: Washington State Capitol Museum, 1982).