Submitted by Zoe Juice Bar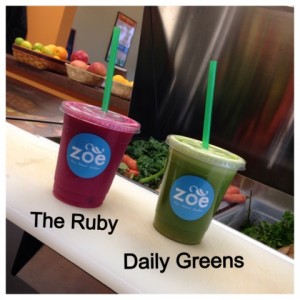 As we begin our second month at Zoe Juice bar we are introducing delicious, hand crafted, healthy smoothies. We have 8 signature smoothies including Daily Greens, The Ruby, Kick Starter, Berry Breeze and more. The ingredients of our Green Garden smoothie include fresh, raw cucumber-apple juice, kale, spinach, mango, papaya, strawberry, pineapple and banana. This green smoothie is packed with vitamins and minerals.
Zoe Juice Bar is dedicated to making healthy living fun, convenient and enjoyable. We do not use syrups, added sugars or concentrates in our smoothies. We believe nature perfected the taste and integrity of each ingredient and we creatively blend them together into a delicious, healthy drink.
We are offering free samples of many of our smoothies this Saturday, January 18 from 11 a.m. to 2 p.m. We look forward to seeing you!
We are located in the parking lot directly in front of Ralph's Thriftway next to Randy's Compounding Pharmacy.
Like us on Facebook  or visit us on our website.
To learn more about Zoe Juice Bar, read a full article here telling our story.