By Anne Larsen

Bark or say hello to Astro, the fantastic 16-month-old Golden Retriever/Labrador mix and the newest staff member at Monarch Children's Justice and Advocacy Center.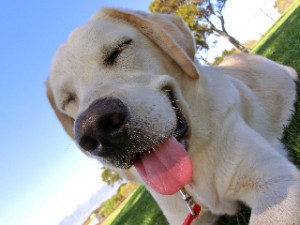 He's not a person.
He won't talk to you (in English).
But he'll wag his tail as a greeting.
Astro's "official" first day on the job was September 3, and already the staff of Monarch and Community Action Council are feeling the positive impact of having Astro as a part of their team.
Calm and amiable would be two words to describe Astro. Trained as a Facility Dog, his mellow temperament is ideal for assisting children and their families cope with the stress and trauma that often occurs during the investigation and prosecution of crimes.  Facility Dogs are trained specifically to have low arousal and reaction to the situation around them. They like to be cuddled and petted and will be attentive without being pesky.
Astro received the same level of training as a Guide Dog or Service Dog. He was chosen to train as a Facility Dog because of his temperament. It is very important for dogs that work with children or in the court system to not react to outbursts or distractions.
Astro was trained by the Assistance Dogs of Hawaii, an accredited nonprofit dog service organization located in Hawaii.  Everyone that meets Astro comes away with the feeling that he is really a very special dog.
Bringing Astro to Monarch was a team effort by Providence St. Peter's Sexual Assault Clinic and Child Maltreatment, the Thurston County Prosecutors Office Special Victims Unit, Community Action Council of Lewis, Mason and Thurston Counties and the Courthouse Dogs Foundation.
Monarch is a co-located child advocacy center with a shared mission of reducing the incidence and impact of child abuse in our community and to reduce the trauma children experience in the process of the investigation, prosecution and treatment of child abuse cases.  Co-located with Monarch's therapy services, advocacy services and forensic interviewing program, is Providence St. Peter's Sexual Assault Clinic and Child Maltreatment (where children receive medical examinations and medical social work after abuse) and the Thurston County Prosecutors Office Special Victims Unit.
Astro's primary duty will be assisting children during forensic interviews, medical exams, defense interviews, therapy sessions and during court testifying.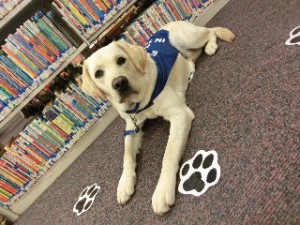 "Astro will help provide a warm, loving and non-judgmental environment for victims to help them through a very stressful and scary time," said Monarch's director, Tambra Donohue. "We are delighted to have Astro as the newest staff member to our multidisciplinary team!"
Courthouse dogs have been in place since 2004, with 47 other Facility Dogs like Astro working in 20 other states. Courthouse dogs are professionally trained canines that provide silent comfort and support to children and vulnerable victims and families. Their presence can decrease emotional trauma during stressful situations by reducing blood pressure, stress and anxiety.
Courthouse dogs provide comfort and reassurance to children and other vulnerable victims, allowing them to open up about what happened to them and testify at trial. The mere presence of the dog can put frightened people at ease and help alleviate the reluctance some children feel when discussing difficult subjects.
In late August, Tambra flew to Maui to spend an intensive week at the Assistance Dogs of Hawaii Training Facility and living with Astro and his handler. Training to be a handler is tough work. Astro knows 90 commands, and together he and Tambra had to pass numerous tests and hands-on situations before graduating from the training facility. Now that Astro is living on the mainland with Tambra, four additional staff members will receive 12 hours of hands on training and so that they can work as onsite handlers.
"I am positive our entire community, partners and the climate of our facility will be transformed by the opportunity to have a facility dog join our team." Donohue said. "The positive impact of interacting onsite with Astro will create opportunities and interactions that will benefit clients, staff, partners and our community as a whole."
Astro, was provided free of charge by Assistance Dogs of Hawaii and there is no expense to the taxpayers for his services.
Follow along with Astro's adventures by checking out Monarch's Facebook page.  For more information on Courthouse Dogs, click here.