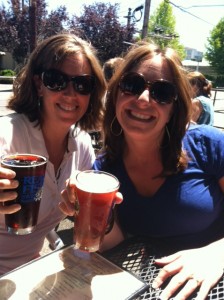 Face it.  Summer's over.  Time for the ever-present and oppressive gray clouds, the rain. Months of hunched shoulders and wet feet.  The sun is there, somewhere.  Why not toast it?  Raise a glass to time well spent crafting farmer's tans and running the air conditioning on an eighty degree day.  Join the fun at the first annual Brats, Brews and Bands.
The two-day event runs Friday, September 13th from 4pm to 10pm and Saturday, September 14th from 11am to 10 pm at South Puget Sound Community College.  Tickets are $15 and can be purchased online.  Entrants are given a wristband that is good for both days.
Once inside, attendees have access to both main stages and vendor and food booths.  Keep the little ones at home.  This event is intended for the 21-and-over crowd.
The festival is a fundraiser for the Gateway Rotary.  Angelique Anderson, Rotary member and Sponsorship Chair for Brats, Brews and Bands, says that the goal is to turn profits back into helping the community.
Community support is a big part of the Gateway Rotary's mission and it's been made possible by local event sponsors.  "The outpouring of support from businesses has been amazing," says Anderson.  Co-chairs Joan Keller and Al Eckroth added, "Community support has been over the top.  People are very excited about our efforts, and have been extremely generous."
"We hope everyone who is involved has fun," says Eckroth.  "Our goal is to make this a quality experience."
Chef Ricardo, of Ricardo's Restaurant in Lacey has selected and made brats specifically for this event.  Served on good quality buns and including several condiments, such as sauerkraut, onions, and various mustards, participants are expected to enjoy the tasty meal.  Authentic German Pretzels made fresh daily by Hess Bakery in Lakewood, Ricardo's potato salad and chicken caesar salad, Olympic Mountain Ice Cream, and Forza Coffee with TC Pies will also be served.
The event is sponsored by and features Blue Moon beer.  A multitude of other beers will also be served, including beers from the award winning No Li Brewery in Spokane.  Rotary members will also be pouring wines from Washington's Maryhill Winery.  Soft drinks are available.
Sensing a theme?   Says Keller, "Good quality, and benefitting local charities and the community.  What more can you ask?"
Sports fans can watch the big screens and cheer for their favorite college football teams.  "Husky fans vs. Cougar fans!  Two screens and two games at the same time," adds Eckroth.  "Let's see who can make the most noise!"
Lederhosen are not a requirement but dancing shoes might be a good idea.  A host of bands will be performing including Blues Redemption and Prime Time Country.  Dance to lively oldies and 80's era music.
Once the party is over, spend the night at the nearby Red Lion Hotel.  A block of special-rate rooms are available at a reduced rate of $89.  Designated drivers will be treated to free coffee and soft drinks while at the event.  The first thousand attendees, on both days, receive a free beer glass.  There will be plenty of parking and debit/credit cards are accepted.
Fall is basically here.  Summer (the Washington kind) will return next July.  Put the cover over the grill.  Crank up the heater and pretend. Don't be depressed, have some fun and maybe do some good.  Says Anderson, "this is one way to give back.  All the money you spend will go back to the community."
Brats, Brews and Bands
September 13 – 4:00 – 10:00 pm
September 14 – 11:00 am – 10:00 pm
South Puget Sound Community College
Student Union Building (#27)
Free Parking