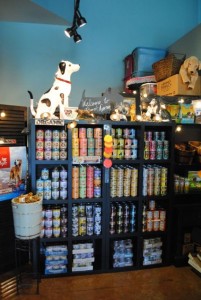 Walking through the front door of Bark Avenue is unlike any pet store shopping experience. Treats, toys, and food are neatly displayed at both human and pet eye level. Paintings of pets adorn the walls and an associate is quick to ask, "Welcome to Bark Avenue! How may I help you today?"
Owner Sonja Gissberg was originally inspired to open this unique store three years ago to please her own pets. "I wanted healthy and quality choices for my pets," says Gissberg. "I really wanted to bring quality products to this Lacey neighborhood."
"It's really about quality over quantity of products," explains Gissberg. "I take the time to do the research necessary to determine what items are the best in each category I carry here. I also don't carry five of the same types of an item. I want to know which item is the absolute best and that is the one I carry at the most affordable price possible."
The first-rate merchandise that lines the shelves usually has a locally made tag attached. "I go out of my way to find items that are produced locally. The harnesses are from Seattle and many name brand treats, including the popular 'One Spoiled Dog' that is made in Lacey.  In many cases, the best stuff is from our own backyard. I really enjoy supplying my store with community based goods."
Bark Avenue also carries specialty cookies and cakes for dogs by local baker, Miss Debbie's K9 Cookies.
Beyond the research into superior goods, Gissberg makes sure that customers are well educated on the products they are purchasing. "I like to start by asking questions. It's hard to know what a pet really needs without understanding their history. Then, I want to show them the products I have available and provide more information. It becomes a team effort to fulfill their animal's needs. I find that listening to a customer leads to the best items possible for their pet."
"We enjoy going above and beyond the usual pet store service," clarifies Gissberg. "If we don't offer a service, I have a great list of referrals for customers to use for their pets. I work closely with training, grooming, veterinarian and boarding services in the area that are excellent. I have brochures and information available to patrons who need it."
Bark Avenue is set apart from a pet store chain in many ways, but the most distinctive difference has to be the connection to the community. "This is my hometown," says Gissberg. "I want to make the lives of people and pets in my neighborhood the best possible. It's really all about supplying healthy products and personalized customer service. It's enjoyable to see familiar faces coming in on a regular basis. It makes me feel like I'm providing an essential service to my neighbors."
"I like to give back to my customers whenever possible," expresses Gissberg. "I offer a military discount and frequent food purchases and always have specials going through the Bark Avenue Facebook page. When pets come into the store, we are always happy to give samples of treats and new items too. It's fun to connect with customers in many different ways and reward them for their continued support."
Local, quality products, roots in the local community, and a love for animals is what drives Bark Avenue. Bring down your furry friend and experience everything this store has to offer.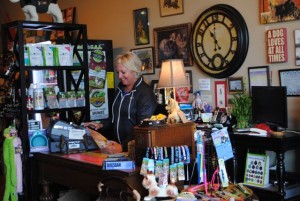 Bark Avenue: A Boutique for Dogs & Cats
5401 Corporate Center Loop SE, Suite Q
Lacey, WA 98503
360.539.7168
Hours: Mon: 10am – 7pm, Tues-Thurs: 11am – 7pm, Fri: 10am – 7pm, Sat: 10am – 5pm, Sun: Closed
Products: Quality food, treats and toys for dogs and cats