By Tom Rohrer

When Brian Bigelow took over as head coach of the North Thurston High School soccer team four seasons ago, it would be polite to say that the program was struggling.
"The year before my first year, they were losing games by 10, 16 goals," said Bigelow, who is entering his fifth season as the Rams head coach.  "My first year, we won the last game of the season against River Ridge.  We won four games my second year and then in the third year, we won six and made districts."
Last season, the Rams finished 7-7-2, and again made it to the district playoffs before a loss against Bonney Lake ended their season.
Now, with a roster full of returning 3A Narrows League All-League Players, the Rams appear to be on the verge of breaking through to the next level this season.
"This year, we're going to have 40 girls and may be able to make a c-team, which hasn't happened since I've been here," said Bigelow after an early morning practice at South Sound Stadium. "Not only is it the quantity of players but quality.  Top to bottom, we have soccer players, not just athletes."
Amongst the 16 players on the Rams varsity team, 15 have had previous varsity experience.  This includes 2012 first team all-league performers Nani Powell, a senior midfielder, and junior defender Emily Krall.  Second team all-league performers include Emily Sorenson, a junior goalkeeper, senior defenders Manisha Powell and Merrigan Risvold, and a pair of sophomores in midfielder Ashlyn Carlson forward Savannah Hakes.
This wide balance of both talent and leadership has brought high expectations to the Rams.
"We have talent all over the field, and we know that we can trust anyone who steps out there," said Manisha Powell, one of several Rams players who also plays for the Black Hills Football Club.  "It gives us confidence knowing that everyone will do their job."
"We have a really strong keeper, and a really strong group of defenders," said Hakes, one of the speediest players in the Narrows League.  "But our offensive attack is strong too.  We have great centers, great wings, just people who can make plays."
With only two players gone from last year's team, the overall cohesiveness amongst the 2013 squad is far beyond where it was last year.
"At this point, in the pre-season, I would say that our ability to play together, within our system and style of play, is leaps and bounds ahead of last season," said Bigelow.  "We don't have to go over as much in practice.  We can work on specific things quicker."
While the Rams are chalk full of talent on the offensive attack, Bigelow believes the key to success for his team lies in his defense and standout keeper.  The players do not argue this point.
"Defense is key to having a successful season and they're great at working together," said Bigelow. "Having Sorenson back there is huge and it gives us confidence defensively and offensively.  They all know there is someone back there just in case."
"Offense starts with defense.  We all understand that, and we know it's not just stopping the play, but passing the ball moving the ball quickly," said Krall, another Black Hills Football Club member.  "Emily is so strong at communicating and giving us options to go with."
Sorenson is constantly yelling instructions to the defensive players in front of her, and knows she can jump start an attack quickly.
"I can see the whole field, the whole play unfolding," said Sorenson.  "So if I get the ball, I know where to give it up, where to attack the other team at that point."
Unlike year's past, the Rams will not sneak up on any of their opponents.  Bigelow said he expects perennial league favorites Wilson and Timberline, despite several key losses to graduation, to be strong yet again.  However, both coach and players know it's time for the Rams to make a move.
"My expectations are that we can win the league, get out of the district playoffs and make the state tournament," said Bigelow.  "I think we have the players to do that."
"We have a great group of players," said Manisha Powell. "I think we can make state."
"The intensity we have this year is just way better than the last few years, and I think that will make the difference," said Sorenson.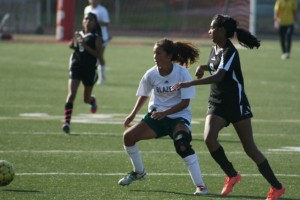 Since all Rams players play year round, they come into the high school season in shape, thanks to the challenging conditioning that club teams offer.  For less talented high school teams, it can be challenging for a "club" player to assimilate back with non-club players.  For the Rams, there is no such problem.
"The level of competition is pretty even, maybe higher in high school," said Hakes, who plays for T.C. United.  "You can just make that switch quickly."
"That's what's great about our team," said Krall. "Everyone can pass, everyone can play the right way and be in the right position."
Bigelow noted that Nani Powell and Risvold, the teams two captains, held captains conditioning during the summer and that the team even worked out with the NTHS football team, performing Cross-fit workouts with the boys of the gridiron in the summer months.  The fact that his team puts in the necessary hard work is not surprising to Bigelow.
"They are soccer players.  This what they love to do," Said Bigelow. "I don't have a cross-country girl killing time, or a swimmer waiting for their season to start.  I have soccer players and that's something that has changed so much since I've been here."
Bigelow has obviously had a positive impact on the program and his players notice it every day.
"He's not too hard on us but makes us work, makes us compete," said Manisha Powell.
"There's just a good balance with him, and it's fun to play and compete on this team and he's a big reason for that," said Krall.
You can't argue with the results Bigelow has produced.  However, he is quick to give credit to his players.
"You need hardworking, talented players to win, and that's what we've got and that's what it looks like will have in the future," said Bigelow.  "It's just a really exciting time now."
Five seasons ago never seemed so far away.