By Morgan Willie

I get it, I really do. Ordering from your usual pizza place is familiar, and nearly effortless. I mean, what's wrong with spending quality time with some cardboard box delivery and a cold drink watching Netflix all night? Nothing. That's basically my life.
But, if you're in the mood to shake up the pizza routine, I know the right place to go.
Vic's Pizzeria, located at 233 Division Street in Olympia, is a casual and welcoming restaurant. Vic's has been a town staple since co-owners Rachel Lee and Rick Burdorff opened the business in 1999. It's been leaving customers happy and satiated ever since.
Manager Joe Andreotti has been working for Rachel and Rick for a while now. He plans to manage the new location when a second Vic's is opened off of Capital Way later this year. Joe described the restaurant's atmosphere as "laid back," adding, "It's really comfortable and friendly. Our service, I think, is above par. A lot of people really compliment our service. And, our food is really good too."
One thing that sets Vic's apart from your typical pizza joint is their incredibly wide menu selection. Andreotti commented that, "We have so many different toppings, and so many different combinations of pizzas, that it'd be hard to find something you didn't like."
While I was there, I discovered a few toppings that were a little out of the ordinary. Not only can you get traditional add-ons such as olives and mushrooms, but mango salsa, tofu, and pine nuts are all on hand as well. There are also plenty of vegan and gluten-free options so that everyone has a chance to try the tasty creations Vic's has to offer.
I noticed, too, that Vic's seemed to get a heavy flow of people during the 5 o'clock hour. Several customers stopped by on their bikes to pick up their dinner. The public living around Vic's is extremely lucky to have such a fun and lively place so close to home. It's just a bike ride away for many Olympians!
The pizza joint demonstrates its community focus and social awareness by holding food drives.  For example, a recent event benefited the Thurston County Food Bank.  Customers exchanged two canned items for $2 off any pizza during specific hours.  Be alerted to future fundraisers by following the restaurant's Facebook page.
Competitive eater, Max Carnage from the Big Eaters Club, took center stage recently as he attempted the Vic's Mega Pizza Challenge. Max was not able to complete the challenge, however he brought in numerous customers to witness the act and be a part of the food drive. If you're feeling like a "big eater" go on into Vic's to try your luck with the Mega Pizza!  This event proved to me that the staff at Vic's is also a very collaborative and accepting group.
If you're looking for an awesome place to chow down during lunchtime, or a fresh stop to grab dinner with friends, you should give Vic's Pizzeria a try. The casual atmosphere, friendly employees, and fantastic menu selections are sure to bring you back time and time again!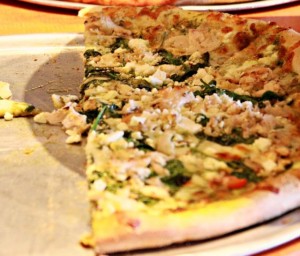 Vic's Pizzeria
233 Division Street NW in Olympia
Monday – Saturday  from 8:00 am – 9:00 pm
Sunday from 12:00 pm – 7:00 pm
360.943.8044