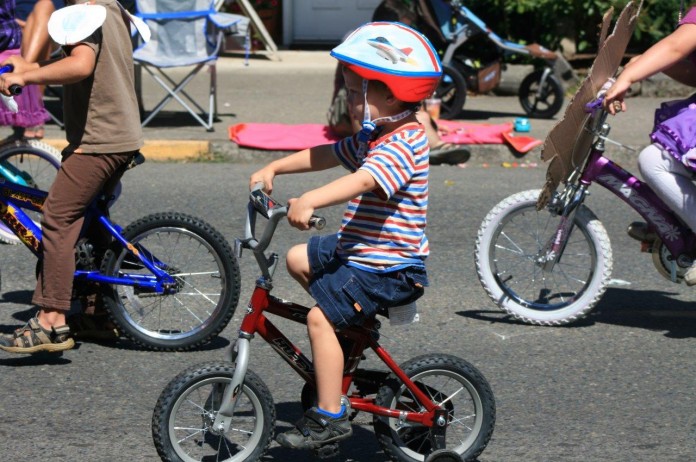 Published for Friday, August 30
We are done counting down to the first school bell in days.  It's hours now.  Whether you are holding onto the last days of summer or greatly looking forward to the routine of the school year, you know that it's inevitable.  In our household, it's a mix of emotions.  The kids are anxious to see friends that they miss during the summer months and curious about new classrooms and teacher styles.  As a working mom, I feel less guilty logging hours during the school year than I do over the summer.  Conversely, I dread the harping that inevitably comes with a bus schedule, homework, and lessons.  Plus, I just miss my kids when they are at school and I dread the shift towards strict bed times.
It will happen.  On the morning of September 4, the school bells will ring across Thurston County.  And, moms will be shouting to put on shoes, grab a lunch and head out the door.  My best wishes that every mom's voice will remain calm and that we all have an easy morning, right on schedule.
While you wait for that September 4 deadline, here are some great things happening around Olympia during Labor Day weekend.
Walk through Harbor Days all weekend.  The popular tug boat races are on Sunday at noon.  Complete event information can be found here.
Vote for your favorite sculpture along Percival Landing.  Help pick which Percival Plinth sculpture will stay.  Voting ends this weekend.
Observe the salmon migrating through downtown Olympia.
Pick blueberries for the freezer.  Find u-pick blueberry farms here.
Catch the final outdoor movie of the season at the Capital Museum on Friday night.
Donate an extra bike to Alaffia's bike drive at Fish Tale on Saturday.
Cheer at the Roy Pioneer Rodeo on Saturday and Sunday.
Visit a new park or beach.
Treat your sweetie to an awesome date night.
Rent a kayak or a paddleboard and explore the South Puget Sound waters.
Try a new hike with your kids and dogs.
Submit an event for our calendar here.
ThurstonTalk aims to be your source for positive information and events happening in Olympia.  If you have a suggestion for an article, send us a note at submit@thurstontalk.com.  For more events and to learn what's happening in Olympia and the surrounding area, click here.