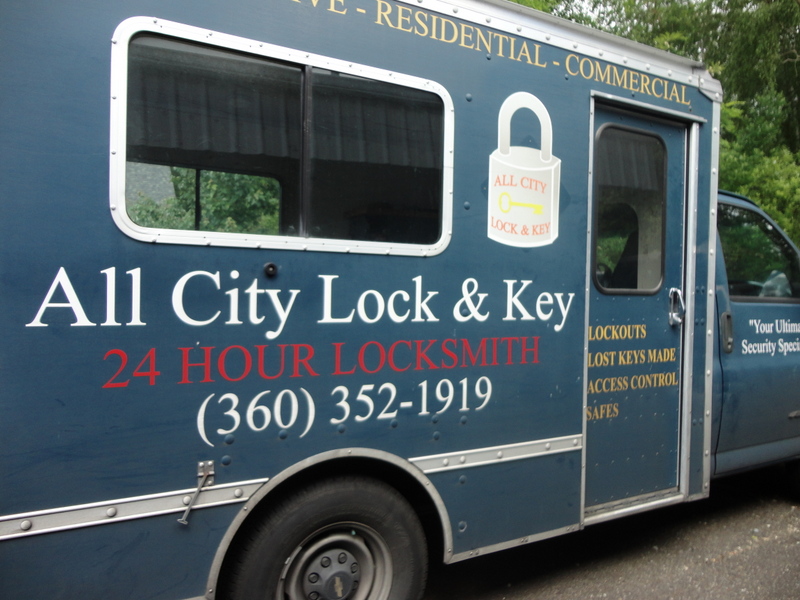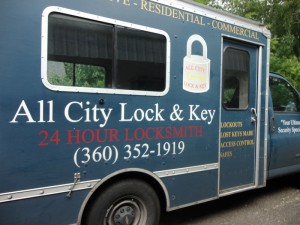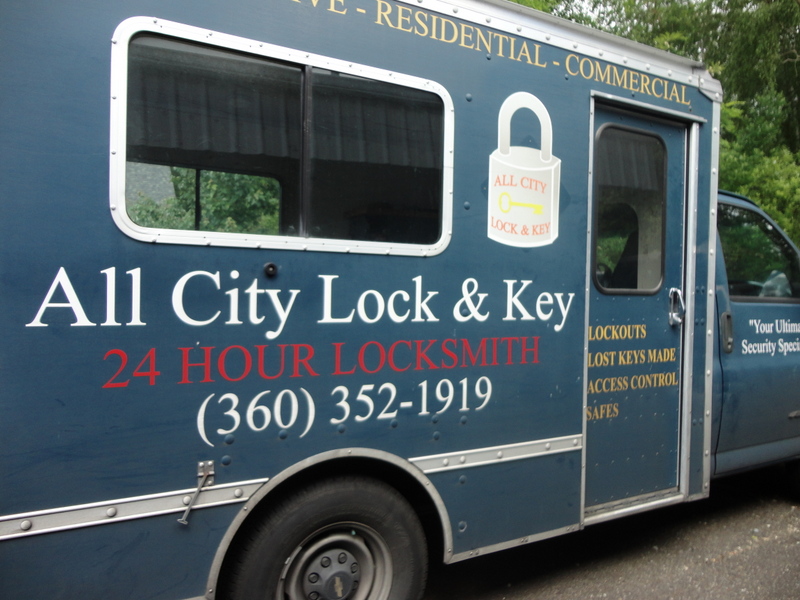 Ask anyone what a lock means to them and they'll answer "security" or "safety", yet who wants to have a lock that can't be opened, in a pinch? Opening locks is where a good locksmith comes in, and "in a pinch" is usually right now.
Jeff Rennaker, co-owner of All City Lock and Key has many stories of people who call when they are in a desperate situation. For example, there was the time he received a call from the boat launch at Swantown Marina. Someone had pulled their boat out of the Sound onto the trailer, only to accidentally drop the truck keys into the water. Not interested in diving in after the keys, they called All City Lock and Key. All City was able to quickly make a new set of keys for the truck right there on the launch so the owner could drive away.
Other desperate situations of a different nature are health and welfare checks. This means that someone is not responding to telephone calls by family or friends and they are not answering their door. "We'll go out with the police and if no one answers the door we'll open it. Those visits don't always have a happy ending," said Rennaker.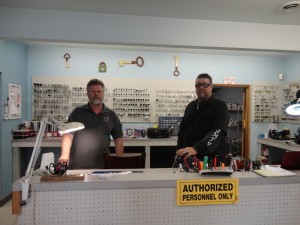 All City Lock and Key also sees lots of safes brought into the shop. "People bring in safes all the time for us to open. We first have to ask them what the contents are. We have to make sure they are able to prove that they have authorization to open the safe. If people don't know what the contents are then we can't just open it up," he said.
From a Career in the Military to Small Business Owner
Rennaker began locksmithing while he was in the military, receiving a locksmith certification. He picked locks to get into buildings while on tour, to test security, and to rekey barracks when necessary.
Now, he is not only a licensed and bonded locksmith, he is also a GSA certified Safe and Vault technician. "There are only three of us with this certification level in the state of Washington. Anyone who is a vendor for the federal government has to have a GSA certified container. This keeps all their documents safe to meet stringent security requirements. For example, I just did a re-key at Fort Lewis. All of the documents that apply to the work I did there, including documents and building plans, have to be secured," he said. He must comply with approved methods of servicing, installing, diagnosing, troubleshooting, repairing and certifying GSA: locks, vaults and containers. He also knows the proper ways to perform covert and forced entry into GSA Containers.
Jeff Rennaker and his wife purchased All City Lock and Key in 2009. Since then they have served Thurston County and surrounding communities, offering a wide-range of services, including high security keys, programming transponder keys for cars, keys for motorcycles as well as grooved keys. "We can duplicate keys all day long," he said. Often, they'll have customers come in to see them after they've been to a big box store only to find that the retailer could not help them. They are relieved to find someone who can tackle the difficult keys and locks.
An advantage to the working professional, All City has hours that accommodate this need. "So many people work during the day, so we are able to offer after-hours for the busy professional," he said.
Tools of the Trade
Padlocks, deadbolts, knob locks, lever handled locks, rim, cam, the list can go on and on. The variety of key types is endless as well, which means that a great locksmith has to have the tools and technology to work on everything that may come their way. "Picks, tension wrenches, drills. You always have success as a locksmith, even if you have to drill. You are going to get the job done. We don't like to drill, and a good locksmith will never drill a lock unless it is broken…but there are times when we have to resort to drilling. With automotive we have special tools to determine depth of the keys, others we have to take the door lock out. Based on that we have a computer program that tells us what the other key cuts will be. These are all from different manufacturers. We use a computer program to help us determine the cuts. We might have five of the seven cuts, we put those that we know into the computer and it tells us what the other cuts will be. We then cut those keys using the proper keys and cards. Then we often have to program a transponder key," he said.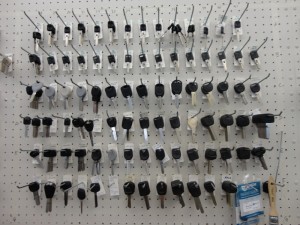 All City also maintains a large inventory of tools for automotive lock and keys. "In order to get into someone's car there are different keys, rods and wires that we use, so we need to know the year, make and model of the vehicle so we know what tools to bring with us," he said.
A large percentage of their business is rekeys or lock replacement. Rennaker explains, "We can re-key locks right here in the shop, or we can do it on site. The rule of thumb is that if there are four or more locks it is more economical to have the locks re-keyed rather than replaced, if there are less than four locks then it is less expensive to replace the entire lock."
Security means more than just locks to All City. Rennaker takes pride that All City is locally owned and operated, and that they have the experience to advise customers about locks and security. He adds, "We have the expertise to help customers maintain home and auto security, but we can also get them out of a bind fast, and most often, this is why they call us first."
All City Lock & Key
2744 Pacific Ave SE in Olympia
360.352.1919