By Kathryn Millhorn
What do Elvis, the Beatles, an American Idol alum, and the Lorax have in common?  They're all participants in this year's 'Lacey in Tune' summer entertainment series.
Beginning the last week of June, Huntamer Park is transformed into an entertainment space for movies, gaming, concerts, magicians, reptile shows, and events for all ages.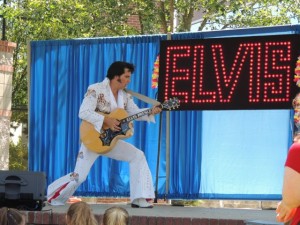 'Lacey in Tune' began in 1995 as a way to bring the community together, reveling in sun, music, family-friendly entertainment, and the beauty of Northwest summers.  By choosing Huntamer Park, located within Woodland Square Loop, the natural amphitheater and centralized location provide easy access for state workers, college students, Panorama residents, and families to enjoy the shows.
After an initially improvised stage and make-shift movie screen, the Huntamer Park location was slowly developed into its current glory.  Restrooms and climbing rocks were added in 2005 and in 2007 a retractable movie screen was installed.  Park development over the years mean that the city now uses it to host a variety of events including the Community Market, the Alternative Energy Fair & Electric Car Races, the Summer's End Car Show and Children's Day at Huntamer.  It has also become the site of Lacey's annual Christmas tree where an animated Santa presides over the park during the holiday season.
Employees on their way home from work in Hawks Prairie can swing into Huntamer Park to feast on live entertainment.  The park welcomes picnickers so spread out a blanket, pack a meal, and enjoy the festivities.
A partnership with the Lacey Timberland Library began in 1997, adding a Children's Entertainment Series on Tuesday evenings that features storytellers, jugglers, puppet shows, reptile acts, music, comedy, and dance.
This season's activities are spread across Tuesdays, Wednesdays, and Saturdays from June 25—August 10.  Tuesday's Children's Entertainment Series begins at 6:30 pm, Wednesday features noon concerts, and Saturdays wrap up the week with musical concerts at 7:00 pm and movies following at dusk.  Food vendors will be on site during performances or attendees can bring their own snacks, blankets, and folding chairs for optimum enjoyment.
The Children's Entertainment Series features 7 evenings of hands-on, interactive, and non-stop fun for all ages.  The Wednesday, mid-day events will showcase military bands, Beatles tributes, jazz, blues, pop, folk, and classical music.  Saturday nights, however, are music/movie tie-in's which use an 18'x18' screen to bring home the fun!  Superheroes, Elvis, and animated classics are all matched to rock, comedy, and classic tunes for an amazing evening of free entertainment.  July 27 will even feature a video game party co-sponsored by Elite Mobile Gaming.
Full details of the Lacey in Tune series, including dates, times, performance details, and contact information can be found here.
Don't forget to BYOB…bring your own blanket!
Children's Entertainment Series, Tuesdays @ 6:30pm
June 25:  Ropeworks–Interactive Jump Rope Show
July 2:  Reptile Man–Reptiles Up Close & Personal
July 9:  Ian Dobson–Steel Drum Party
July 16: Buck & Elizabeth–Physical Comedy Show
July 23:  Brownsmead Flats–Folksy, Fun, Stringband Music
July 30: Recess Monkey–Family Powered Dance Party
August 6:  Henrik Bothe–Physical Comedy Show
Concerts at Noon, Wednesdays
June 26:  Scott Cossu–Original Blues & Jazz
July 3:  I Corps Sounds of Courage–Patriotic
July 10:  Abbey Road Live–Beatles Tribute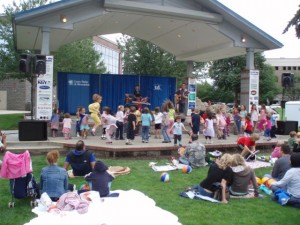 July 17:  133rd Army Rock Band–American Pop
July 24: Men of Worth–Scottish/Irish Folk Duo
July 31: Wally & The Beaves–50s-60s Golden Age of Rock & Roll
August 7: Geoffrey Castle–Internationally Renowned Violin Wizard
Concert & Movie Night, Saturdays @ 7:00pm
July 13: Bottle Rockit (Rock & Surf Tunes) & The Lorax (PG)
July 20:  Danny Vernon (Illusions of Elvis) & Blue Hawaii (PG)
July 27: High Rollers (70s & 80s) & Wreck-It Ralph (PG)
August 3:  Stoddard & Cole (Musical Comedy) & Here Comes the Boom (PG)
August 10: Tim Urban (American Idol Alum) & DOUBLE FEATURE: Captain America (PG) & The Avengers (PG13)
More details on outdoor movies can be found here.