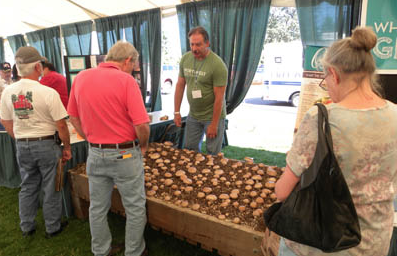 By Mary Ellen Psaltis
It's a humongous summer party and you're invited. Greg Stevens, Hawks Prairie Rotarian, has invited you along with 20,000 of his closest friends to indulge in a fabulous weekend extravaganza. It's the 6th Annual Pacific Northwest Mushroom Festival held on July 27 and July 28 at the Regional Athletic Complex (RAC) in Lacey. There will be plenty of mushrooms, plenty of food, plenty of entertainment and education, plenty of parking and shuttles and plenty of fun for the whole family. You don't even have to like mushrooms.
What started as a desire of the City of Lacey to showcase their new recreational facility (RAC) has evolved to a weekend-long community event. You can thank the Hawks Prairie Rotary for their continuous years of dedication in putting together this annual affair, which is also their primary fundraiser. Stevens pointed out that it "allows us to do all the things we want to do in the community." And that translates to spreading $20,000. Who receives some of the money? Homeless Backpacks, deserving high school graduates who are overcoming serious challenges, and local Boy Scouts and Girl Scouts troops, to name a few.
Adult festivities begin on Friday evening with the return of the Mushroom and Wine Event – wine, food, and music for the 21-and-over crowd. The following two days kids of all ages can roam the KIDZ ZONE which features bounce houses, free face painting, Balloon Twister Adam Lee, Alpaca petting zoo, Cap'n Bill and the Lost Boys Pirates and the root beer float garden! Wander around the antiques, arts and crafts. Pick up a few tips from a NW favorite Ciscoe Morris Live with 97.3 KIRO FM radio show.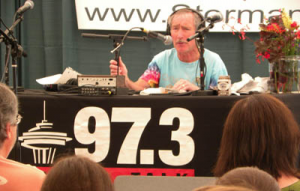 Get your tickets ahead of time for an in-depth tour of Ostrom's Mushroom Farm. Who knew mushroom growing was an amazing agricultural recycling effort? The $5.00 ticket provides transportation to and from the festival to farm, and proceeds support the charitable work of the Rotary.
Learn and taste with Chef Amadeus (Food Network's Extreme Chef Competition Winner), Chef Dan Thiessen, (Culinary Arts Instructor at Walla Walla Community College), and Leanne Willard, (Bayview School of Cooking Director), who are all sharing their culinary talents. Check the schedule for specific demonstrations.
The ever-favorite Humongous 'Shroom Fest offers seven tastes for $7.00 from local and regional chefs including Red Wind Casino and Ricardo's. You are in for a treat with the one and only You Tube Chef Jimbo Jitsu. (It's all about bacon fingers.) Plus, with over 70 vendors, there will be lots to see. Fletcher Street of Ostrom's says that every year "there are more 'somethings for everyone.'" She's looking forward to information from Top Hat, the largest organic shitake producers in the West and from Lowell Dietz of Dietz Mushroom Farm who will show you how to grow the tantalizing pink oyster mushroom at home.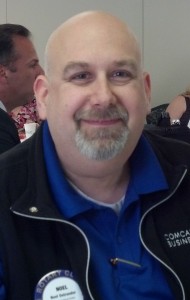 It's a team effort at the Hawks Prairie Rotary. Charter member Bob Kagy was in on the very first festival and continues to be an active club member. Past President and Charter Member Joseph Beaulieu is in charge of transportation and general trouble-shooting. Corey Lopardi is the incoming President and Co-Chair with Noel Ostrander who also heads up the entertainment.  Other Rotary committee members include Greg Stevens (vendors), Randy Luke (the 'Shroom Fest), Dawn Prentice (volunteers) and Marny Bright (logistics). Bright promises to  "make everyone's life a whirlwind and tell you where to go." (All in a good way!)
Lopardi is pleased and proud that his Rotary Club participates in the community with enthusiasm and generosity. He especially likes the aspect that whole families can come without breaking the budget. "The reason we continue to do it – it's worth the effort."
You can participate in any or all of the weekend's festivities. The Hawks Prairie Rotary along with the City of Lacey, Ostrom's and all the other sponsors including Mixx 96, Pardimon Productions, Bayview School of Cooking, Business Examiner, I.P.  Callison and Sons, Celebrations, Ralph's Thriftway and The Olympian hope to see you soon.
Festival hours on Saturday, July 27 and Sunday, July 28 are from 10 a.m. to 6 p.m. Admission is $5.00 and free to those 12 and under.  Complete event information can be found here.
For more information about the Hawks Prairie Rotary, click here.
The Mushroom and Wine Event:
6:00 – 9:00 pm at Harmony Hall at 9101 Steilacoom Rd.
Your $25 ticket enables you to food and wine. Participants/party-goers will sample wines from the following: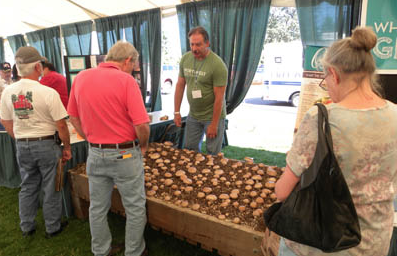 Hoodsport Winery
Food from the following:
Indian Summer Golf and Country Club

Start: Saturday, July 27, 2013 at 9:00 PM
Regional Athletic Complex
8345 Steilacoom Road SE Lacey, WA
You could run with Andrew Prentice, distinguished indoor track and field athlete from Saint Martin's University now at Bliss Investments. And if you're not that fast, well, you could see him.
Walk, run, cartwheel or dance your way through the Glow in the Dark 5k presented by Hawks Prairie Rotary as part of the 2013 PNW Mushroom Festival. Wear your best glow in the dark outfit for a chance at a prize. Everyone gets glow in the dark giveaways!
Race T-shirts will glow in the dark and glow in the dark bracelets and necklaces will be available for purchase at the race. After the race, there will be food and beverages, a live band will perform and prizes will be awarded. Registration cost is $25. Day of race registration $35. Participants registering the day of the event should arrive by 7pm.  To register, click here.
Your participation benefits the Friends of Mia Foundation and the charitable giving of Hawks Prairie Rotary.
Be sure to check their website for updates. http://www.pnwmushroomfest.com/