By Jennifer Crain

When gay men's choruses were forming in the late '70s and early '80s, groups of openly gay people singing came as a shock to the public and an awakening for gay and lesbian people and their allies. Rooted equally in activism and celebration, these choruses made the still emerging idea of gay pride more visible – and audible.
Today the tenor of the movement reflects a profound cultural shift. The fearlessness and resolve required for gay and lesbian individuals to perform in public at a time of deep societal repression have given way to a kind of normalcy. Thousands of singers now perform in such choirs around the world, including some in the budding gay youth chorus movement. Washington State is home to one of the longest standing gay men's choruses, Seattle Men's Chorus, which makes up part of the largest choral group in the nation. More than 150 choruses are now affiliated with the Gay and Lesbian Association of Choruses, all built on the kind of solidarity that marks the GLBT choral legacy.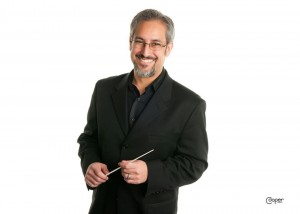 Matthew Blegen says it's time for singers in the South Sound region to have a place to join in.
Blegen, who founded Anna's Bay Center for Music and is completing his Doctor of Musical Arts in Choral Conducting at the University of Washington, says he's fielded many requests to start a gay men's chorus in the region. Now he's announcing the formation of Red Thread Choral Arts, an umbrella organization (named for this legend), that will support four new choral groups. Verizmo Gay Men's Choir and Capital City Concert Chorale will launch this summer. Auditions for both groups will be held in late July.
Of the new gay men's chorus Blegen says, "In spite of [Seattle's] phenomenal achievement and point of state pride, there are no comparable opportunities for GLBT individuals south of King County to participate in a choral community of this type without driving all the way north for rehearsals and performances. Verizmo will seek to redress this for GLBT communities in Pierce, Thurston, Lewis and Mason counties."
Blegen has a profound interest in choral programs that function as a framework for strengthening community, a perspective that dovetails with the historical roots of the GLBT choral movement. His dissertation explores "the community benefits of choral participation, and how those benefits accrue to create economic, educational and civic benefits for the communities lucky enough to host a strong choral culture."
Blegen, a Pre-doctoral Teaching Associate and Assistant Conductor of the University of Washington Chorale, is convinced of this in more than just theory. Under his direction, Anna's Bay Chorale was chosen to anchor a performance at Lincoln Center in New York last year, an impressive feat for any choral group but particularly for the non-auditioned community choir. Blegen envisions similar choral groups through Red Thread.
"I believe that we live in a world today where we're hindered from making meaningful connections with others, and that we're all suffering from a sense of loneliness or isolation as a result," he says.
"We identify as straight or gay, Democrat or Republican, rich or poor, and live within these self-imposed boxes to a great degree. This self-categorization, I believe, focuses on our differences rather than celebrating our similarities and stymies our ability to come together. Yet, within a choral environment, people tend to make connections across and through those labels. A growing array of research reinforces my personal belief that humans are meant to sing together. Red Thread's mission, therefore, is to provide choral experiences that build and celebrate community."
Verizmo Gay Men's Chorus will be restricted to men, but not exclusively to gay men, Blegen says. Straight, gay friendly community members are welcome. While the group will be auditioned, there will be a place within it for individuals at all levels of experience and training. Capital City Concert Chorale will be an auditioned, mixed-gender chorus focusing on choral-orchestral masterworks.
In the next 16 months, Red Thread also plans to launch the Mission Creek Women's Chorale, which will provide musical experiences and education for the women of Mission Creek Correctional Facility in Belfair, and the Red Thread Ensemble, a professional 12-voice touring vocal ensemble.
For now, Blegen will focus on the launch and inaugural season of the long-anticipated  choir. In the coming weeks he'll get out the word about the men's chorus at local Pride festivals, including Capital City Pride.
The group's name comes from the Italian word and operatic genre called verismo. Translated "truth," Blegen says the word "seemed meaningful to me with respect to my goals of showing a more accurate (and complex) depiction of our truth as gay men."
For its first season the group will perform three concerts: a holiday program ("DeLuxe"), a combined mid-winter masterwork concert in late February ("De Profundis") and a performance ("Caritas") during Pride weekend in June 2014. In addition to classical literature by Eric Whitacre, Duruflé and Arvo Pärt, the group will sing the music of Billy Joel, Adele, Queen, Jason Mraz, Leonard Cohen, Three Dog Night and others.
The varied repertoire is chosen not only to draw in audiences, but to serve Blegen's vision of celebrating the gay community, and a diverse community in general, through singing.
"In an era where we're actively and openly discussing topics such as gay marriage and adoption, where gay youth are attending proms openly, where gay characters appear regularly on television, I think it's important for us as GLBT individuals to come together to celebrate these achievements and this new level of acceptance," he says. It's important "for people to see us as a community more frequently. We're your neighbors, friends, teachers, family members and more. In spite of a couple of significant differences, we all have far more in common than not."
Audition information for Verizmo Gay Men's Choir and Capital City Concert Chorale:
Saturday, July 27 and Sunday, July 28
10 a.m. to 5 p.m.
Choir Room, Minnaert Center for the Arts
South Puget Sound Community College
Register for an audition time slot by sending an email to verizmogmc@gmail.com. Indicate a preference for day as well as morning or afternoon preference. Each audition will take about 5 minutes.
Those auditioning will be asked to sing a brief selection (a prepared piece or just a few bars of a favorite tune), and will also be assessed for music literacy and pitch accuracy. While the ability to read music is helpful, it is not a requirement.
For information on volunteering at the Red Thread booths at the Pride festivals in Olympia (June 22) and Tacoma (July 14), email the address above.