By Alyssa Ramsfield
Walking into RL Ray Violin Shop is a stimulating experience. Walls of violins and bows fill the room. Comfortable lounging chairs are available to relax in while taking in the view of a busy workshop where craftsman are working tirelessly to build and repair instruments. Their repairs are similar to heart surgery as they meticulously mend the wounds of the instrument to revive it to its original glory.
There is awe inspiring work happening here on State Avenue and Robert Ray is the man behind it all. Sitting down with Robert, he reflected on his long career with bows and violins. He described his passion for violin and bow making as "An unquenchable thirst. Every day of work was a new chance to build my technique," says Ray. "I went so far as to commute to a Seattle shop from Olympia every day, for low wages, just to be immersed in instruments and their talented builders."
Travel became a necessity of the job. He moved to Los Angeles and left his family behind to go to a shop where he could advance his skills further. Other than the occasional visit from his family, Ray spent most of his time in the shop. Here he began making creations for high end clients and honing in on his craft. He even took an opportunity to adventure to France just to focus on bow making.
After years of being engrossed in violins, Ray decided it was time to come home and open a violin shop. "I didn't want just another music store. I wanted a place for educating and serving the community." His shop does just that. Ray explained, "You can't tell the difference between two violins that look exactly the same. One could be worth $500 while another is worth $250,000. It's all about the craftsmanship and the sound."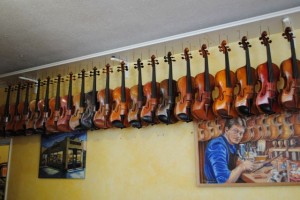 Ray and his staff support anyone willing to come into the shop to learn about those differences. They will go so far as to show different versions of violins, the materials they use, and take the time to demonstrate the work that goes into creating an instrument. "Many people just stop in to watch the makers work. We love having people come in who just think the shop is cool."
Beyond educating the community on violins and bows, Ray has dedicated a large portion of his life to giving back. Ten percent of annual profits go towards scholarships for local music students. Any student who is a customer of R L Ray Violin Shop qualifies for the scholarship. "The idea behind it is to focus on the student by giving them the best education and tools possible," explains Ray. "Some of the money, in the past, has been used to send students to music camps, pay for orchestra dues, master classes, and competition fees. Students have even used the funds to work with groups at the university level and in places as far away as Austria."
In order to receive this merit, there are a few qualifications. Before a student can apply, their teacher must recommend them. There are application and recommendation forms available on the shop's website. The applications are then reviewed by a selected board of top educators and professionals. The board then decides upon students who will obtain the awards. Awards are given until the funds have run out. Ray explains, "Investing in our community is crucial. This is a great way to do that."
While Ray's main focus is on the local community, his pursuits in educating are worldwide. "We sell products around the world and I travel to teach others the craft of being a bow and violin maker," describes Ray. "China has quickly emerged as a leader in the violin market, but their craftsmen are not properly trained. I have been making trips to China to help the citizens in their bow and violin making techniques. Most of my focus has been on bow making.  There are a lot of people looking to buy quality products over there. There just aren't enough people with the knowledge necessary to make informed decisions about which instrument is worth purchasing."
Ray's dedication to the community and commitment to worldwide musical education has enriched his life and the lives of his customers immensely. He described his work as, "A lifetime of learning and sharpening my abilities. Violin and bow making is an art form. This is my profession."
925 State Ave. NE
Olympia, WA 98506
360-570-1085
Hours: Tuesday – Friday (12pm – 6pm) and Saturday (10am – 5pm).
Services: rentals, consignments, trade-ins, evaluations, accessories, cases, strings, and appraisals.