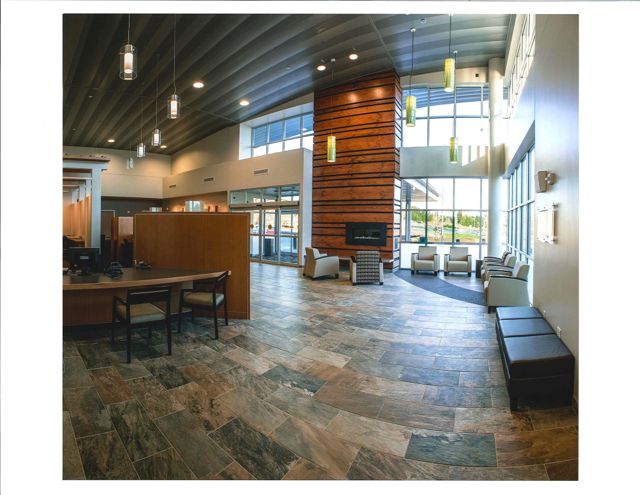 By Amy Rowley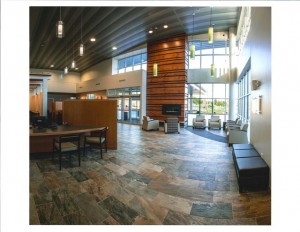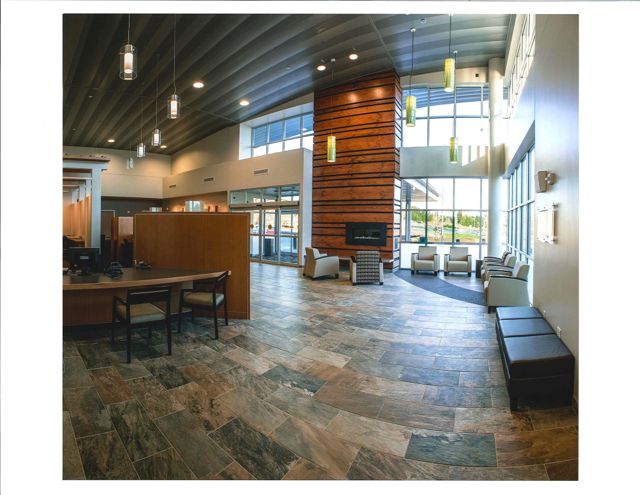 The entryway feels more like a hotel lobby than a hospital.  A friendly receptionist smiles and directs me to the appropriate waiting area.  Comfy chairs are a welcome sight and a fireplace adds to the hospitality.  You may expect the rest of this article to talk about a day spa or a hotel but instead it's about a medical facility.
Summit Pacific Medical Center opened the doors to the greater Elma community in February.  But, the road for CEO Renee Jensen was not a simple one.
Fixing Mark Reed Hospital
Six years ago, Jensen accepted the CEO position of Mark Reed Hospital, in McCleary.  "We had two days worth of cash.  The board and I were confronted with a huge decision on how to keep the facility open," she recalled.
Jensen's turnaround story is remarkable.  Facing a serious financial crisis, an outdated facility, and a community that had turned down two previous construction levies, Jensen knew she had some hard decisions.
"Thirty years ago, the community supported the formation of a public hospital district but now for multiple reasons, they were saying they were unable or unwilling to increase their taxes for a new hospital," she explained.
A Community Advisory Committee was formed to survey the area and identify what the community wanted in a hospital and how Mark Reed could improve services.  In addition to the financial fixes a great focus was put on improving the overall operations.
Jensen rallied her board of commissioners to find a solution to keep the hospital open.  Jensen worked hard on the financial situation of the hospital, getting lean and focusing on the core business.  In the process, her team was able to build cash reserves to position the hospital to seek an avenue of financing to build a new facility.
But, to get to that stage, Jensen had to also shift the organization's culture.
"The 'no' votes on the construction levies were a big blow to the morale of the staff. We had to find ways to get them re-inspired and motivated to find creative solutions to obstacles. A part of that was revamping our hiring practices.  We now have a team that says 'we only want the best.'  As a result, we have a stack of resumes and turn away great people," described Jensen who added that it took about three years to see a noticeable difference in the culture.
The original Mark Reed Hospital was built in 1956, delivering care to the rural community.  "A rural hospital serves as a vital part of the community's safety net," explained Jensen.   For example, during power outages, community members come to the hospital for oxygen.  The emergency department of a rural hospital operates differently as well.  It can be a critical first stop where patients are stabilized before being transported to a larger hospital and have a more successful outcome.
Before considering a new building, Jensen commissioned surveys to guide strategic decisions.  Demographic reports confirmed Jensen's assumption.  Many patients were elderly people that did not have the financial resources to travel outside Grays Harbor for health care.
Knowing that the outdated Mark Reed facility could no longer serve the needs of the community, Jensen began driving towards the goal of building a new hospital.
Opening A New Hospital In Elma
The $23 million project became a reality when the hospital secured a USDA loan.  A capital campaign raised over $500,000 from rural East Grays Harbor, with more than $100,000 coming from Summit Pacific's own employees.
Situated on 22 acres in the center of its service area, Summit Pacific Medical Center was strategically built to allow for future expansion.  The site was selected as the central point in East Grays Harbor where two highways meet.
"It's a hospital for today, but also for tomorrow," remarked Jensen.  "If we are going to survive for the next 50 years, we needed to think hard about what areas might need to be expanded in the future."
Under Jensen's strategic leadership, the administration team spent countless hours thinking through the layout and design of the hospital.  Staff contributed ideas that help patients flow better through the facility.  The team hand selected carpet, lights, and paint.  The innovation and passion resulted in a facility that doesn't "feel like a hospital."
Jensen noted that the hospital decor was picked with an attention to nature.  "We know that when we are delivering health care that it's to the whole person.  We want the boundaries to go beyond the hospital walls, taking nature in and healing out," she explained.  The natural elements are highlighted throughout the hospital.  Sky lights, interesting light fixtures and large windows brighten up even back corridors.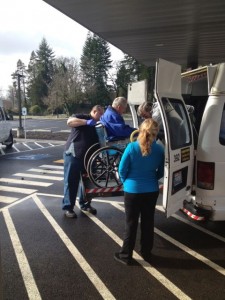 Jensen predicts that health care reform will shift the focus away from acute, emergency care and towards preventative care.  The administrative team has positioned Summit Pacific well for this change.  The medical center operates three rural primary care clinics in the area, ensuring that well qualified health care providers are attracted to and stay in the rural community.
"We are committed to delivering the right level of care at our facility," said Jensen who noted that the average patient who visits the emergency department only waits 20 minutes to see a physician after entering the facility.
The Summit Pacific emergency department is staffed 24 hours a day.  Talented physicians, many who work at Madigan and other trauma hospitals, pick up emergency room shifts at Summit Pacific.  A convenient location, coupled with the short wait time, makes Summit Pacific an ideal choice for patients from Thurston and Grays Harbor counties.
State-of-the-art equipment assists the skilled health care providers in treating patients.  Diagnostic imaging and a complete lab are located on site.  A telestroke robot, an example of impressive new technology, connects a patient virtually to a neurologist at Providence St. Peter's Hospital.  Through advanced video technology, the neurologist can perform physical tests on the patient, at the first signs of a possible stroke.
As Jensen looks forward, she knows that it's her job to sustain the medical center.
Her passion for rural medicine is contagious.  In fact, it's that attitude that Jensen credits for successful recruiting.  "We have built an organization of extremely passionate people who are going to give whatever it takes," she commented.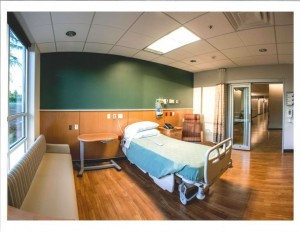 "Summit Pacific has a high performing team.  They are always thinking and driving change," explained Jensen.  "It's exciting to work in an independent hospital.  We can try a new idea today and make rapid change."
While Jensen noted that Summit Pacific is on a solid foundation, her vision is much grander.  "We want to be the national model for patient centered care," said Jensen.  "The new name of the facility reflects the bigger vision of being the gold standard and a national model."
With Jensen's passionate leadership, Summit Pacific Medical Center is well positioned to serve the community for decades to come.