4th and Brooklyn – A Luxurious Atmosphere With Cutting Edge Style
Step into the salon, grab a cup of tea or coffee and sit down on the comfy sofa and stay a while. There is the usual quiet murmur that you hear in salons; clients talking to stylists, clients talking to clients; a bunch of women happy to spend their morning or afternoon together.
Sit Back and Stay a While
"I want my salon to feel like a cozy and luxurious living room and a place where you can show up an hour early and just sit, drink tea, and read magazines," said Megan Smith, owner of the 4th and Brooklyn Studio. She created an open space, filled with beautiful art, furniture and flowers to facilitate this spacious and comfortable feel.
Her salon is a dream come true, and something that she spent a lot of time imagining.
At age 16, she enrolled in beauty school, and hasn't looked back. She knew she wanted to be a stylist and her dream hasn't wavered once. Now, she has been cutting hair for 23 years, and loves it as much as ever.
Great Location, Plenty of Parking and Flattering Lighting
Four years ago she opened the 4th and Brooklyn Studio. It is located behind the Outback Steakhouse, between Black Lake Boulevard and Capitol Mall Drive. Ask any of the regular clients and this is exactly how they'll tell you to find it.
Megan chose the location for three reasons: the convenient Westside location, tons of parking spaces, and fabulous lighting. "Making people look and feel good is our motto, so great lighting is important," said Megan.
A Family Business
She also achieved her dream of creating a business that would include her family members. "I always wanted it to be a family business," she said. Her mom, Chris, works at the front desk and knows all the regulars by name. Her sister, Katie, often helps out as well when she isn't busy at her own massage therapy practice. Megan's husband is a local contractor and assists in any remodeling work needed, and Megan's 16-year-old daughter assists with office work during summer break.
The stylists at the salon are all sole-proprietors and lease their stations, but they have become like family as well. "Heather and I have worked together for 18 years. We are a package deal," she said.
The salon is thriving and Megan is currently interviewing for new stylists. "I'm always looking for new talent," she said.
Continuing Education means Cutting-Edge Style
Megan encourages stylists at the salon to pursue continuing education to keep up with trends and styles. For example, they like to attend the big hair shows in Seattle, or they'll sign up to take a cruise that offers training as well. "Every show is different, but my theory on hair shows is if I get one thing out of it, then it is worth it. We love to keep up to date on trends and techniques," she said.
Megan loves the new hair styles that are emerging. "I love that texture and bangs are back. We love tasseled bobs, and some of the 80s looks that are returning. There are not a lot of hair rules right now, and that can be fun," she said. Stylists at 4th & Brooklyn have the training to make sure that their clients can get exactly the cut and color that they want, including ombres and balayage, the looks that you'll find repined on Pinterest and scattered throughout fashion magazines.
Bridal Parties, Prom Up-Dos & Ringlets for Princesses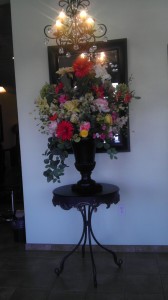 The salon also offers a wide range of services. "We host a lot of bridal and prom parties at the salon. The gals come in for airbrush tanning, updos, and make-up. The atmosphere is fun and relaxing and we love pampering the bride," she said. As a result, June and December are the salon's busiest months.
They host children's birthday parties as well. A popular theme is a Princess Party where little girls have their hair styled in ringlets and toe-nails painted.
The salon also has a spa room, complete with organic air-brush tanning, facials, waxing, eye lash tinting, and hair extensions.
All of the services offered at the salon tie back to Megan's original dream: a comfortable atmosphere where clients and stylists enjoy each other's company, where clients receive cutting-edge styles that make them look and feel fabulous, all in a space that invokes relaxation, tranquility and peace.
4th and Brooklyn Salon
2615 Capitol Mall Drive SW
Olympia, WA 98502
360.878.8854