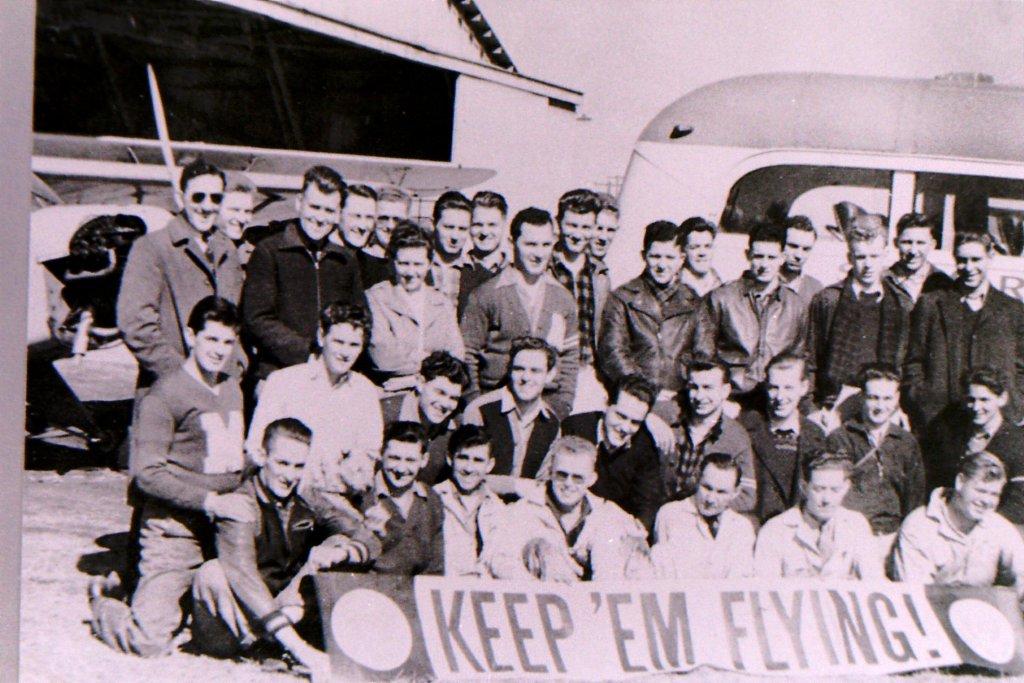 Submitted by Jennifer Crooks, Saint Martin's University intern to ThurstonTalk
Saint Martin's University was founded in 1895 in what is now  Lacey, Washington. Originally known as Saint Martin's College, it became a University in 2005. The only private Benedictine institution of higher education west of the Rockies, this school has been host to a wide variety of programs over the years. One of the more unusual of these was an aviation program.
As the United States prepared for World War II, the need for more American pilots became apparent. With the Civil Pilot Training Act of 1939, the federal Civilian Aviation Agency funded flight training at various schools around the nation, including Saint Martin's College.
At first, both female and male applicants were equally accepted into the program, and when classes started at Saint Martin's College that summer several women were in attendance. At this time, Saint Martin's was an all-boy's school run by an all-male faculty, mostly clergy members. These women flight students were the first "co-eds" at Saint Martin's.
The Buroker-Hicks Flying Service provided teachers for the flight program. This Service was a business partnership between Gwin Hicks (1910-2000), Herbert "Herb" Buroker (1895-1973), and Herb's wife Gladys  Dawson Buroker (1914-2002). Gwin Hicks, the manager of the municipal Olympia Airport, was coordinator and promoter of the program. Herb Buroker, a World War I pilot, served as repairman at the Airport and was also a licensed flight instructor.
Gladys Buroker, by teaching in the flight program, became the first female instructor at Saint Martin's College. She was not the first woman to work at the school. For example, nuns from St. Gertrude's Priory of Cottonwood, Idaho served in the kitchen from 1904 to 1959.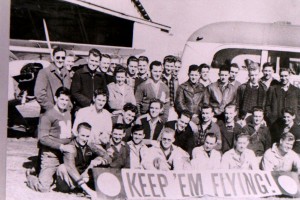 Originally from Ferndale, Washington, Gladys was trained to be a pilot by Herb Buroker, her future husband. She quickly fell in love with flying. A unique individual, Gladys excelled in a field dominated by men. She could fly many types of planes, and would later learn how to fly  gliders and even hot air balloons. Barnstorming across Washington in the 1930s, she was also a parachutist. Despite only having received flight instructor certification the year before she came to Saint Martin's, she eagerly took to the job and proved herself an excellent instructor. She would later recall that her male students accepted her fairly easily.
As the program expanded into the fall, Congress passed rules banning women from applying to the civilian fight training program, because graduates were expected to be commissioned into the military. In the fall, the now all male class numbered twenty students. Both Burokers and Hicks served as flight instructors at the school. The Buroker/Hicks Flying Service offered ground school classes at the College on topics like flight theory and navigation with flight instruction at the Olympia Airport.
With the declaration of war against Japan in December 1941, civilian aviation was limited on the West Coast as a matter of security. So during the Christmas holidays, the aviation school moved from Olympia inland to Pasco, Washington. They had to move again in January 1942  to Weeks Field near Coeur d'Alene, Idaho when the Navy took over the Pasco airport. Several Saint Martin's students went along to Idaho to continue their training, accompanied by Father Desmond, (the dean of students) and Father Robert Wippel.
In spring 1942, the military took over the Civilian Pilot Training Program nationwide and notified Buroker/Hicks that their contract would terminate when their current students finished the program. After this, another contract was made and War Training aviation students were sent to Weeks Field for Buroker/Hicks for instruction. With the direct connection severed with Saint Martin's College, Father Desmond returned to Lacey. The Buroker/Hicks partnership amicably dissolved in 1944 after their license with the military expired.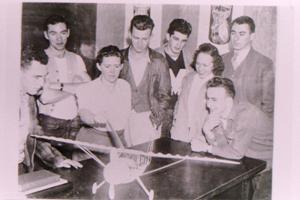 The Burokers remained in Idaho and active in aviation. They owned Idaho's first municipal airport and worked together until Herb's death in 1973. Gladys became a nurse and remained a flight instructor. She received much recognition for her pioneering work in female aviation before her death in 2002. Gwin Hicks also remained active in aviation. He helped form Zimmerly Airlines in Lewiston, Idaho (later merged with West Coast Airlines), served on various government aviation boards and was a proponent of Lacey history until his death in 2000.
Saint Martin's College offered flight classes into the 1950s. The Buroker/Hicks Flying Service left an impressive record. From 1939 to mid-1942 they taught over 400 students. Many of these pilots served in World War II, participating in combat and support services. Moreover, Gladys Buroker was the first female instructor at the College and some of her students were the first female students at the school.
Further Reading
Gladys Buroker with Fran Bahr, Wind in My Face: Autobiography of Gladys Dawson Buroker, Pioneer Pilot. (Coeur d'Alene, ID: Action Printers, 1997).
Scott, John C.. This Place Called Saint. Martin's, 1895-1995: A Centennial History of Saint Martin's College and Abbey, Lacey, Washington. (Virginia Beach, VA: Donning Co.Publishers, 1996).