Submitted by Stefan Ellis, Evergreen intern to ThurstonTalk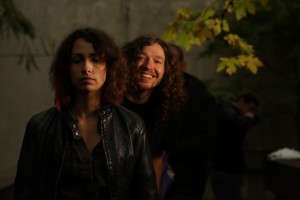 Making a feature length film can be tough, even for the pros in Hollywood. So when you hear that a couple of students from The Evergreen State College wrote, produced and starred in their own feature length film, it's pretty impressive. When you find out it was financed entirely by students and fundraising, it's even more impressive. Even more impressive and surprising is the fact that the whole thing was shot in downtown Olympia and on The Evergreen State College campus.
Chad Law, a recent Evergreen graduate finished his last quarter by taking on the daunting task of producing his film The Passenger. "Most of my background is in acting or writing," says Law. He has been a stage actor for seven or eight years he says; starring in several short films and plays. "So the producing side was pretty new for me," he says. Equipped with a small army of film students, actors, actresses, and helpful volunteers The Passenger began filming and producing in Olympia.
The film details the hero, Max, played by Law, who also wrote, produced and financed the film. Max is a somewhat typical youth, wandering aimlessly through life until he enrolls in an art school secluded in the woods. Max quickly falls for dazzling drop-out Amy, played by Kayla Garret; a stage actress and native New Yorker. Dark comedy follows as the star crossed but dysfunctional lovers try to stay together while things at school begin to spiral out of control. Murder, drugs, missing friends and a nymphomaniac for a residential adviser all challenge the lovers' resolve.
Much like the character he plays, Law had some challenges to overcome. One of the biggest challenges for any producer is finding financing for their film. Law covered most of the expenses with his own money. However, a poor college student can only max out so many credit cards. These underdogs had big ambitions but a small budget.
The show had to go on. So the crew got a financial boost from the online community. Co-producer Jesse Sieden set up the crew's profile at kickstarter.com, a website where entrepreneurs and artists can post their project or need and try to raise money. The money that the crew gained from their kickstarter.com profile saved Law's bank account and allowed the film to go forward.
The Olympia community also helped get the job done. Extras volunteered late nights, so the crew could get the party scenes just right. Also, Dino's Coffee Bar came to the rescue when the crew had "worked ourselves into a corner," says Law. One evening the director, Errol Laurie, was getting coffee at Dino's Coffee Bar when he and the manager of Dino's got to talking. When Errol mentioned they were shooting a movie the manager offered the coffee bar as a set. The crew filmed a scene between Max (Law) and Amy (Garret) that ties the whole movie together. Law said that the manager of Dino's stayed "hours and hours and hours" past closing time to allow the crew to shoot a scene that "saved the movie."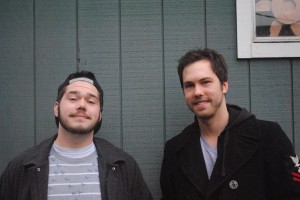 The crew wrapped up filming on December 9th. However, the movie is far from complete. Law and Laurie, the director, are currently sorting through 1200 unlabeled audio files and a terabyte of data, which is equivalent to about 300 hours of film. That's the same amount of information as 1,000 copies of Encyclopedia Britannica. The film is set for a two hour run time and is due to come out in Summer 2013 under Smiling Pines Productions. For more information, check out: facebook.com/thepassengermovie and for previews, go to: vimeo.com.
There are always independent films being produced, often in the Olympia area. You can get involved in some low budget projects at kickstarter.com. Although the opportunity to contribute to The Passenger is over, you can still see their pitch and lots of others that are taking donations at kickstarter.com, where you can support films such as a documentary style film about two sea kayakers traveling around Alaska called Ikkatsu.