By Tom Rohrer

Collegiate athletics are as demanding as they are competitive.  Not only do the student athletes compete for their selected sport, but they must also put forth that same effort towards academics while many times holding a full-time or part-time job.
Members of the Clipper women's basketball team at South Puget Sound Community College are no different.  However, the athletes on the team focus their full attention on whatever task they are undertaking, a blessing for head coach Mychael Heuer.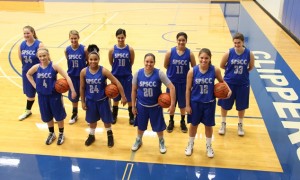 "This team is made up of individuals who have terrific work ethic," said Heuer, who has been the head coach of the SPSCC women's team since 2010.  "And they stay focused at practice and during the games.   They all have a lot going on in their lives, so I really appreciate the fact that they can dedicate their focus to me for at least two and a half hours per day."
Having talented players is also a key to collegiate success and Heuer's roster is littered with established players from local programs.  Of the nine players on the roster, six are from Thurston County area high schools, something Heuer believes is important for the college.
"There is a lot of talent in the local high schools and there have been several programs that have had success in the last decade or so," Heuer said. "I've known a lot of the girls for a while, saw them play in high school and know their strengths and weaknesses as players.  It helps having that familiarity because you know what's going on in their lives and how to motivate and push them as players and students."
The Clippers are 1-4 on the season, with the lone victory coming in a 69-67 win over the Northwest Indian College in double overtime on Saturday, Dec. 9.  A big component for the Clippers has been the play LaKeisha Anger, a 5'10 freshman from Tumwater High School.  Anger is 18th in the Northwest Athletic Association of Community Colleges (NWAACC) in scoring with an average of 15.0 per contest while her 12.75  rebounds per game average is second best in the conference.  She was named the NWAACC women's basketball player of the week (Dec. 2-Dec.9), and had 29 points, 18 rebounds, four assists and three steals in 47 minutes of play in the Clipper's victory over NWIC.  Heuer said it was the best stat line from a player during his time at SPSCC and one of the best he's seen in 28 years of coaching.
Anger is happy with her initial success and with the play of her teammates, which she credits for her terrific statistics.
"It's been nice getting in and being able to make an impact quickly," Anger said. "A lot of that, maybe all of it, is that my teammates have been great.  Everyone seems to be playing unselfishly and hard.  It doesn't matter to anyone who gets the points or other statistics, just as long as we can get the win."
Joining Anger in the starting line-up is fellow freshman is 5'4″ point guard Chloe Cummings, who graduated from River Ridge High School.
Cummings is facing the challenge of adjusting to a new position, as she has never played point guard before this year.  Playing at a proven high school program at River Ridge and under the current tutelage of Heuer has made that transition to both college ball and a new position easier.
"It's been tough, but I've got a lot of support from my teammates and the coaching staff here," Cummings said. "I think playing at River Ridge allowed me to go up against some talented players in practice every day and that has helped as I've advanced.  Coach Heuer is a great coach and I've learned a lot since being here.  He pushes me but it's in a way that positive and can allow me to develop as a player."
Heuer says this year's team is very close on and off the court, which many times can be a coach's biggest challenge.
"All the girls like each other and it's genuine," He said.  "That's not always the case on teams.  It can go either way.  So just having that unity and a positive attitude throughout the roster makes my job so much easier.  They want to play team ball, work hard and treat one another with respect and that's a coach's dream."
Heuer is joined on the Clipper coaching staff by Olympia native Mike Moore.  The longtime head coach is also the husband to Monica Heuer, who has been the head women's coach at The Evergreen State College for the last twelve seasons.  The couple has been married for 18 years, and Mychael served as an assistant on his wife's Geoduck coaching staff for nine years.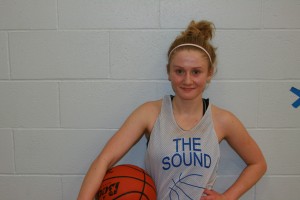 "We can talk basketball and give each other advice and what not," Heuer said. "It was tougher when we were on the same staff because we both have that head coach mentality and I wanted to have it where my wife was the unquestioned leader of the program.  I have a long history as a head coach so I had a challenge forking over that authority always.  But she's a great coach, she knows the game well, my players well, so any advice or tips she gives me, I take it."
Heuer says he's had a tough time filling a full roster during his time at SPSCC, due to injuries, player eligibility issues and the assumption of players that community college basketball is a detriment.
"There's that stigma out there that community college basketball is negative and it's low on people's list.  The goal for any community college, student athlete or not, is to get accepted into a four year school and get a degree," said Heuer, who is also the Director of Career Services at SPSCC.  "And we're one of the better community colleges around in getting students to that next level.  At the same time, there are plenty of college coaches out there at four year universities who are looking for talent and scout our games and the teams we play against.   So players in high school who want to play in college and continue their education have an opportunity here to do just that."
Heuer also wants the surrounding community to know there is an opportunity to watch collegiate basketball on a regular basis.
"People around here can forget sometimes that we've got a team, but we certainly do, and it's not only a talented one, but a hardworking group as well," he said.  "People can expect us to play hard and as a team.  That's the way the game should be played."
For more information on the SPSCC women's basketball team, click here.