By Natasha Ashenhurst

For many families the Christmas season doesn't begin until they attend Ballet Northwest's production of The Nutcracker at the Washington Center for the Performing Arts. Little girls put on their best holiday dresses, little boys squirm in their seats, and families wait with anticipation as Tchaikovsky's Nutcracker Overture begins. When the curtain opens and the dancers appear we become lost for a while in the magic of the performance.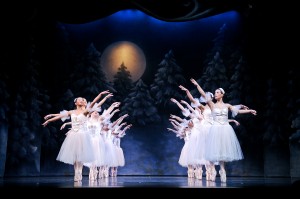 Good dancers have the appearance of floating onto the stage, and their grace and subtle movement look effortless, but it takes years of training and hard work to perform at the level required to earn a starring role in the ballet.
This year Thurston Talk had the chance to stop by the Johansen Olympia Dance Center to talk with three student dancers, and one professional dancer, who will take starring roles in this year's production. Each felt honored and proud to be part of Johansen's performance, and without question love ballet. They all have been dancing since they were young, attend class at the studio almost daily and all of the students attended competitive and prestigious ballet intensive programs over the summer.
Snow Queen: Anna Thornton, age 14, a student at Aspire Middle School
As a seven-year-old Anna Thornton hated ballet. She thought it was too hard and didn't like the focus on precision. She wanted to dance hip hop instead. Anna decided to stick with it for a season, and she is so glad she did. Now she finds that it is the focus on precision and finding the beauty in the details that she enjoys most. "Ballet is my life and I plan to dance as long as I can. I love Johansen so much, it is my second home," she said.
This year Anna, now 14, will dance in the role of the Snow Queen. She has come a long way from her first Nutcracker role as a mouse when she was eight. "When I was little it was all fun and games and you didn't get nervous. The Snow Queen role is a lot harder, but it is much more exciting," she said.
To get ready for dancing this part Anna goes to the studio almost every day. She also attended the Pacific Northwest Ballet's Summer Intensive in Seattle, a competitive program that required an audition. "It was a great experience, and I love that it was close to home. It was really rigorous, but attending confirmed for me that I want to keep doing this even though I know it will become more difficult and will take a lot more of my time," she said.
Anna is looking forward to the production this year and is thrilled to have the opportunity to dance with Iyun (The Nutcracker Prince). "He is really talented and so nice to everyone even though he is so amazing," she said.
Sugar Plum Fairy: Tillia Fu, age 16, a student at Olympia High School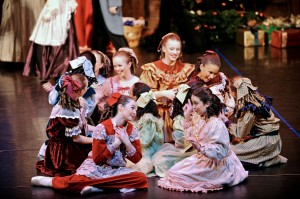 Tillia started dancing when she was five years old. Her first role in the Nutcracker was in the Chinese Core. She loved it because it was one of the only parts that used a prop. "We got to work with umbrellas, which was really cool," she said. This past summer Tillia attended her first summer ballet intensive at the Texas Ballet Theatre. "The audition process was very fun. Then, when I arrived I was surrounded by dancers who really wanted to be there to learn. It was a wonderful five weeks," she said.
She enjoyed working with a whole range of age groups and skill levels at the intensive. "I felt so much stronger after the program because we danced six days a week all day long for five weeks. I was able to do moves that I was never able to do before," she said.
Tillia plans on attending another intensive next summer and is working now to prepare for the audition process. "To prepare for an audition you try to gain strength, and prepare mentally to dance in the same room with other people that you've never danced with before. Most auditions are held in Seattle, but some require travel. For example I went to Eugene, Oregon to audition for the program in Texas," she said.
As Sugar Plum Fairy she will have a pas de deux with Iyun, a professional dancer and the Nutcracker Prince. "At first it was so scary. He is a professional, but eventually you get used to it. We are students and we are so lucky to get to dance with him. A lot of people, especially at our age, don't get to be in a production this great. It is just an awesome experience thanks to Ken and Josie. This would not be possible without them," said Tillia.
Clara: Kate Peterson, age 13, a student at Washington Middle School
Kate Peterson has danced in a lot of different roles in the Nutcracker, starting with a Mouse when she was eight years old and moving on to the roles of Toy, Raggedy Ann, Party Girl, Flower and has danced in the Sugar Plum Court. This year she is dancing the role that she has dreamed of performing since she was little. "I've wanted to be Clara since I first saw the Nutcracker. I thought it would be scary, but it is turning out to be a lot of fun."
Kate attended the American Ballet Theatre Summer Intensive in Alabama this past summer. "I went for three weeks. It was hot and humid, but it was a great experience and I feel like I really grew as a dancer," she said.
When asked if she had any advice to offer younger dancers she said, "My advice to them is, even when you are stuck on a step or you feel like you are not making progress, you'll get there and you just have to keep on going."
The Nutcracker Prince: Iyun Harrison, Professor of Dance at Cornish College of the Arts, the artistic director of ASHANI DANCES, a Seattle-based dance company, and guest teacher at the Johansen Olympia Dance Center.
Iyun Harrison has danced the role of the Nutcracker Prince many times, but he is finding that this production is a refreshing change. "This is different as they have their own version of the choreography and it is fun to dance. Also, the Sugar Plums, Natalie and Tillia, are younger than dancers normally cast in this role. They are both very, very, talented, and have good physical and technical abilities," he said.
He finds working with students a completely different experience then working with other professional dancers in a company. "I approach this differently. I have to develop artistry and trust.  It is an exciting process working with both of them as I am a teacher and choreographer. It takes a lot of rehearsal time and focus, but we are discovering the process together," he said.
We asked him if there was a big difference between studios in Seattle and Olympia and he said, "A lot of times ballet studios can be very stuffy and arrogant. At Johansen everyone is working very hard, while managing to be down to earth and not have an attitude. This has been a lot of fun."
Ballet Northwest's production of the Nutcracker will be on stage at The Washington Center for the Performing Arts on December 14, 15, 16 and 21, 22, and 23.  To purchase tickets, visit www.olytix.org or call the box office at 360.753.8586.