By Mary Ellen Psaltis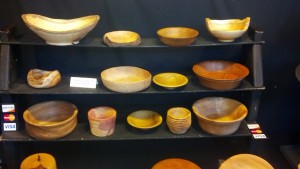 Finding an unexpected treasure is a joy. I made a discovery at the Olympia Farmers Market, and it had nothing to do with the food. Usually that's my equation – the Farmers Market equals food. The produce is seasonal and grown with a conscience.  I can visit with the vendor and buy with confidence.  My most recent visit, however, bypassed all the edibles and focused on what else is there. Each stall where I stopped was a mini-museum thoughtfully displayed with art I could touch, smell, rub into my skin, or in some way delight my soul. It's clear; all of Santa's helpers do not work at the North Pole.
When I give a gift to a friend (or myself) I want it to be as if it were created just for her.  The beauty of shopping at the Farmers Market is that everything is crafted by the individuals who are standing before you. You can ask questions and see the products up close.
Here are a few of the stops that I made:
Wood Loved by Larry
Not only are Larry Taylor's pieces lovely to look at – lustrous and smooth – they are a luxury to touch. Sensual forms that are also ready for daily use: candle holders, bowls, plates, bottle stoppers and muddlers. Each piece is art worthy and unique. Larry also looks like he might be working for Santa….or maybe he is Santa…
360-229-3952 or eltay3@yahoo.com
Shepherd's Soap Co
Earthly Essential
Your skin is a huge organ that ought to be treated with love and respect. Harsh chemicals and petroleum products belong in your car, not in what you spread on your body. Rest easy when you use any product from Deb Petersen. The hard part here is deciding which scent of soap, cream, bath salts, or lotion bar you want. All hand crafted in Shelton, they are rich with shea butter and essential oils.
The soaps are mini artworks. I thought one of the colored and layered soaps were candles. Wrapped with colored ribbons her products are ready for any gift-giving occasion. Right now I have my nose deep in her Litsea Cubeba Solid Lotion bar – a lemony mix of beeswax, shea and cocoa butters (to name a few). It looks like a deodorant solid, but it's lotion. It's easy to run over hands, feet and any exposed skin. The first time I used a bar of her soap in my shower, I was thrilled with the foamy suds.
Here again you will find locally made local products – and you can chat with the owner.
Earthly Essential
360-427-7811
Paper Matters Art NoteCards
Meet Petrina Walker. Her collection of original art notecards might be hard to send away once you own them. But your recipient will be thrilled. Take time to check out the variety of paper earrings, too. You will also find magnetic bookmarks, journals and calendars.
Her sign reads: The Most Memorable Art Note Cards by Petrina
Rainsong Treehouse Clayworks
This was a museum moment: Terri Eliason's raku pottery, wall-art and jewelry.  Her pieces are subtle and lovely. So is Terri.  You can reach her at 360.426.0114.
Metal Works Design and Cut By Lynn McClune
Have some fun imagining where you could put these fun sculptures in or outside your home.  You can reach Lynn at 360-426-0524.
Before and when you go to the Market:
Dress appropriately for the weather. Be prepared with ample layers of clothes and a festive scarf tucked around your head. It's cool and damp these days. Venture the full length of both aisles of the Farmers Market. You won't want to miss anyone or anything. Carry a warm beverage and if your fingers are tingling, stop near the freestanding heaters.
You can inhale the holidays as you stroll by the freshly cut greens crafted into holiday wreaths. There are nuts for your crazy friends, worm tea for your plants, clothes for everyone and bakery goods for anyone lucky enough to buy one. There are still late season vegetables and meat for sale, so you need not ignore them.
If you want to give more than lip service to supporting our local economy, please go to the Market. It's way more than a shopping experience. You get the chance to treat all your senses, share a few stories and find treasures that warm your heart.
The Olympia Farmers Market is open in December on Saturdays and Sundays and December 24 from 10:00 am – 3:00 pm.
Eat Well – Be Well