By Alec Clayton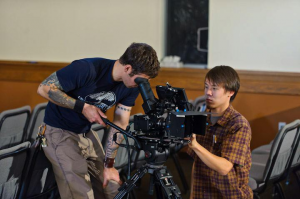 Matt Damon and Ben Affleck were still in college when they wrote Good Will Hunting, so what's to stop 20-year-old Evergreen State College student Jeff Stillwell from writing, directing and co-producing a feature length film set in — of all places — Hoquiam, Washington?
Stillwell says he was 18 or 19 when he started filming. He says that when the actors first showed up on set they were surprised at how young he looked. Imagine showing up on the set of "The Andy Griffith Show" in 1960 only to discover Opie in the director's chair. And I imagine Damon and Affleck also looked like kids when they started working on their first script.
Shortly after moving to Olympia, in 2010, Stillwell and some of his buddies took a trip to Grays Harbor County for a day just to drive around and see the sites. "I was spellbound by Hoquiam and Aberdeen," he said. "The city (Hoquiam) was the seed of the idea for the movie. The aesthetic. It was atmospheric."
With nothing to go on at first but a location that attracted him because of its air of mystery, he says he already had five or six ideas "stewing around," but "after I determined the setting the whole idea of a Satanic cult came into my head."
The name of the film is Henryk. Financed in part by a successful Kickstarter campaign, it is now in post-production. It's the story of young police officer Julian Grey, who has returned to Hoquiam to help his childhood friend Don cope with the disappearance of his fiancé, Wendy. In the course of his investigation Julian learns of an old urban legend about a Satanic cult that would abduct and sacrifice the townspeople — 'The Golden Order of the Cross.' He discovers that not only does this cult still practice, but that its ability to control and brainwash its members proves as dangerous and deadly as the ritualistic sacrifices themselves. Risking his life and sanity, it becomes Julian's mission to infiltrate the secret cult in order to rescue Wendy, and compile enough evidence on the cult to initialize a police-raid.
Seattle actor Ian Lindsay plays the part of Julian. He has worked with Seattle Children's Theatre and Village Theatre. Stillwell met him when they both appeared in a web series called Look Up Into the Sky.  Stillwell's sister Justine is the leading lady. "I offered her the role because I knew she could do it. She has done a ton of theater," Stillwell said. Justine has worked with Village Theatre where she was in The Who's Tommy. This is her first film role. Veteran film actor Andrew Tribollini plays the local pastor Peter Williams. Stillwell says it was fun working with him because he's done a lot of film and theater work.
It took Stillwell about five months to write the script, and he says it went through many drafts. It's his first full-length film script, his only other writing experience being a couple of short plays. As to the filming, he said, "I thought it would be me and my buddies going off with a camera on weekends." He wasn't quite thinking of the film project in professional terms at that point, but he posted the script online and professional cinematographer Chris Taylor called and said he wanted to be the Director of Photography. "He knew what he was doing from a production standpoint; he had all the gear — lights, camera, etc." Stillwell says.
The production was hard, intense work. "So much driving… one big road trip… enough to drive to Tucson and back… 26 days, mostly weekends working 14-hour days. I never experienced that level of stress.
After finishing the film he says they went into post-production limbo for about four months. He ran out of money, but the Kickstarter campaign then allowed him to continue and now the film is in the hands of editor Christopher Woods.
Woods met Stillwell because he was writing about film for the Weekly Volcano and did a couple of articles about the film "Stillwell mentioned in his interview that he was looking for an editor, so I asked him to consider me for the job. I haven't edited a project of this magnitude before, so I was hungry for a new challenge. Plus in my talks with Stillwell, I could tell that he was an intelligent filmmaker who had a very specific and unique vision for what Henryk should be. When he said his most favorite film was a Russian flick from the 1960s that I had never even heard of, I thought this would be an interesting man to work with — someone with his own cultivated tastes in cinema from whom I can probably learn a lot."
Woods said: "Stillwell and I decided to divvy up the scenes between ourselves. So he has taken roughly half of the over one hundred scenes to edit on his own time, and I'm currently doing the same with my half. Editing can be such a solitary job, yet what's been fun with Henryk has been sharing ideas with a collaborator like Stillwell."
The next step will be to find distribution, so remember the name Henryk and watch for it to show up at area film festivals.