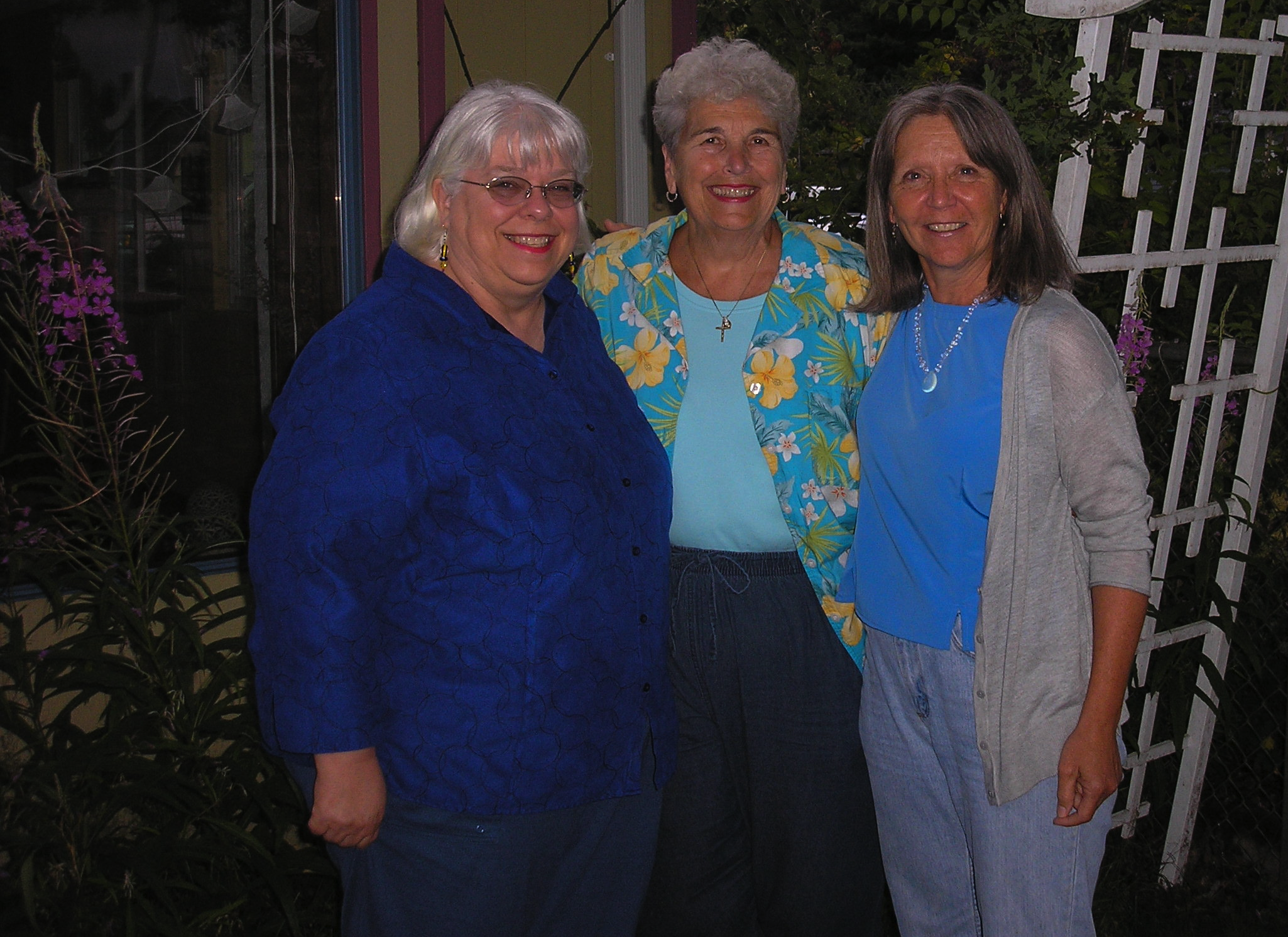 By Alec Clayton
Like most of us, Rebecca Hom, Billie Mazzei and Randi Moe love to tell stories; but unlike most of us they are practiced and experienced in telling tales in the most entertaining and engaging of manners in front of a live audience. They are active members of the South Sound Story Guild.
"The basics are that we are a guild for storytellers and listeners. We gather once a month, from September through June to tell stories. Each month we have a featured teller and then a time for open mic," Randi said. Rebecca interjected that they call the open mic "story swap."
You don't have to be a story teller to attend meetings. The group encourages listeners. Billie said: "People come just to listen for a while. The stories range from personal to folk tales and fairy tales to Bible stories, Native legends and bar stories." When asked what a bar story is she gave an example, which was a funny two-men-meet-in-a-bar tale.
All three assured me that they never tell raunchy stories; they're all family-friendly. Billie said they are stories for adults and "children who can listen like adults."
Rebecca came to story telling from writing. She had never liked being in front of people, but then at a writers' conference she heard two women telling stories. One was a Native from the interior of Alaska, and the other was a Sicilian from New York City. She said they had distinctly different styles and personalities. She wanted to ask them what it would take for her to do storytelling. "After a few days I got brave enough to ask," she said, and the Sicilian woman said, "If you love it you're already there."
She discovered that when she's telling stories people don't really look at her; it's the story they pay attention to. She's been telling stories for 23 years now and has been in the guild since moving to Olympia from Idaho 13 years ago.
Randi has been telling stories for 10 years, beginning "once the kids were grown and out of the house." Before that she had loved telling pet stories to friends and family but never realized there was such a thing as public storytelling. She was scared the first time she tried to tell a folk tale at an open mic. "It was like three lines, and I could hardly do it." She said at the time everyone was telling folk tales and she wanted to tell personal stories. Now she does both.
Randi moved to Olympia 13 years ago, and before getting into storytelling she participated in clowning. She still does clowning at children's groups and church groups. Now, she says, she mixes up a lot of stuff: clowning, history stories, folk stories.
Billie caught the story telling bug from her grandfather and her father, both of whom "were always telling stories. Mom tried, but she could never remember the endings." Her first public performance was when she was 5 years old. Growing up she was in school plays, and she's been telling stories as long as she can remember. "My dad and I had a competitive storytelling thing." In about 1986, as she recalls, her dad pulled out a card and showed it to her and proudly announced, "I'm a card-carrying member of NAPPS (National Association for the Preservation and Perpetuation of Story Telling)." So she pulled out hers and said, "Me too."
In 1987 her dad called her and asked her to go with him to a storytelling festival in the Yukon. "That was the first time I had ever said to anyone, 'I am a story teller.'"
All three tell stories in other public venues in addition to the guild meetings. Rebecca has recorded a DVD of herself telling stories in the old Plenty Restaurant. It's called "Rebecca Hom Plenty Live," and it won an award from Storytelling World magazine. Billie also won an honorable mention from the same magazine for her CD "The Prodigal Mother and Other Bible Stories You Never Heard."
In addition to their monthly gatherings, the guild does at least two group shows a year, "Stories in the Park, Stories in the Dark" in August and "Tellabration" in November. "We often do at least one other group show each year, and individual members perform at various venues year-round," Randi said. "For example, this year at Arts Walk in April we partnered with the Olympia Aloha Ukulele Players. We told stories from the Pacific Rim and they played wonderful songs."
South Sound Story Guild meets the second Wednesday of every month, September through June, in the lobby of the Olympia Center, 222 Columbia St. NW, from 7-9 p.m.
The next "Stories in the Park, Stories in the Dark" will be Aug. 11 at 7 p.m. in Priest Point Park. Admission is free. The first hour will be family stories and the second hour scary stories. Also, there will be music provided by Ri Zassenhauf.
"The Prodigal Mother and Other Bible Stories You Never Heard" (both book and CD) are available at Orca Books in Olympia and The Priory Book Store in Lacey as well as through Amazon.com, The Episcopal Bookstore in Seattle and the trunk of Billie's car.