For the past 60 years, Olympia Symphony Orchestra musicians have been enriching, educating, and entertaining Thurston County residents.  "With so many symphonies our size closing their doors, we are so thrilled to be celebrating our 60th anniversary," says Kate Inglin, Executive Assistant for the Olympia Symphony Orchestra and a committed member of the performing orchestra.
Led by Musical Director and Conductor, Huw Edwards, the Olympia Symphony Orchestra entertains concert-goers on five Sunday evenings each year.  Entering his tenth year at the helm, Edwards is credited with maintaining a cohesive group and performing excellent concerts.
"Huw is an educator.  He is so knowledgeable about music history and brings this education to each rehearsal.  It creates an environment where we are always learning," describes Inglin.
The symphony plays a wide variety of music.  "At one concert, you may hear the big, bombastic symphonic music and then the next concert will feature a smaller group with perhaps a focus on strings," describes Inglin.
At it's largest concerts, the symphony may include 70 – 75 musicians.  On smaller performances, the group is scaled back to around 50 players, reducing the number of brass and percussion performers.
While the musicians are paid a modest stipend, the majority hold full-time jobs outside symphony performances.
"This is more than just a hobby – it's a labor of love," states Inglin.  "Musicians invest their time, practicing outside of rehearsals and reading about the composer and music."
"There is great musical pride held by our musicians.  We foster a sense of community within the orchestra," remarks Inglin.
Inglin is proud of the reputation that the Olympia Symphony Orchestra has garnered from the community.  "With large symphonies in Seattle and Portland so close by, people still choose, even after 60 years, to stay in town and support our group.  Concert goers know that they don't have to travel elsewhere to hear incredible symphony concerts," she says.
Each concert is performed only once.  The symphony joins together for about 2.5 hours per week of group practice for about 4 weeks leading up to a concert.  On Saturday, the Olympia Symphony Orchestra conducts a rehearsal with the guest artist.  On concert day, musicians warm-up in a dress rehearsal and then perform the concert.
"We are like Olympic athletes.  We have one shot and give it our all," says Inglin when describing the experience of performing a concert only once.  She adds that after the show at the Washington Center for the Performing Arts, musicians meet up downstairs, share high-five's and discuss the emotions that were evoked during the concert.
The affordable concert series is a great way to educate children about classical music.  "I truly think that exposing children to classical music is a way to preserve history.  Children don't realize that all the music they are hearing today is based on the same chord progression used 200 years ago," explains Inglin.  "I think that every child should hear it at least once."
A good opportunity to expose your children to the Olympia Symphony Orchestra is to attend their free outdoor concert.  Each July, the orchestra gathers on the lawn of the Capitol building.  "It's our gift to the community," explains Inglin.  This year, the performance will be on July 29th at 5:00 pm.
Inglin is emphatically excited about the upcoming season, celebrating the 60th anniversary of the symphony.  "We will be performing Beethoven and Shostakovich – two composers on opposite ends of the spectrum," she says.  Inglin describes Shostakovich as "raw, in your face.  The symphony was written in war times, and puts oppression and struggle into music form."
"Beethoven, on the other hand, is what your ear wants to hear.  It's roundness and buoyancy and joy, even in the saddest compositions," she adds.
Inglin reflects that it's with the "talented local musicians, extreme dedication of our Maestro, and hard working board and staff that the Olympia Symphony Orchestra will continue to stand the test of time."
The Olympia Symphony Orchestra's season begins on Sunday, October 14th.  To purchase tickets or learn more, visit their website.
All concerts in the 2012 – 2013 Season are performed at the Washington Center for Performing Arts.  Sunday night concerts begin at 7:00 pm.
July 29, 2012 – Free outdoor concert at the Capitol at 5:00 pm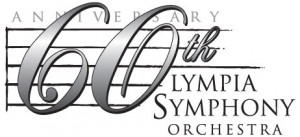 October 14, 2012 – Celebrating Sixty Years
November 11, 2012 – Honoring America's Freedom
February 10, 2013  – Symphonic Treasures
March 10, 2013 – Operatic Gems
April 28, 2013 – Diamonds in the Rough