By Tom Rohrer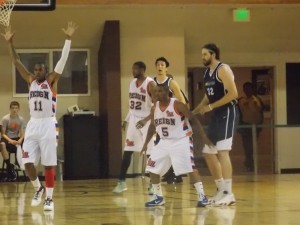 As the sport has increased in popularity over the last century and change, basketball has inserted itself into the hearts and minds of people from all walks of life, be it in urban areas or a rural setting.
With a long standing tradition of youth and collegiate level basketball in the area, Thurston County has become the perfect setting for a bustling fan base and talented basketball team within the International Basketball League.
For six years, the Olympia Reign has been participating in the International Basketball League, which features ten teams spread across the nation and part of Canada.
After searching for temporary venues, including local high schools and college courts, the Reign have found a home at the Skookum Creek Events Center at the Little Creek Casino and are providing the dedicated fans with a fun, team-oriented brand of basketball.
"I think things have really come a long way," said Reign owner Mark Felton. "Having a terrific venue really helps bring in fans, and it's a big change from the beginning.  It's been special to be a part of."
The Reign, among a host of players from across the nation, features several players who either played high school or college basketball in the Thurston County area.
One of those players is Nate Menefee, the former all-state guard at Timberline High School who later became an NAIA All American while playing for the Evergreen State College.
Menefee, who has played professionally in Portugal, runs an annual basketball camp at his old high school, and is happy to play in front of the community he grew up in.
"Playing here, seeing familiar faces, and just being part of that family atmosphere, it's a great feeling.  I grew up here, grew up playing here so this is home," Menefee said.  "You don't always get a chance to play in place like this, and I've been blessed to do so."
Along with the familiarity with the team and the area, Menefee is happy with the brand of basketball the team has developed.
"I think this team is starting to come together, and we can do some things in the playoffs," Menefee said. "Obviously it takes time to build that team chemistry, but there is a lot of familiarity on this team."
Joining Menefee on the team is a small collection of TESC alumni, including Marcus Wright, Nick Moore, Marcus Whittaker, Julio Feliciano, and Mike Ward.
Ward and Menefee are among the team leaders in points per game, with Ward averaging a team high 20.3 ppg, and Menefee in fourth with 17.2 per contest.
Playing basketball continues to be the dream for Ward, who has played pro ball in Seattle and Athens, Greece among others.
"I just love playing basketball," Ward said. "It makes it even better when you can play with a good group of guys – guys that are there for one another.  But I just look at this as an opportunity to play great basketball and keep my career going."
Ward hopes to be traveling back over seas, and his owner concurs.
"Playing overseas is the goal, and this is a great way to get towards that goal," Ward said.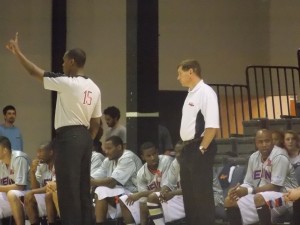 "For me, I want these guys to get noticed enough to make the transition to European or overseas teams during the offseason," Felton said. "That's a feasible goal to, since our team has a lot of talent."
With a dedicated owner that has nearly a decade invested in the organization, the Reign's consistency and reliability helps generate more fan fare.
"This is my life," Felton said. "We may have some turnover here and there, but a lot of these guys have been playing in the organization for a little while.  I think the fans can appreciate that loyalty and that dedication, and it allows them to get more invested in the team."
The high scoring, up-tempo style of play not just by the Reign, but by their opposition as well, allows for an entertaining, on-court product.
Scores for Reign games consistenly reach above the 115-point mark for both teams, as out-let passes are snapped quickly to quick guards like Menefee, and three's fly through the netting from sharpshooters like Ward.
"I think we all like to get out and run and get the tempo going," Menefee said. "That's fun basketball and people like to see that."
The scoring is spread out as well, with seven Reign players averaging over ten points a game.
"A lot of times in pro ball, the ball stops with one guy," Ward said. "We have a bunch of guys who can score, so why not get everyone involved.  It helps the team unity and you can see that on the bench, guys are cheering for one another big time.  It's fun to be part of a team like that."
Felton is happy with where the organization and team now sits, but still thinks there is room to grow.
"We've obviously come a long way, but I think we can keep going to new levels," Felton said. "People will keep spreading the word and I think with the venue, we will be a force for a long time."
For more information on the Olympia Reign, visit
http://www.ibl.com/olympia_reign/
The Reign play at the Skookum Creek Events Center on Thursday, June 28, and Tuesday, July 3, at seven p.m.