Update 4/5/19: Jessica Jensen Law is now Jensen Milner | Cap City Law PS
Olympia attorney Jessica Jensen fell into law accidentally.
A musician from back East, she worked as an executive secretary whenever the music gigs dried up.
While working at a law firm that she didn't much like, Jensen discovered that she did like the law.
"Then every band I ever touched went to hell," she says, laughing, "so I said, 'Obviously, I need a change.' I took the plunge and changed states, moving to Vermont."
Jensen landed a secretarial position at one of the state's best firms.  She eventually became a paralegal and worked her way through college while raising a family.  She worked her way through law school too and was an attorney in a firm she loved in Maine.
Eventually, she felt the walls closing in as she approached the time when she was to take an ownership interest in the firm. "I always wanted to move west and figured if I didn't do it then, I wasn't ever going to."
After landing a part-time teaching position in the paralegal program at the University of Washington, Jensen was offered a job in Olympia, as the Contracts Administrator for DSHS.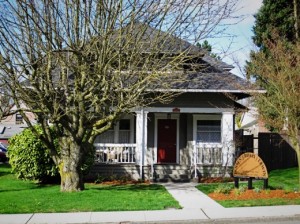 "I'd been in law firms for 17 years and never worked in government, so I thought this was great – I could see how government works. I loved Olympia."
After seven years in state government, it was time to strike out on her own. "I jumped off the cliff and started my own practice in 2003," she says. Jerrie Paine joined her at Jessica Jensen Law last September.
Jessica Jensen Law isn't your run-of-the-mill law practice. They take a different approach, where litigation is not the end goal.
"We're general practice, holistic, collaborative trial attorneys," Jensen explains, and then laughs. "We're kind of an oxymoron."
Jensen and Paine can certainly take a client to trial and do so professionally and ably. "We can play with the big boys and girls," says Jensen, "but we do it differently."
First of all, they take a more traditional tack as attorneys, one that seems to have fallen out of vogue.
"It's an old-fashioned model with a newfangled term I call 'holistic,'" explains Jensen.
When a new client comes in with a business issue, Jensen first asks about their accountant, business consultant, or other professionals with whom they work.
"And then we'll work as a team and try to figure out what needs to be done," she says. "It might take one quick phone call to your accountant, but we have the conversation rather than me doing something in a vacuum and them doing something in a vacuum and no coordination. That doesn't serve you."
If a new client comes to them with an issue they believe is headed to court, Jessica Jensen Law always starts with education.
"The client comes in the door and they've watched television or movies and they've seen what those lawyers do, so their perception is that the judge is going to believe their side, because they're right," Jensen says.
"I saw the shift in the '80s," she says. "I think the glitz of the TV shows and movies made people who thought that's what law was go into law. But that's not who we are; we're the down-to-earth type."
Jensen and Paine's first step is to educate clients that there are two sides to every story. The client might be 100 percent in the right, but no matter how good of an advocate they have, in the courtroom, it all comes down to what the judge hears and perceives through his or her own lens.
"You could have the best case in the world and still lose," Jensen says, emphatically.
"We're very practical – that's part of our mission – and we want to save our clients money. So we help them understand the reality of being in litigation or a dispute."
The bottom line? If you end up in court, it's going to be expensive.
At Jessica Jensen Law, clients are given a range of options that, ideally, avoid litigation altogether.
"I'm passionate about collaborative law," says Jensen, describing one form of alternative dispute resolution on which the practice focuses. "I'd been a trial lawyer, but here in Washington I've focused more on finding alternatives to trial."
With collaborative law, attorneys agree not to go to court. Instead, they sit down and work it out as a team.
Jensen admits that she likes being in court. "It's fun," she says. "But so is football – competition is fun. But litigation doesn't serve my clients, because they're spending a lot of money and they're anxious and stressed."
"Litigation is a form of war. You've got your army, I've got mine, and we're all going to go into court and battle it out. And you're giving your power away to a third party, a judge, to make a decision about your life. It is totally disempowering."
Jensen also believes that litigation perpetuates the idea that we cannot come together and solve our problems. "If we cannot solve problems in our own back yard between you and me as neighbors, as business owners, how do we expect to do it in the big picture?" she asks.
"So it begins at home," Jensen continues. "Just like we learned that grassroots efforts are how we change our communities. Don't wait for the government to do it, don't wait for the state to do it, don't wait for everybody else to do it and we'll follow suit. We make a difference here in our community, and then that difference spreads out."
Paine gives a warm laugh. "Now do you see why I wanted to work with her?" she asks, nodding toward Jensen.
Jerrie Paine joined Jessica Jensen Law in September, moving from her own practice in Arkansas. "I was born in Washington and I've always wanted to come back – it just took me a while to make the move," she says, smiling.
"I, too, felt like it was now or never. My private practice in Arkansas opened in 2001 and I worked for the state prior to that. I felt like if I didn't do it now, I was going to be trapped."
Practicing law in Arkansas wasn't an ideal fit for Paine. "I was having a hard time there because the mindset is all about litigation," she says. "You don't think about working it out. I did a lot of divorce work in Arkansas and people would come to me and want me to kill their [spouse's] will to live."
"I think people here are more open-minded – at least the clients Jessica has in this practice seem to be truly reasonable, cooperative-minded people. It's refreshing," says Paine.
Jensen nods in agreement. She knows that the clients she attracts are drawn to the holistic approach she's always taken to the law.
"Holistic lawyers take a bigger picture," she explains. "We recognize that life is part of a continuum and everything is interrelated."
You might go to one lawyer and tell them you want to start a business. 'Fine,' he says, and takes out a form for you to fill out, to start that business.
But Jensen and Paine are going to work with you on what else is going on. You might say, 'Well, I'm starting a business, I'm getting married next month, buying a house…'
They'll ask if you've thought it all through. With Jessica Jensen Law, you're speaking with someone who works hard to understand what's going on in the bigger picture of your life."I might say, 'This is a great idea, but this might not be the best time to start it,'" says Jensen. "We can still do it, but I'm going to give you some feedback and point it out if that might not be the right choice."
Conventionally and historically, that's what a lawyer did in his or her role as a trusted confidante. "The traditional way of being a lawyer was that you learned about your client, you knew them," says Jensen.
"Clients come in and say, 'I'm thinking about this idea. You know me, you know my business. What do you think?'" says Jensen. "It's all about the relationship."
Jensen was trained under old-fashioned general practice attorneys who practiced the same way. "That's where I learned, from my mentors, that this is how you practice law," she says.
But somewhere along the line, Jensen noticed her colleagues didn't have the same experience. "They go to law school, come out, and work in a firm," she says. "They never had a mentor and they didn't know what they were doing. Nobody taught them how to practice this way."
"They don't teach you to practice law in law school," Paine says, nodding in agreement. "I too had wonderful mentors in Arkansas, attorneys who cared about their clients, were students of the law, and worked hard."
Paine says she feels fortunate to have worked with fantastic people who trained her well – and to find herself now with Jessica Jensen Law.
"I'd not called myself a holistic attorney before," she says. "That was a new term to me, because there was nothing like that in Arkansas." And she admits she wouldn't have had a successful business in Arkansas if she'd projected herself as someone who cared about correcting the problems in her profession.
"I had to operate on the "I'm a litigator" model," she says. "But I prefer this. This is the way it should be all over."
In the legal community, Jessica Jensen Law's approach is considered a bit "woo-woo," admits Jensen. "But it's Olympia and it works."
"And, I have enough credibility – and so does Jerrie – that we can do this straight; we know how to put on suits and look the part," she says. "But we do it all different kinds of ways because we recognize that that model of law is not reflective of who we are, really, as a society."
"There are a lot of lawyers out there doing collaborative law and bringing these ideas into our practices," says Jensen, "but it hasn't yet reached critical mass."
"We're evolving attorneys and we practice the golden rule," says Paine. Sometimes that means telling people what they don't want to hear, because it's the truth.
"And I've never been an attorney who would take a case just to make money," says Paine. "For me, it's always been about doing the right thing for the client – and Jessica does the same."
"The firm reflects our values," Jensen says, simply. "And one of the reasons I was thrilled to have Jerrie is that she's an attorney who has significant practice experience and she comes in with values similar to mine."
It's no surprise that the two attorneys share community values and a service mentality – because law is, historically, a helping profession.
Jensen is very involved in the community and is Chair of the Thurston County Chamber of Commerce this year. Raising green awareness is one of her goals.
She's also on the board of and counsel for Thurston Climate Action Team. "We're focused on action, not just talking about climate change," she says. To that end, the group teamed up with the Economic Development Council to form the Thurston Energy Program, which helps reduce greenhouse gases by providing savings opportunities – through rebates and financing – for homeowners and businesses.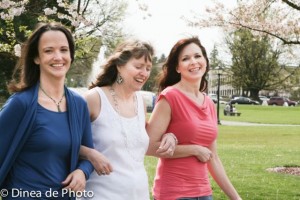 Jessica Jensen Law is a designated green business. "I was green before it was cool," says Jensen. "I'm in a community where that's a value. So I ask myself how can I help make this a more sustainable, green community? What can I do to help further that?"
"It's about helping to make our community the most wonderful, livable place on earth, right? And of course Olympia is the center of the universe," Jensen says, laughing. "Fremont thinks it is, but we know better."
Jessica Jensen Law
1516 Fourth Avenue East
Olympia, WA 98506
360.705.1335