Submitted by South Puget Sound Community College Foundation
South Puget Sound Community College (SPSCC) is well known for making a wide variety of rich cultural experiences accessible to the local community. Attending concerts, plays, sports events, art exhibits, lectures, and special events are rewarding ways to connect with college life and enjoy seeing the talents and skills students are developing.
In addition, the SPSCC Foundation offers multiple ways to contribute to student success through individual donations, sponsorships, and volunteer activities. SPSCC Foundation Development Director Evan Skytte shared, "Whether it's a special dinner put on by the Culinary Arts department, a basketball game, a concert, or a play, students are sharing their aspirations  for the future. Each event is an invitation for the community to get involved."
With so many events to choose from there is something for everyone to enjoy at all levels of engagement year round.
Community Events at the Kenneth J. Minnaert Center for the Arts
Theater Performances
SPSCC's Drama department delivers unique, entertaining, and thought-provoking performances, which showcase students' extraordinary talents. Follow the SPSCC Theatre Collective on Facebook for information about upcoming theatre events.
Concert Performances
The Music department offers a variety of concert genres each year, including jazz ensemble, choir, and classical orchestral performances. These events showcase the musical talents and artistry of students and help support SPSCC's music program. Learn more about upcoming March 2023 concerts at SPSCC.
Visit  the SPSCC website for a calendar of upcoming events and ticket information. Contact foundation@spscc.edu for information about sponsorship opportunities.
Artist & Lecture Series
Each year, SPSCC welcomes nationally and internationally recognized artists and speakers who bring extraordinary and innovative performances to the campus and community. One example of programming offered through the Artist & Lecture series is the annual Martin Luther King, Jr. lecture event. Visit spscc.edu/events/artist-lecture-series to learn more.
Martin Luther King Jr Annual Lecture
In partnership with the Thurston Group of Washington State, SPSCC honors the legacy of Dr. Martin Luther King Jr. through a sponsored community celebration. For more than a decade, SPSCC has hosted prominent civil rights activists such as Dr. Mary Frances Berry, Dr. John A. Powell, and many other inspiring speakers. The event also provides a platform for acknowledging Diversity, Equity, and Inclusion (DEI) scholarship recipients as well as recognizing community partners and supporters year-round.
Proceeds from the event support DEI scholarships and programs such as Ignite and Black Scholars. Visit spscc.edu/MLK to learn more.
Fine Arts Exhibits at the Leonor R. Fuller Gallery  
Each month, the Leonor R. Fuller Gallery hosts exhibits and events that reflect local culture and showcase diverse artists from throughout the region. Inclusive shows like the annual Fine Art Postcard exhibition bring the local community and artists together to explore creative perspectives and help support arts programming.
Visit the Leonor R. Fuller Gallery website to learn about upcoming exhibitions and events.
Special Events That Support Student Success
Percival Afternoon Tea & Treats
Percival Restaurant
Campus Building 27, 1st Floor
The debut of this festive, elegant event will take place at SPSCC's Percival Restaurant in March 2023 and is so popular it has already sold out. The tasting menu features tea tasting (Black/Green/White/Rooibos) paired with sweet and savory small plate options and bakery creations from students in the Baking & Pastry Arts and Culinary Arts programs.
Wine Paired Dinner
Percival Restaurant
Campus Building 27, 1st Floor

Another classic culinary event featuring Percival Restaurant chef creations incorporating the best ingredients is SPSCC's Wine Paired Dinner. These wonderful dishes paired with fine wines set the stage for a memorable experience that has become a community tradition at SPSCC.
Proceeds from these events support the Baking & Pastry Arts and Culinary Arts programs. Contact the campus Percival Restaurant at percivalrestaurant@spscc.edu for information about upcoming events.
Save the Date for Brunch With a Purpose  
LGBTQ Student Success Scholarship Fundraiser
December 2, 2023 – Save the Date
Nicole's Bar – 109 Legion Way SW Olympia
Last December, SPSCC student success supporters John Doan (Tumwater City Administrator) and David Marks (Owner of David Marks Studio) partnered with Nicole's Bar Owner Nicole Andres and the SPSCC Foundation to host Brunch With a Purpose. The event featured a delicious brunch, plus a raffle and a wonderful selection of exciting silent auction items – all in support of LGBTQ+ students at SPSCC.
Over the years, John Doan and David Marks have demonstrated their long-standing commitment to supporting scholarships for LGBTQ+ students at SPSCC by hosting an annual Party With a Purpose fundraising event. Brunch With a Purpose is a wonderful continuation of that theme and a great opportunity for the community to support this tradition.
Athletic Events
SPSCC's dynamic Athletics program faculty and student-athletes inspire the campus community through their talent, award-winning athletic accomplishments, and ways they volunteer to show up for their community. The SPSCC Foundation is proud to partner with the Clipper Nation athletic program in supporting student-athletes. Visit the Clipper Nation Athletic webpage to learn about upcoming games and ways to get involved.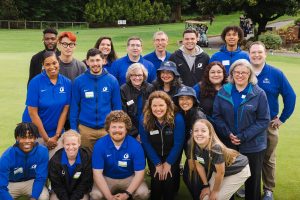 Clipper Scramble
Summer Golf Tournament
Friday, June 2, 2023
Olympia Country & Golf Club
For almost three decades, the Clipper Scramble Golf Tournament has been a landmark event—raising over $1 million dollars over the years to fund scholarships and grants for students at SPSCC. Each event offers golfers of all skill levels an afternoon of summer fun and fellowship as well as an opportunity to support SPSCC's athletic programs. Visit the Clipper Scramble Golf Tournament webpage to learn more.
Ways to Get Involved
Be sure to sign up for the SPSCC Foundation newsletter or visit the SPSCC Foundation website for information about fundraising events and volunteer opportunities.
Contact the SPSCC Foundation office at 360-596-5430 or foundation@spscc.edu for more information about ways to get involved.
Sponsored