Two Thurston County high school dance teams recently had impressive showings on the national stage. Both the Capital High School (CHS) and Olympia High School (OHS) dance teams performed at the Dance Team Union High School National Championships in Orlando, Florida last month. In competition with teams across the country, both the CHS and OHS teams had Top Ten finishes, cementing historical seasons and the achievement of long-term goals.
The Olympia High School Dance Team Competed on a National Stage for the First Time in Years
OHS's dance team has hit the ground running since August, with rehearsals and attendance at regular season competitions that are hosted at high schools across Western Washington. In December, the OHS dance team also participated in a regional competition to qualify for the Dance Team Union (DTU) High School National Championship, which took place in February.
Mariah Mao, head coach for the OHS dance team, says that this was the first time an OHS dance team has attended a national competition through the DTU and the first time in many years that an OHS dance team has participated in a national competition.
In addition to competing on the national stage, attending the DTU National Championships also provided opportunities for continuing dance education and mentorship. Throughout the competition week, members of the OHS dance team participated in master classes from competitive college teams and choreographers to learn additional techniques like stretching and strengthening exercises. The team also attended a college panel where they could learn more about the audition process and experiences from a college dance team.
"They really make everything about the dancers instead of just the trophies," says Mao. "Which is nice because they're trying to create well rounded dancers and human beings. And so, it was really nice to feel that sense of belonging, essentially, because everyone works so hard all season to get to this point."
Olympia High School Dance Competed in Three Categories at Nationals
The OHS varsity dance team competed in three categories at the DTU High School National Championship: Varsity Pom, Hip Hop and Military. And during the competition, the OHS dance team had an impressive showing, earning seventh place in Varsity Military. Mao was proud that the team could represent the military dancing category, keeping the art form alive and bringing home a trophy for OHS.
"It's dancing in certain formations, how you make pathways on the floor, your precision, your team execution, how each individual person can move together as one," says Mao. "That's what the military category, to me, feels like. It was just so amazing to be able to place Top Ten in the country, essentially, for a category that's not really well represented."
Mao was also glad to have the support of fellow Washington State dance teams from Capital High School and Mount Si High School, both of whom were fellow participants in this national competition.
"We just have such support for one another because we understand the struggles that dance teams go through," explains Mao. "It was just so heartwarming to have that support of Mount Si and Capitol. They were there cheering us on. We were there cheering them on. We watched each other's performances and so, it was just really nice to represent Washington and to do it together because it is a scary event. But to have two other teams there just made it feel less scary."
Capital High School Dance Team Returns to National Stage, Earning Multiple Top Ten Finishes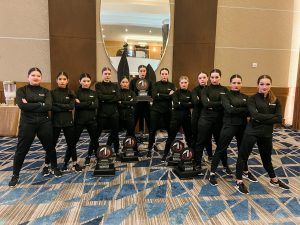 The CHS dance team also attended the DTU Seattle Regional in December, winning the DTU Regional Grand Champion for Varsity Pom and earning a spot in the DTU National Championship. Capital hasn't traveled to a national competition since 2019, and the DTU National Championship was a great opportunity to return to the national stage.
"You have to roll with the changes that happened over the last few years and kind of go with that," says Jaci Gruhn, head coach for the CHS dance team. "So for us, it was so exciting to go back to a national championship and represent our school and community."
The CHS team competed in five categories at the DTU High School National Championship, with participation from both varsity and junior varsity teams. This national stage was an opportunity for Gruhn and the CHS dance team to achieve a long-term goal of reaching the final round of the national competition.
"We really wanted to make finals," says Gruhn. "We had never done that in our school history. We've never made finals before. So that was really like a big deal for us. And so right out of the gate, to make finals in all five of our routines, we couldn't believe it. We were so elated and so proud."
Gruhn works with assistant coaches and choreographers, including Assistant Coach, Sung Ja Albright, JV Assistant, Kalen Epping and the Varsity Pom and Varsity Jazz Choreographer, Jill Zagorski, who all help the team to create and rehearse their seasonal routines. Gruhn says the coaching staff also works hard to maintain a positive culture within the team, encouraging dancers to believe in themselves, stay optimistic and rely on the support of fellow teammates.
"We have so many people who come and help us and work with our team and believe in us," says Gruhn. "Because it does really, truly take a village. It really, truly takes so many people believing in you, coming in and working."
Competing with teams across the United States, the CHS dance team earned Top Ten finishes in multiple categories at the DTU National High School Championship. The varsity dancers earned ninth place in Small Varsity Pom, eleventh in Small Varsity Spirit Showdown and fourteenth in Small Varsity Jazz. The junior varsity team earned seventh place in JV Pom and eleventh in JV Jazz.
"We are in the Top Ten in the nation, it was just incredible," says Gruhn. "And then not only that, I have to mention team Washington, because we couldn't have done it without all of the teams represented from Washington."
To learn more about the Capital High School dance team, visit the Capital High School dance team website. To learn more about the Olympia High School dance team, visit the Olympia High School dance team Facebook page.